February 10, 2016
Desert Foothills Theater presents
The Children's Hour Feb. 19 – Feb. 28
SCOTTSDALE – Desert Foothills Theater (DFT), a division of the Foothills Community Foundation, presents The Children's Hour running Fri., Feb. 19 through Sun., Feb. 28 in the intimate Black Box theater of Cactus Shadows Fine Arts Center, 33606 N. 60th Street, in North Scottsdale.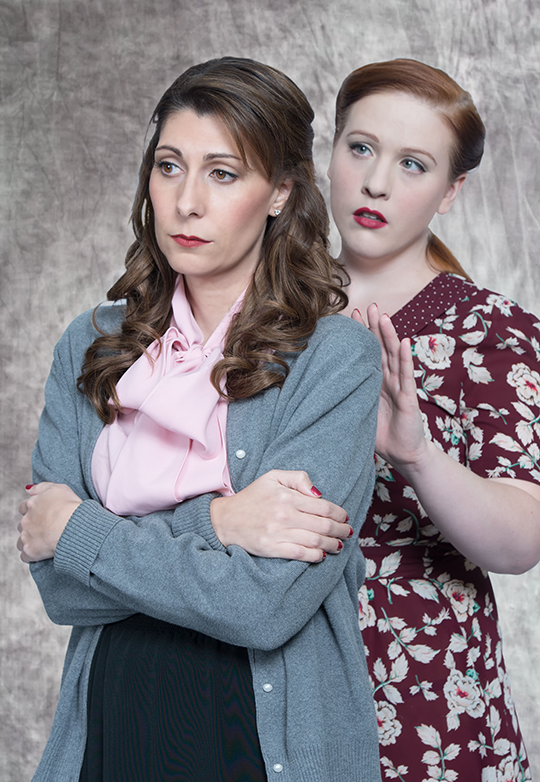 Jennifer Rio as Karen and Kellie Dunlap as Martha in DFT's upcoming production of The Children's Hour running February 19-28 at Cactus Shadows Fine Arts Center in north Scottsdale. Tickets at www.dftheater.org or 480-488-1981. Photo by Wade Moran

Written by Lillian Hellman, the 1934 stage play drew controversy for including the then-taboo topic of homosexuality in its plot. The story begins with a troubled teen at an all-girls boarding school who decides she no longer wants to go to school. When her aunt does not indulge her request, she invents a rumor about the two head mistresses and bullies or blackmails some of the other girls to go along with the ruse. It is a web of deceit that ends in tragedy.

Hellman based her hit play on an 1810 Scottish court case in which a pupil accused her school mistresses of having an affair in the presence of their pupils. The headmistresses sued and eventually won both in court, and on appeal, but given the damage done to their lives their victory seemed hollow.

DFT's production of The Children's Hour is directed by Janis Webb. Performances are at 7:30 p.m. on Friday and Saturday nights and at 2 p.m. on Sundays. A special 2 p.m. matinee is also scheduled for Sat., Feb. 27. Tickets range from $26 to $32.50 for adults and $16 to $21 for youth and students. Group sale discounts are available for groups of 10 or more. Visit www.dftheater.org or call (480) 488-1981.