By Marielle D. Marne | February 3, 2016
Four Seasons Home Services acquires Scottsdale Customized Home Services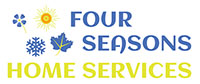 CAVE CREEK – Kevin and Jessica Morriston, owners of Four Seasons Home Services, are excited to announce their newest business acquisition. It was an obvious way for the HVAC specialists to expand and further help their neighbors. "We now have home concierge services through Scottsdale Customized Home Services," the Morristons said.

Whether you consider yourself a part-time resident, a snowbird, someone who owns a second home in Arizona, like to travel or are simply super busy, Scottsdale Customized Home Services can keep an eye on your place in your absence. As homeowners themselves, the Morristons know people don't want just anyone traipsing through their abodes, so when you call for any of their personalized services, know it will only be Kevin or Jessica checking on your home. (They will, of course, allow in vendors, but they will stay for as long as it takes for the plumber to fix leaks, the housekeepers to tidy up or the landscapers to trim the last tree.) "What our clients appreciate is the fact they get one bill for services and we pay each contractor. We make it really easy for people," Jessica explained.


At Scottsdale Customized Home Services, they do the standard stuff – assure doors/windows are locked, flush toilets and wait until they stop "running," pick up mail, start cars. But they go beyond, really doing anything clients need, and they do it with professionalism and discretion. A recent request involved taking a high-end auto in for a recall. Another homeowner has a resident bobcat on the property. "We shoo off the mama cat and her babies, who like to have dinner in the backyard, then we clean up the mess they made," Kevin laughed. They will accept packages at their home and deliver to a customer's home, go shopping so the fridge is full when families return from their adventures and tend to pets that are homebodies.

Because the Morristons have so many contacts in home-related industries, they make it easy to one-stop-shop with them. Call to explore how they can help. "We have been so well embraced in the community, and it has allowed us to grow and expand," Kevin said. "Many of our clients have become friends, and we really want to do what we can for their HVAC needs or plumbing or now home concierge services. We are licensed, bonded and insured and we only use legal resident vendors. If customers wish to use their own people, we keep their vendors in check. As far as vendors, because of my background, I know what you need and I know what you don't. I'm not going to allow someone to sell you something you don't need on my watch while you're out of town."

When it comes to home services, put your trust in Scottsdale Customized Home Service. When it comes to HVAC and/or plumbing, put your faith in Four Seasons Home Services. Connect with either at 480-489-3210.