January 27, 2016
The First Annual Arizona Miniature Horse March Festival March 24 – 27, 2016

The first annual Arizona Miniature Horse March Festival, the largest Miniature Horse event ever to be held in Arizona, will take place March 24 through 27, 2016, at WestWorld of Scottsdale. This upcoming 2016 March Festival of Miniature Horse shows which is sponsored by the Miniature Horse Association of Arizona (MHAA) will include a one-day Kick Off Arizona (R) Miniature Horse Show on March 24, a one-day 3rd Annual Kick Off Arizona (A) Miniature Horse Show on March 25 in Arena 3, and the 29th Annual Arizona Touch of Class Miniature Horse Show on March 26 and 27, Saturday and Sunday, with over 150 AMHA approved classes including halter, driving, obstacle, liberty, costume, jumping, and roadster categories for adults and youth entries.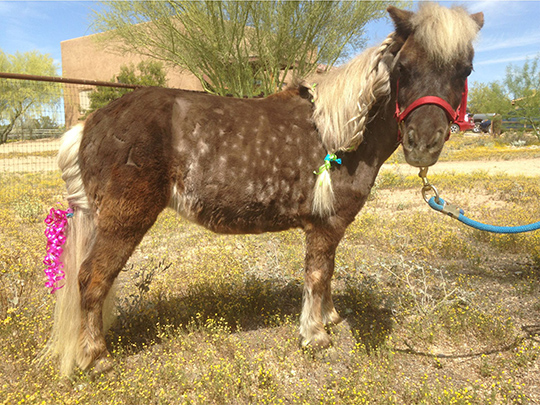 The R show is for those horses that are registered in the American Miniature Horse Registry and measure between 34 to 38 inches from end of mane to the ground, while the A shows have the horses measuring 34 inches and under and registered in the American Miniature Horse Association. The R show will have two judges and the A shows will have three judges from around the U.S. to determine the top winners in conformation, behavior, performance and showmanship of the Miniatures.

Miniature horses from Arizona and nearby states of California, Nevada, Utah, New Mexico, and Texas will be competing for awards and points to earn their eligibility for the AMHR National Show and the AMHA World Show in the fall. The Touch of Class show, in its 29th year, will be held in the climate-controlled Equidome (the Tony Nelssen Equestrian Center) at WestWorld. Rain or shine the show will go on. Exhibitors can contact the show manager, Ruby Priore, (918) 576-1452 for show premiums, entry forms, and show information.



For the spectators, there will be free admission and parking. Visitors are welcome to come out and enjoy the family-friendly activities at this one-of-a kind festival event. WestWorld is located at 16601 North Pima Road, Scottsdale, AZ. The shows start at 8:00 am and run till 7:00 pm. Food and refreshments, barn tours to see and pet the minis up close, and various vendors specializing in arts and crafts, horse products, apparel, and jewelry will be set up in the Equidome. A raffle for gold jewelry valued at $1500 and a silent auction will add to the festivities at the Touch of Class Show. The MHAA invites the public to come out to watch the fanciful little equine and judge for themselves to appreciate the beauty and pleasure these little horses display and bring to the horse world.

The nationally renowned Arizona Mini Mystique, a precision driving Miniature Horse team, will have a special presentation of their precision driving on March 27, Sunday, during the afternoon intermission.

The ten expertly trained mini horses with small carts will work in patterns of circles, rows, figure 8s, crisscrossing and more, which is sure to leave spectators awe-struck at their spectacular performance.

Come see the biggest Miniature Horse Festival in Arizona. For show info: (623) 465-5034 . Website: www.AZminis-MHAA.com