By Linda Bentley | january

13, 2016
AZ Wine seeking extension of premises without a premises
'Making a difference in someone's life is what the Caring Corp is all about'
CAREFREE – During review of the consent agenda for the Jan. 5 council meeting, Councilwoman Melissa Price asked to pull two items.

She questioned a couple entries listed in the December 2015 paid bills.

Price then questioned the application submitted by Ray Klemp and AZ Wine Company for an extension of premises to serve alcohol at 100 Easy St., Suite 3, Jan. 22 – 24, noting AZ Wine doesn't appear to be an active business at that location.

She said it was her understanding Klemp transferred his liquor license to Paradise Valley.

Mayor Les Peterson also questioned whether AZ Wine was an active business.

Town Clerk Kandace French said she contacts the Arizona Department of Liquor Licenses and Control on each application and because Klemp no longer has a business at that location it cannot be an extension of premises, it would actually be a festival license.

However, in order to be a festival license, it would have to involve a nonprofit organization.

In any event, French said his license is inactive and you cannot have an extension of premises from an inactive business.

Since it is ultimately up to the liquor board to either approve or disapprove the application, Councilman Glenn Miller moved to recommend approval.

In seconding the motion, Vice Mayor John Crane said council approval would be contingent upon the liquor board's approval.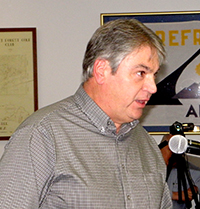 John Traynor

During Call to the Public, John Traynor commented to council on the format of the slips to speak and said the only boxes a person can check is whether they supported or opposed an item and nothing for just wanting to speak.

It came to his attention while reading the minutes from a prior meeting, which stated a certain person was in favor of the agenda item.

Traynor said the person questioned building heights but stated he didn't recall that person saying he was in favor of the project, so he called him.

The person said he didn't recall saying he was in favor either and then it occurred to him he must have checked the support box on the speaker slip.

Traynor asked the town to consider revising the form to allow people to select wanting to speak instead of just support or opposition.

Sandee Simcox introduced herself to council and said, "I'm so excited to be the new branch manager of National Bank of Arizona," and stated she was happy to be an integral part of the community.

During current events, Councilman Mike Farrar announced Maricopa Association of Governments will be awarding scholarships to up to 10 people from the community to participate in Code Day in Phoenix Feb. 13 and 14.

He said the scholarships are available for people 9 to 20 years old.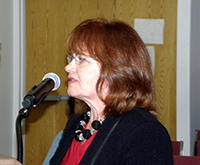 Debbra Determan

Debbra Determan, executive director of the Foothills Caring Corps (FCC), played a video to show some of the services the FCC provides through its over 600 volunteers.

The FCC provides meals, transportation, companionship and other services to the elderly and disabled in Carefree, Cave Creek and North Scottsdale.

The video encouraged people to volunteer, donate and get involved, stating, "Making a difference in someone's life is what the Caring Corps is all about."

Determan said the FCC started in 2000 and was now entering its 17th year.

She said the 747 people they serve are between 75 and 99 with an average age of 84.

Volunteers, who donated 41,028 hours, which Determan said is the in-kind equivalent of $917,796, are between 55 and 75 years old.

Determan said there are 159 "neighbors" in Carefree being served by 139 volunteers.

She said they would like the number of volunteers to go up to one on one.

They currently provide meals to approximately 50 people.

While the Caring Corps has six vans, Determan said volunteers take people to their doctor's appointments in their own vehicles and wait for them and take them home.

She said the FCC also helps with grocery shopping and minor home repairs.

A medical loan equipment service has just been added to the roster of services the FCC provides.

Peterson told Determan, "This community would be substantially diminished without your organization. Thank you for all you do."

Peterson provided a brief update on the Liberty Utilities settlement agreement and said they feel optimistic as it moves forward to the Arizona Corporation Commission for final approval.