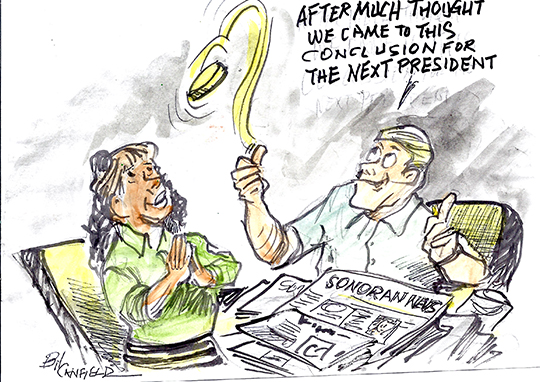 Does Carefree need a new hotel?
Our unique, quaint downtown Carefree is rumored to be needing a 4 or 5 story new hotel. Quietly the Town Staff has prepared a document that would change our General Plan and Town building height standards to allow a building up to 70 Feet right across form the famous Sundial.

At the P&Z meeting in Carefree on Monday evening the Town Staff presented an amended document that eliminated the request to approve 70 foot heights for buildings in the Town Core. To a packed audience (where the crowd is usually 2 or 3 people) the news was well received. However a height of 50 ft. vs/ the present 30 ft. is still in their proposal, and not well received by the 40 or more citizens in attendance. Another meeting will be scheduled soon.

Folks, we already have three Hotels in our immediate area. The upscale Boulders, The fine Resort/Conference Center and a small economical unit in Cave Creek. The Boulders just changed ownership and some say it has not been adequately profitable. The Carefree Resort was closed for many years, and has had at least two owners since. Hotel rooms demand in Carefree is extremely seasonal. The "high" season lasts for 4 to 5 months, just like business traffic in the Town Core. Investors in hotels want and need occupancy above 60 percent annually to see any ROI. Folks, that would never happen in downtown Carefree unless the rooms were sold for huge discounts for 5 to 6 months. We would not have a nice Spa, Great Restaurants or Banquet Rooms.

Recent investments like Splash Pads, Fireplaces and way too bright gas lamps have been made claiming them as part of 'Economic Development". And the future Sales Tax Revenue and rush of new business tenants will either prove their value or prove they were a pipe dream by a couple of council members.

It is no mystery, to me, why no investors have stepped up to the plate to build any hotels that would be North of the 101 freeway or East of I-17. The three or four major Hospitality firms have an army of qualified "Site Finders." Some of them have looked at the Cave Creek/Carefree area...and said "No Thanks". With 58, YES 58, hotels and resorts in the Scottsdale/Paradise Valley area...with way over 12,000 rentable rooms (and growing) who in the right mind would want to risk competing with them. Just the millions of dollars they have available from their 'room taxes' to advertise has to be a deal breaker for Carefree.And don't even consider the town being financially involved. Look at the town of Phoenix with their $300 million dollar hotel DOWNTOWN that has lost MORE than $30 million so far.

ASU, had they signed up for Carefree (and one of our major Building Owners was ready to give them FREE RENT in his + 10,000 foot building) would have been a magnet for our sleepy downtown. But, that opportunity is gone. A small hotel will never be a 'magnet'.

The Town Staff and a couple of Council members are going to try to push down our trough a new height ordinance that would accommodate a small hotel on a vacant lot next to the Post Office. We simply cannot let them do that.

NO HOTEL, NO 70 FOOT SKYSCRAPERS. Stop trying to kill our town.

Jim Van Allen
Carefree Resident and retired 35 year Hotel Executive
Back

Happy New Year and Council Meeting Update Carefree's Future Matters
Friends of Carefree, first and foremost we hope you had a great Christmas with family and friends and that you were welcomed into the New Year with health and happiness. The Council held another Executive session on January 5th, but as usual no details were made available. The regular monthly Town Council meeting followed at 5 p.m.

Town Council Meeting, January 5, 2016, 5 p.m.
There were no significant items on the agenda as of 5 p.m. on January 4.

Items 1 – 9, Consent Agenda: All items were related to routine town business (meeting minutes, bills, financial reports, event permit(s), etc.). Items 3 & 7 were held for discussion, all others were approved 7 - 0. Councilwoman Price questioned paid bills relating to a drainage problem within the Sentinel Rock community and a payment to the law firm representing Carefree in negotiations with the Arizona Corporation Commission. Vice Mayor Crane inquired whether payments to Magic Bird Festivals during the Christmas Festival would be reimbursed. Mr. Neiss responded it was a budgeted expense [there will be no reimbursement].

Ms. Price then inquired about the festival [Indian Art & Cultural Festival] on 1/22-1/24 specifically regarding an extension of premises/patio permit for the now inactive AZ Wine store. Discussion ensued. With questions answered, items 3 & 7 were individually approved 7 – 0.

[A side note from Jim Van Allen: after the meeting I told the mayor that whenever the Council Packet was delayed until late Monday, it was quite difficult for Council members, or the public, to seek answers to questions in a timely manner. He said he would work on that issue.]

Item 10, Call to the Public: John Traynor wished the Mayor and Council a Happy New Year and then spoke regarding the somewhat confusing orange 'request to speak' slips [my unofficial terminology] used during Council meetings. They currently provide 4 check boxes, none of which afford a potential speaker the opportunity to 'Request to speak' without declaring being in favor of or opposed to a specific Agenda item. I mentioned that I routinely cross out the "I am in favor" portion of the first check box because I simply wish to speak, as in during Call to the Public. A new check box should be added to reflect the desire of someone to speak without having to declare being for or against the topic.

My first point was an introduction to my second which dealt with the official minutes of the December Council meeting. At that meeting, numerous people spoke and/or completed the orange form mentioned above in regard to the General Plan amendment and Rezoning agenda item. One or more individuals were listed as "appeared and spoke in favor of the development" [Eastwood], yet Jim and I attended that meeting and have no recollection of a few of them saying they were in favor. I phoned one person and asked them if they had actually said they were in favor. They responded that they questioned building heights but did not say they were in favor or opposed. A return phone call from that person confirmed that the orange slip may have been the culprit because they did not remember which box they checked.

[The assumption that someone who speaks is either in favor of, or opposed to, a topic because of the current check box choices offered often leads to incorrect results, since "in favor and wish to speak" is the first check box.]

I asked a few general questions regarding the 12/1 official minutes which the Town Clerk was kind enough to clarify.

Sandee Simcox, the second and last speaker, introduced herself as the new Manager of National Bank of Arizona's Carefree branch. She went on to say she was pleased to serve the community.

Item 11 Current Events: Councilman Farrar announced that Carefree had the opportunity to provide 10 scholarships for kids from 9 – 20 years of age to attend 'CodeDay Arizona'. The nationwide program is a 24 hour event in 'coding' apps or games. It will span 2 days [noon – noon, sleeping on-site] and will be held 2/13 – 2/14. More information will be provided shortly.

Item 12, Presentation & Update on the Carefree Caring Corp: Debbra Determan presented a 4 minute video on the Caring Corp and then outlined some statistics relating to their services in Carefree, Cave Creek, North Scottsdale, and North Phoenix. Volunteers supported 747 individuals in the coverage area, expending over 41,000 hours. 50 individuals receive daily meals. She thanked the town for providing LTAP matching funds which helped with the purchase of vans. [LTAP is a national Local Technical Assistance Program. It is the primary way that the Federal Highway Administration (FHWA) helps local transportation agencies.] She inquired where the Caring Corp would be able to park their vehicles when new construction projects necessitate they move from their current spots. The Mayor assured her that the town will work it out [no details were mentioned].

Item 13, Town Council Updates: The Mayor advised that the Liberty Utilities/Black Mountain Sewer rate case is progressing through the Arizona Corporation Commission review process.

Ms. Price then provided an update on the Gateway project, indicating that APS had completed undergrounding the electric lines at Carefree Drive & Cave Creek Road. Drawings will be finalized in a few weeks and after re-configuration of the roadway at that location, Gateway construction will begin.

Item 14, Adjournment: The meeting was adjourned at approximately 5:39 PM.

Don't forget to visit www.CarefreesFutureMatters.com

Respectfully submitted by Jim Van Allen and John Traynor
Obama and gun control
"Many people are very, very concerned with the children of India, with the children of Africa where quite a few die of hunger, and so on. Many people are also concerned about all the violence in this great country of the United States. These concerns are very good. But often these same people are not concerned with the millions who are being killed by the deliberate decision of their own mothers. And this is what is the greatest destroyer of peace today--abortion which brings people to such blindness," said Mother Teresa in her 1994 National Prayer Breakfast speech.

With President Obama expected to use executive power to tighten gun control laws, can we not see how he has no credibly to do so? Really, however, it's not just President Obama who has this credibility problem, but the whole Democratic Party.

Look again at Mother Teresa's quote. Don't you see the social justice issues that are so dear to the heart of the Democratic Party. We see hunger and violence at the forefront here, two pillars of the Democratic Party. But she calls out those who support abortion because abortion and peace are not compatible.

She also said, "Any country that accepts abortion is not teaching its people to love but to use any violence to get what they want." So by supporting abortion as a "right," are not President Obama and the Democratic Party suggesting that using violence is okay as long as they use it "to get what they want?" This is the great scandal they have created!

*Quotes taken from brochure distributed by Priests for Life

Michael Rachiele
Prairie Village, Kansas
A lot about nothing?
One the surface Pres. Obama's recent executive order seems much milder than most "pro gun" people thought it would be. But it is very odd that while Obama armed the most savage group of terrorists in history with the most advanced weapons and sold assault rifles to the drug dealers in Mexico that he is so concerned with having well armed Americas.

Nearly one in four women ages 50 to 64 are on an antidepressant. The average weight of new car is over 3200 pounds and is capable of at least approaching 100 miles per hour. Are we just as concerned about someone up to no good driving into a bus full of children as we are shooting kids in a school? Will anyone on antidepressants be banned from having a car or having a gun?

In the former Soviet Union, anyone who voiced opposition to communism was deemed mentally ill and had to submit to be re-educated. Recently U.S. District Judge Richard Berman ordered Dinesh D'Souza, a movie maker critical of Obama, to undergo counseling for having a psychological problem. Can he have a gun now?

It is amazing that Russia's Vladimir Putin recently advised Americans to never give up their guns. Putin knows first hand how tyrannical a government can get when the citizens are disarmed. So did the Jews in NAZI Germany.

Joseph DuPont
Towanda, Pennsylvania
"Gun Control" – Can Someone Please Make That Man a Ham Sandwich?
On January 5, US president Barack Obama unveiled his first major policy action of the new year: A batch of new victim disarmament – or, as its supporters call it, "gun control" – measures which he intends to impose by executive order.

The response from Republicans in Congress is, pardon the pun, weak tea. They merely accuse him of "executive overreach," claiming that the powers he claims lie with Congress, not the presidency. He retorts that the orders are "well within [his] legal authority."

Both sides are wrong. The language of the US Constitution's 2nd Amendment is clear and its intended meaning is well-documented. The framers of that amendment – who had just emerged from a long war against the world's most powerful army, a war won by an armed citizenry – understood the right to keep and bear arms as a right "of the people." They specifically and intentionally barred the president, Congress, the state legislatures, your local city council, ANYONE, from infringing it. Every "gun control" law now on the books is unconstitutional and therefore, per Madison v. Marbury, void.

Not only is Obama's executive order sortie, taken in conspiracy ("consultation") with the Attorney General of the United States and other government functionaries, not within his legal authority, it's a crime.

Under US Code Title 18, Section 241, "If two or more persons conspire to injure, oppress, threaten, or intimidate any person in any State, Territory, Commonwealth, Possession, or District in the free exercise or enjoyment of any right or privilege secured to him by the Constitution or laws of the United States, or because of his having so exercised the same ... They shall be fined under this title or imprisoned not more than ten years, or both; and if death results from the acts committed in violation of this section ... they shall be fined under this title or imprisoned for any term of years or for life, or both, or may be sentenced to death."

I've heard it said that a grand jury will, if asked to do so by a prosecutor, "indict a ham sandwich." Is there a prosecutor and a grand jury in the US brave enough to bring Barack Obama, Loretta Lynch and their co-conspirators before the bar of justice?

Probably not. But with 300 million guns in the hands of 100 million Americans, it's unlikely that this regime's attempted depredations can be made effective. Like Walt Whitman said, "resist much, obey little."

Thomas L. Knapp
William Lloyd Garrison Center for Libertarian Advocacy Journalism


Congress must protect vital drug patents from Wall Street attacks
Hedge-fund investors are coming to raid your medicine cabinet.

Cutting-edge treatments for diseases affecting millions of Americans are threatened by Wall Street's latest moneymaking scheme. The ploy: hedge funds bet against a drug company's stock price, launch attacks against the firm's patents on its best-selling medicines and then reap windfall profits when investors panic and the stock price plummets.

Unless Congress protects pharmaceutical-research firms from these assaults, funding for drug discovery will dry up and many new treatments won't ever make it into the hands of patients.

Hedge-fund manager Kyle Bass pioneered the strategy, which relies on a new legal procedure known as "inter partes review," or IPR. Earlier this year, Bass -- who previously made $590 million betting that homeowners wouldn't be able to make their mortgage payments during the financial crisis -- filed a review against Acorda Therapeutics' patent on a drug that helps multiple-sclerosis patients walk. The challenge caused Acorda's share price to crash by 10 percent.

Wall Street began exploiting the system after Congress created the Patent Trial and Appeal Board, a new arm of the Patent Office tasked with taking a second look at patents that some consider too vague. Since its formation in 2013, the board has proven so hungry to annihilate patents that it's been called a patent "death squad."

Bass quickly saw how the board was wiping out patents and jumped at the chance to make money from a self-fulfilling prophecy: challenge the patent and short the company's stock to profit on the market's reaction.

Other funds have copied Bass' strategy. The Mangrove Partners Master Fund acquired a 270,000-share "short" position in VirnetX, which owns patents for a Internet-privacy technology. Within weeks of filing two reviews against VirnetX patents, Mangrove unwound its short position, profiting from an 8 percent drop in the stock price.

Although these reviews can be filed against any patent, they're particularly threatening to medicine patents and the companies that own them. With the cost of developing a new drug estimated at nearly $2.6 billion, biotech companies need strong patent protection to attract funding and keep competitors out of the marketplace while they recoup their investment. Wall Street's abuse of these pharmaceutical reviews weakens patents and makes medical research look increasingly like a poor investment.

And with over 110 petitions filed against pharmaceutical patents in fiscal 2015 -- roughly double 2014's total -- the threat to R&D funding is only growing.

Fortunately, Congress can protect drug development efforts while still enabling judges to weed out bad patents.

Under the Hatch-Waxman Act, more than 80 percent of drug patents are already challenged by companies seeking to enter the market with generics -- compared to only 14 percent in the 1990s. Another law, known in Washington as "BPCIA," also encourages challenges to pharmaceutical patents.

In short, if a drug patent is actually too vague, generic manufacturers can challenge and invalidate it and enter the market. IPR challenges aren't necessary.

That's why Congress needs to exempt pharmaceutical patents approved by the FDA from these challenges. Such an exemption would ensure that Wall Street profiteers don't deprive innovators of research funding, while still being able to take down vague tech patents.

Preserving the existing patent-challenge procedures will ensure that companies have the confidence to invest in research and development and create the innovative, life-saving treatments patients need.

Peter J. Pitts, a former FDA associate commissioner, is president of the Center for Medicine in the Public Interest.
Medical insurance is expensive
I felt like my insurance company wanted me out of healthcare when I received my new premium information for 2016. I paid over $1,600 a month for my wife and I to have medical insurance in 2015. Last fall I learned my current policy would increase to over $1,950 per month. I had the option to change policies, which would have lowered my premium to $1,500 a month. The change would also have significantly reduced my coverage. In the process I learned that just going to the Emergency Room would be an automatic $500 charge on my current policy and any other policy that I would change to. I chose to stick with my current policy and in 2016 my medical insurance will be $23,600. That's a lot of money.

I can see what is coming this fall of 2016. I will receive my letter telling me that my current insurance will probably be increased to $2,300 to $2,500 per month. I can't pay that kind of premium and will be forced into a plan that will cost $1,600 to $1,800 per month and will pay less on medical expenses. The name of the game is the insurance company assuming less liability. They want you to buy the insurance and then pay as much of your medical expense as possible.

I hear too many reports of people opting out of surgeries because they can't afford to pay the deductible and the copay. Many Americans who still cannot afford to buy health insurance are now being penalized. Some are opting to pay the penalty instead of buying the insurance.

We have to simplify our current American health insurance fiasco.

Keep poor Americans on Medicaid. Allow all Americans with preexisting conditions to be on Medicaid. If they make over $40,000 then they should buy into Medicare. Lower income people should pay less than those with higher wages.

Make medical insurance competitive over state lines. Allow citizens to shop across the country for the best insurance deals. Encourage Insurance companies to advertise across the country. Give people a choice. Also, open the door to Canada's pharmacies. An approved list of pharmacies that Americans can do business with would give us another option.

Finally, we have to slow down government's involvement in our medical care. The job of the government is to keep us safe and provide an environment where we can conduct business and live our lives. The government is being bilked by billions of dollars by health care providers each year. Each year our national debt grows. This means our grandchildren will be paying our medical bills. Involving the government more and more into the health care industry only means a larger national debt and Uncle Sam telling you and your doctor how long you are allowed to stay in the hospital after an appendectomy.

America is in a healthcare crisis that is spiraling out of control. We must elect leadership with a real business plan or we are going to be out of the healthcare business.

Glenn Mollette
www.keepourfreedom.com
Government needs to work better
Whoever wins next November's presidential election, it's a sure bet that at some point he or she will vow to set the federal government on the straight and narrow. It's a bracing sentiment. But you'll want to take it with a grain of salt.

Our history is filled with remarkable government accomplishments. Our involvement in World War II and hands-on approach to the postwar reconstruction of Europe and Japan, our role in ending the Cold War, the interstate highway system, extending the right to vote to all our citizens...There's a long list of crucially important efforts the federal government has executed well.

Yet every American ought also to be alarmed by an expanding list of missteps and blunders. In a report last month for the highly capable and too-little-noticed Volcker Alliance — whose goal is to improve government effectiveness — NYU Professor Paul C. Light drew attention to what he calls "a shocking acceleration in the federal government's production of highly visible mistakes, miscalculations, and maladministration."

A moment's reflection will call to mind a sobering litany of failure, from the inability to stop the 9/11 attacks to shortfalls in the care of our veterans. The reasons range from muddled policy or insufficient resources to outright misconduct, but the question isn't really what or who is to blame. It's how we turn things around and reverse the accelerating pace of breakdowns.

To start, while a lot of hard work goes into creating policy on Capitol Hill and in the agencies, much less attention goes to how it will be carried out. Both branches need to focus on how they will assess effectiveness, anticipate problems, make sure that staffing is adequate, and provide necessary resources.

Second, if making policy today is complicated, so is implementing it. This means that we need skillful people within the government to carry it out, which means hiring them, retaining them, and making sure they're held to account with well-conceived metrics.

Finally, too often these days the losers of a policy debate turn to torpedoing it. Some government failures aren't the result of muddled policy, lack of leadership, or incompetence; they're the result of what amounts to calculated sabotage. This needs to end.

Most Americans want government to work well. When a policy is adopted, it needs to be executed effectively. Whoever our next President turns out to be, let's hope he or she takes that charge seriously.

Lee Hamilton
Indiana University School of Global and International Studies
It takes a tribe
Thirty-eight years ago, the federal government passed a law to keep Indian children safe. Today that promise, embodied in the Indian Child Welfare Act, is under assault.

America's multibillion-dollar adoption industry and its allies seek to undermine ICWA's enforcement by filing lawsuits they hope to take to the Supreme Court. If successful, the lawsuits would deny tribes of their right -- and their duty -- to look after the welfare of their children.

As Indian people, we've always known that it's in our children's best interests to stay in their families' homes and to remain connected to their tribes. In 1978, Congress recognized this fact and passed ICWA, which aims to "protect the best interests of Indian children and to promote the stability and security of Indian tribes and families."

Congress passed ICWA because such protections were desperately needed. In the 1970s, state officials would frequently tear Indian children from their homes for reasons of cultural chauvinism and ignorance. Then, children were served up to America's adoption industry. ICWA hoped to stop this cultural genocide by creating a legal presumption that Indian children belong in their own homes or with other family or tribal members.

To guarantee this protection, ICWA gave tribes the ability to intervene in state courts on behalf of tribal children who had been removed from their homes.

Today, the ability of tribes to protect their children remains vital.

Consider the case of an adoption attorney in Oklahoma who was recently charged with 25 felony counts, including child trafficking. Sadly, those who make a living offering Indian children up for adoption often stoop to dubious tactics. Without ICWA, tribes would be helpless to protect those children.

Yet attacks on the law continue. Recently, the Goldwater Institute – claiming to speak for all Indian children in foster care or up for adoption – filed a lawsuit, hoping to have the Supreme Court declare ICWA un-constitutional.

This would strip Indian children of the law's valuable protections. The Court would have to decide that it knows the best interests of tribal children better than their tribes do. This would be breathtakingly arrogant and ignore the repeated failures of the United States to protect tribal children.

For example, ICWA requires proper notice to parents and tribes of adoption proceedings. This helps ensure all adoptions are fair and transparent. Only those trying to force or illegally procure adoptions would be opposed to such minimum safeguards.

Casey Family Programs, the Child Welfare League of America and several other child welfare organizations, in response to Goldwater's legal challenge, said ICWA "applies the gold standard for child welfare decisions for all children, and unraveling its protections could cause significant harm for Indian children."

These organizations deal with both private adoptions and state foster-care cases. And they all agree that the "ICWA embodies the best practices in child welfare." We've known this for years.

History shows that only Indian people can be counted on to protect their children. The adoption agencies seeking to overturn the ICWA claim that they know what is best for Indian children. But often, their interest lies in collecting adoptions fees quickly and with minimum fuss.

Tribal nations will defend the ICWA with everything they have. Fortunately, President Obama has been a staunch ally in honoring the federal government's promise to uphold the ICWA. This country must not return to a time in which others decide what's best for tribal children.

Bill John Baker
Principal Chief of the Cherokee Nation