january

6, 2016
Cave Creek stepped up when the Chip went down

Please join us in taking a moment to appreciate the amazing citizens of Cave Creek and surrounding areas for all the efforts made in raising funds for the Buffalo Chip employees. Since the Thanksgiving day fire at The Buffalo Chip we have seen some amazing acts of kindness, and generosity. We have all watched this great little town of ours come together to make miracles happen.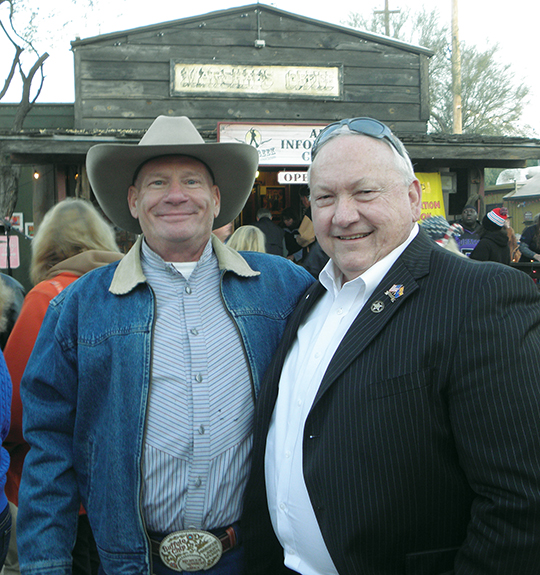 Larry Wendt and Russell Pearce Photo by Linda Bentley

The outpouring of support for the Chip families has been a spectacular thing to witness. Restaurant owners who did not have to help, otherwise being competitors, came together with open arms to give displaced employees jobs. Musicians, a new place to share their music.

So many people donated their time, money, services and silent auction items. Tribute goes to those who held toy drives, donated fundraiser t-shirt monies, businesses selling shirts, Foothills Food Bank, local churches, The Town of Cave Creek, local fire departments, all of the staff at Parkway Banks and Frontier Town for hosting the fundraiser. Finally we thank the Wendt family for inspiring us all to have faith in the midst of tragedy, to come together and perservere.

Everyone has given whatever they possibly can to take care of these families. There are no words to express the pride and gratitude for our amazing community. We truly are a family here and Creekers take care of their own! Many thanks and Blessings to all!