january

6, 2016
Obituary: FG ("Bud") Budnick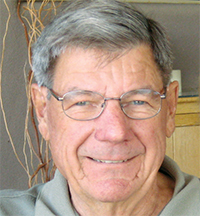 FG ("Bud") Budnick died at home with family on December 24, 2015. He is survived by his wife of 63 years, Patricia ("Patty"), his daughters Jody (husband Andy) and Sarah (partner Jennifer), his sons Michael (partner Laura) and Peter (wife Hue), six grandchildren, and one great grandchild; preceded in death by his father George, mother Frances, sister Lucille, and son Patrick.

He was born August 13, 1927, in Superior, Wisconsin. He grew up hunting and fishing the north woods before joining the Navy at 17, at the height of WWII. He was very proud of his country and service.

Following the war he attended college and married the love of his life, Patricia Anne Bohne. He worked his way up the corporate ladder with engineering and mining firms, which eventually led his growing family to Ada, Michigan. In 1966 Bud started his own company, Tempo Inc., and over the next 50 years his company developed many elderly, low-income and military housing projects across the USA. He was a natural and infectious leader, and a "get it done" kind of man. He set great examples, applied stern guidance when needed and mentored many to work hard and achieve their goals and dreams.

In 1985 Bud moved his family and business to Carefree, Arizona. He was a founding member of Arizona Music Festival, contributed time and resources to Kiwanis and others, and regretted he was unable to complete work related to an expansion for the Foothills Food Bank as his health declined.

Bud was committed to family, friends and his Catholic faith. He attended church regularly, and donated his construction knowledge and skills to church building and renovation projects. He loved to travel and took his family and friends on many exciting adventures. He will be remembered and missed by many for his take-charge attitude, his hard work and play ethic, and big smile.

A memorial service will be held on at 10 a.m. on Saturday, January 9, 2016 at Our Lady of Joy Catholic Church in Carefree. There will be a reception and celebration of his life immediately following the service.