By Linda Bentley | DECEMBER

2, 2015
Town mourns loss of Buffalo Chip to Thanksgiving Day fire

'Pray for the Buffalo Chip family staying together. We will do our best to take care of everyone.'
CAVE CREEK – Locals and visitors alike were in mourning Thanksgiving Day as they watched fire, being investigated as arson by Maricopa County Sheriff's Office (MCSO), consume the Buffalo Chip Saloon and Steakhouse, leaving only an empty shell of the famous landmark.
Rural/Metro Fire responded shortly before 7 a.m. when a suspicious fire broke out in one of the bathrooms where it appeared someone had deliberately set fire to rolls of toilet paper.
That fire was extinguished and arson investigators were called in.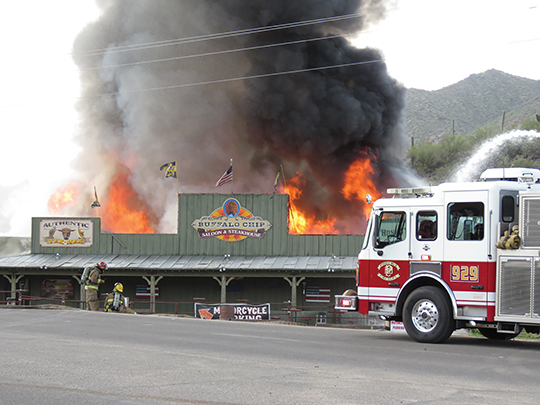 Courtesy Photo Ray Stark

At around 9:15 investigators noticed smoke billowing from the roof and within a few minutes the building was fully engulfed. Approximately 100 firefighters and 25 engines from multiple municipalities returned to the scene to battle the blaze that ended up consuming the building.

Two firefighters were injured.

It's not yet clear if the bathroom fire and the subsequent attic blaze are connected.

The building, due to its age, was not equipped with fire sprinklers, which are now required.
MCSO arson investigators are following up on a couple of leads.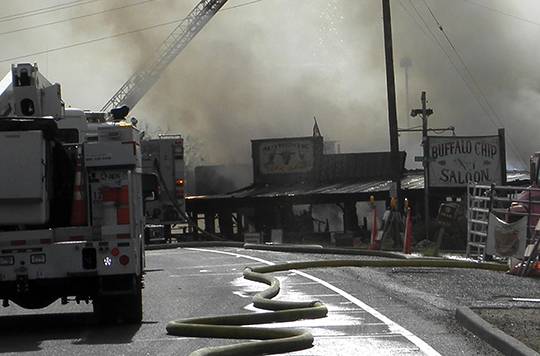 Photo Linda Bentley

The landmark saloon and restaurant, which originally opened in 1951 as the Maverick Saloon, has been one of the town's most popular venues to enjoy live country music, dancing, barbecue and bull riding.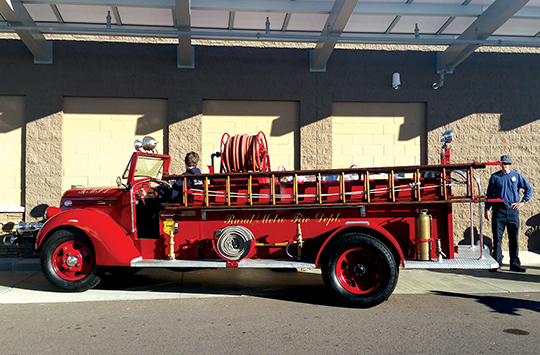 Photo Linda Bentley
Fire Chief John Kraetz asked people to consider the additional 120 families who lost their employment due to the fire when they donate to Rural/Metro's annual holiday toy drive this year.


It was also known as Lambeau Field West where Green Bay Packer fans gathered to root for their team.

The Buffalo Chip planned an all-day football and Thanksgiving Day feast as the Green Bay Packers were scheduled to play the Chicago Bears that evening.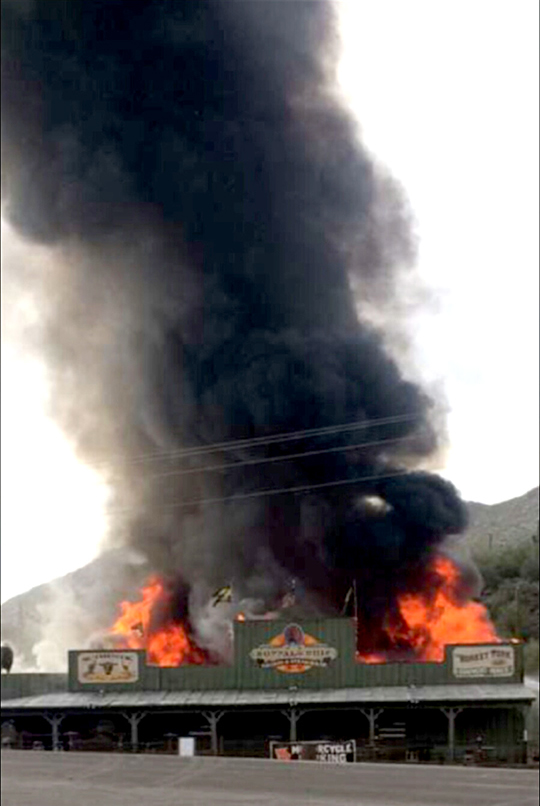 Photo Tracy Wager

Owner Larry Wendt, who has owned the venue since 1999, recently spoke at a council meeting to introduce some of his newest employees from the now closed Pinnacle Peak Patio and Reatta Pass restaurants in Scottsdale and said he currently employs around 120 people.

While Wendt said he plans to rebuild, he also plans to reopen the patio and barbecue area that was left unscathed.

The Buffalo Chip's website posted, "We experienced a fire on 11/26/2015. Pray for the Buffalo Chip family staying together. We will do our best to take care of everyone."

Meanwhile, Parkway Bank Manager Cynthia Adam has set up a foundation account to assist Buffalo Chip staff and stated anyone wanting to make donations to help keep their staff above water for the holidays may do so through the Buffalo Chip Employee Fund at Parkway Bank.

Rural/Metro Fire Chief John Kraetz said its annual holiday toy drive is currently underway.
And, while Kraetz noted area residents are overwhelmingly generous every year, he asked if people could step it up just a little bit more this year in light of the 120 Buffalo Chip families that have suddenly lost employment.

Anyone wishing to donate a new, unopened toy may drop it off at either Rural/Metro Fire station in Carefree or Cave Creek or at the Cave Creek Walmart on weekends.