My View

BY DON SORCHYCH |
DECEMBER

2, 2015
Buffalo Chip • Council of Cave Creek • National Government

No doubt you have heard the Buffalo Chip Saloon & Steakhouse had a major fire on Thanksgiving morning. It has been described as arson and an investigation is ongoing. Although I can't imagine anyone doing such a heinous crime, I hope the judge who will eventually hear this/these case(s) is a "hang 'em high" type of judge.

Not only is the major part of the Chip's building gone, there were thousands of historic items: boots, hats, pieces of chainsaw art, pictures, trophies, signs – memorabilia of all kinds.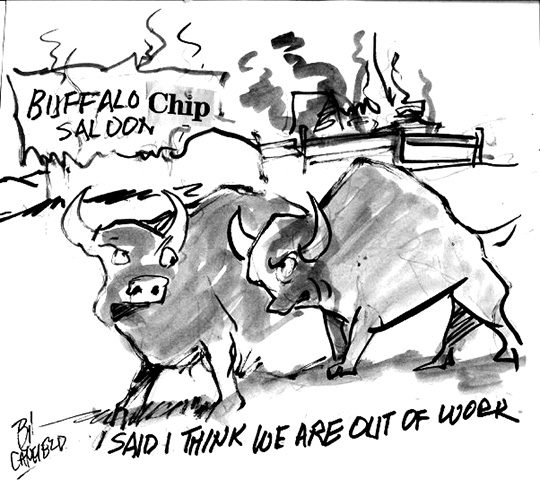 There are several active fundraisers pursuing funds to help the 120 or more out-of -work employees. You can donate to the Buffalo Chip Employee Fund at Cave Creek Parkway Bank.
Owner Larry Wendt has said business will resume soon in the undamaged back patio and barbecue area while the rest of the Chip is being rebuilt.

Our sympathy and prayers are with them.

Council of Cave Creek
I am still promoting a policy in Cave Creek that denies any road closures except for Fiesta Days, Wild West Days (if it continues) and Homecoming for Cactus Shadows. When will there be a vote to stop road closures?

The previous council's votes to accept MAG's generosity to pay for a bike lane has backfired. What idiot decided to build it while in season? I watch the one lane migration past my office at about 2 MPH, just about like Bike Week. Now one lane visitors (with wallets full) stay away and bicyclists are using roads designed for cars so if you get behind one you have no way to pass.
We know automobile drivers have some semblance of training and licensing; bicyclists don't.
Ever see a bicyclist stop for a stop sign? Maybe those in Arizona who profit from selling these expensive bikes should offer training before the government steps in, as it has in other states, mandating licensing, headgear and who knows what other requirements. Furthermore, drivers are taxed on fuel for the purpose of road construction and maintenance. Bicycles are not.

Then there is the water tank or whatever it is at the front of the Roadhouse that is 100 percent on town property. With town liability of that placement, why is the town allowing it? Hello, council! Hello, town manager?

The other thing about council is that Mayor Vincent Francia, Vice Mayor Steve LaMar and Dick Esser say they will not run. Councilman Ernie Bunch says he will run for mayor and probably a dark side candidate will run. That leaves three new candidates to run for council. I am confident the sure-handed voters that dumped the slate will be reluctant to vote for anyone with a slate smell. There are lots of qualified candidates for mayor and council; I have talked to some of them. The town needs honest and knowledgeable candidates of the non-slate, non-dark side culture – and dark side candidates stick out. This is still a young town, but wants to remain a western town with large lots, little or no restrictions on horses or other four legged friends. We have had good and bad activists and it seems they come with the territory. Remember the slogan, "A town too tough to be governed."

I have one mystery candidate for mayor or council but he or she isn't ready to disclose their identity yet. Stay tuned for that one.

Movement by council about the possible acquisition of Harmony Hollow at the foot of Spur Cross Ranch is glacier slow but hopefully will come to council soon. It would be a shame to contaminate Spur Cross Ranch with a subdivision at that location.

I wonder if the town will ever consider returning to a five-day week as their show up and work schedule? The current four day week may be convenient for them, but it is inconvenient for our town of 5,000 who need information or help of some sort and the many prospective tax paying business owners and land owners. Remember the promise, "Government is here to help?" President Reagan had trouble with that phrase and I do too.

National Government
This newspaper is still in Trump's corner and he is still leading in spite of the Republicans' and supporters' continuous attacks on him.

My ideal team would be The Donald for President and Ted Cruz for Vice President. Washington is a sewer that needs cleaning from bottom to top.

The present administration of overflowing immigration is almost beyond fixing.

And it is galling to have morons like Senator John McCain claiming it would be impossible to send illegal aliens home. If some wouldn't leave even if they were labeled, plenty would. And even if it took ten years it certainly can be done.

It has been clear that parties lied about border enforcement because backers of both parties wanted cheap labor – damn our citizens. And it is also clear Democrats wanted their vote.