My View

BY DON SORCHYCH |
NOVEMBER

4, 2015
CCUSD • G. Russell Chambers •Wild West Days
Wonderful news! CCUSD voters rejected their pocket picking routine for fund raising. We are in the process of investigating the PAC that funded it and the people involved. Stay tuned!

G. Russell Chambers
You may have read my editorial about my ex-boss and friend G. Russell Chambers. A reader sent me a copy of his obituary, which tells more than I knew about Russell. He was indeed an unforgettable man.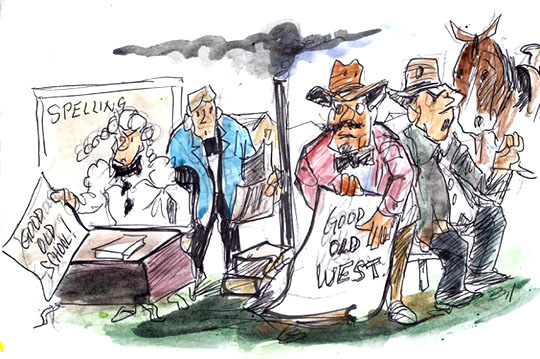 Hi, Don.
As a reader of the Sonoran News for over ten years, and a resident of north Scottsdale for about 15 years, I read about your inability to find any obituary for G. Russell Chambers.

I subscribe to an historical newspaper service genealogybank.com and was easily able to locate two of his obituaries, albeit almost identical:

G. Russell Chambers

Funeral services for G. Russell Chambers, 77, of Lake Charles, Louisiana, will be at 1:00 PM Thursday, March 30, 1995, at St. Luke Simpson United Methodist Church. Dr. Clarence Young will officiate. Burial will be in Birmingham, Alabama.

Visitation will be from 2 – 10 p.m. Wednesday at the Johnson Funeral Home, and from 10 a.m. until time of services Thursday at the church.

Mr. Chambers died at 2:15 p.m. Monday in a Lake Charles hospital.

Mr. Chambers had been a Lake Charles resident since 1971. He had been a long-time supporter of many Lake Charles area organizations and McNeese State University.

Mr. Chambers grew up in the mountains of east Tennessee. He graduated in Pre-med from David Lipscomb University and held a Bachelors Degree in Electrical Engineering from Vanderbilt University. He also attended the graduate schools at Harvard University and MIT in Massachusetts.

In business, Mr. Chambers was a consulting engineer, a research engineer with the National Bureau of Standards and the Columbia Broadcasting System in New York City. Mr. Chambers served as Senior Executive Officer of Rollins, Inc. in Atlanta from 1950 to 1970, until he retired and relocated in Lake Charles. In 1971 he purchased KPLC TV which he owned and operated until 1986.

In addition, Mr. Chambers was Chairman, President and CEO of Intermedics, Inc. in the Houston area from 1979 to 1986. Mr. Chambers was President, Chairman, and 100% owner of Calcasieu TV & Radio, Inc., the owner of KYKZ-FM in Lake Charles from 1987 to 1994. Mr. Chambers also owned broadcast properties in Charleston, West Virginia and Jackson, Mississippi.

Mr. Chambers continued to be a very active businessman in Lake Charles as owner of Aqua-Pura, the distributer of Mountain Brook Spring Water. In the past 15 years, Mr. Chambers had devoted much of his time to companies primarily involved in medical research in particular as it relates to cardiology. In recent years, Mr. Chambers served as Chairman and CEO of Omnitron International, Inc. of Lake Charles. Omnitron has developed unique patented equipment for Radiation treatment for many types of cancer.

Mr. Chambers is survived by his wife, Rita Guillory Chambers of Lake Charles; two sons, Dr. Russell C. Chambers of Atlanta, Georgia, and Steve J. Guillory of Nashville, Tennessee; three daughters, Linda Jenkins of Flanders, New Jersey, Julie Askew of Orlando, Florida, and Dany Guillory of Nashville, Tennessee. He also is survived by one sister, Mrs. Mabel Christine Baker of Birmingham, Alabama; and five grandchildren.

The family has requested that donations be made to Abraham's Tent, 2300 Fruge St., Lake Charles, Louisiana 70602.

Arrangements by Johnson Funeral Home, Lake Charles, Louisiana.
Austin American-Statesman (TX) - Wednesday, March 29, 1995

"Austin American-Statesman", Texas, GenealogyBank.com (http://www.genealogybank.com/doc/obituaries/obit/10015006023625A5-10015006023625A5 : accessed 24 October 2015)

G. Russell Chambers

RIP Russell

Wild West Days
Every one seems to agree that the Wild West Days (WWD) event was well done, especially the parade. I know Town Manager Peter Jankowski would like to get it off his plate and he is hopeful someone will step up. He expects more from the Cave Creek Merchants and Events Association, which was how it started. The first WWD was founded by the previous Cave Creek Chamber of Commerce while Marla McGee was the president. I treasure a large photo she arranged for the event at Spur Cross Stables. She provided garments, guns and even sanctimonious John Briganti was on his horse trying to look tough. Oh, I forgot Briganti is offended if his real name is used. He prefers the legend Johnny Ringo's name he has adopted. Why anyone would choose the name of a back shooting outlaw instead of his parents choice is only known by him.

I was there, so was Mayor Vincent Francia, Town Manager Usama Abujbarah, Bob Boze Bell, Mad Coyote Joe, centurion Grace Frederick and 15 others.

The chamber members gave full range to Briganti and his girl friend and they went all over the county promoting the event.

I forgot why there was a split with the chamber and Briganti but the second WWD was a disaster. A beer company provided free beer and estimated sales would net about $40,000. Briganti may have been provoked because he wasn't treated to his satisfaction. Beer sales lagged because the customers were mostly families with children but worse, it rained all day Sunday. At the next meeting Mike Allred, Rancho Manana Golf Club owner and acting chamber accountant gave us the bad news. We lost $20,000. We were all stunned until Mike bailed us out. Mike said, "I will give you the $20,000. I would like $10,000 for five years of sponsorship and pay me back when you can." How about that for generosity?

The chamber in those days held events and most made money – The Gong Show, the Bachelor/Bachelorette Auction and others – so we were able to pay Mike back in a few years.

Anybody or any organization want to put on next year's WWD?

And if you want to see the photo, look in our Sales Manager Charles Blankenship's office. It is on his wall but I told him to not get too fond of it.