NOVEMBER 11, 2015
Western stage to premiere November 14 at the Buffalo Chip Saloon & Steakhouse
CAVE CREEK – A temporary western stage is set to debut to the public on Saturday, November 14, 2015. According to Larry Wendt, owner of the famous Buffalo Chip Saloon and Steakhouse, the 40 X 80-foot stage is being built using all rustic plank wood and materials.

"We are very excited about this phenomenal extension to our entertainment and restaurant venue," says Wendt. "This will create a new experience for the residents, visitors, tourists and corporate event guests who visit The Buffalo Chip in historic Cave Creek."

Nationally known Texas Guitar Slinger Tyrone Vaughan, will be the first performer on the new stage Saturday, November 14 at 8 p.m. Vaughan is the hottest musical act to emerge from the Austin Texas music scene.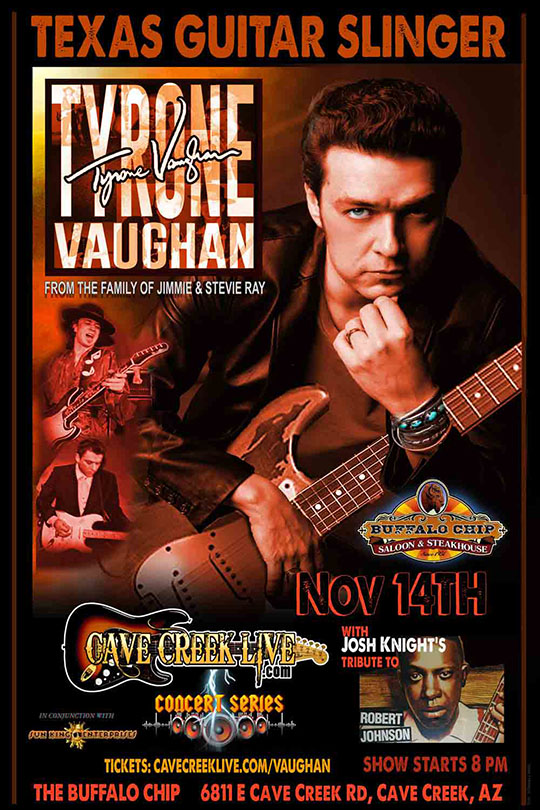 Vaughan, the son of Jimmie Vaughan and nephew of guitar legend Stevie Ray Vaughan, brings the hot Vaughan family sound to Arizona for this one night only event. A nationally recognized songwriter and guitarist with a deep musical heritage, Vaughan's mighty, twangy voice infuses fiery guitar licks that are a Vaughan family trademark. He got his first guitars from his uncle Stevie Ray, who ruled the Austin, Texas scene for years, and who took Tyrone under his wing while father Jimmie was touring with his band, The Fabulous Thunderbirds.

He honed his songwriting and singing while developing his own distinctive sound and was invited to work and play with many artists. He wrote a song for and played on his father's Grammy winning album, "Do You Get the Blues?" and has performed with ZZ Top's Billy Gibbons, Stevie Ray Vaughan's band Double Trouble and Little Jimmy King, among others. Vaughan just released his newest album, "Now and Then," which is receiving national and international recognition. Vaughan will be proceeded during the musical event by Josh Knight and his tribute to the late great music legend Robert Johnson.

Tickets are $25 for general admission and limited VIP seating can be purchased for $40 at cavecreeklive.com/vaughan prior to November 14. VIP seating include a private server and one-on-one time with the band.

This is the first and only stage and entertainment complex of its type and will provide excellent viewing for entertainment performances of all kinds. Along with the fabulous VIP seating area, guests will enjoy spectacular views of musicians and other performances because the stage literally is constructed on the side of a mountain."

Wendt says that in addition to the one-of-a-kind stage, amenities will include 150 amps of power, permanent and LED lighting and a sound system tailored to the needs of the Town of Cave Creek. The Buffalo Chip also is building a western town behind the stage. Town facades in the mountain's desert setting will include a saloon with swinging doors, a Chinese laundry, a farrier and livery and possibly a church chapel. Nestled next to the stage will be a hangman's gallows, a food service chuck wagon and plenty of room for a vendor alley and special western performances. The expanded entertainment venue will seat 2,000-3,000 people.

"We believe the stage and western surroundings will be a major attraction," adds Wendt. "And, we are pleased to kick off our stage's debut with a performance by the incredible artist, Tyrone Vaughan."