NOVEMBER 11, 2015
Carefree Christmas Festival News*
Carefree Cave Creek Chamber of Commerce Now Accepting Float Entries for Holiday Parade of Lights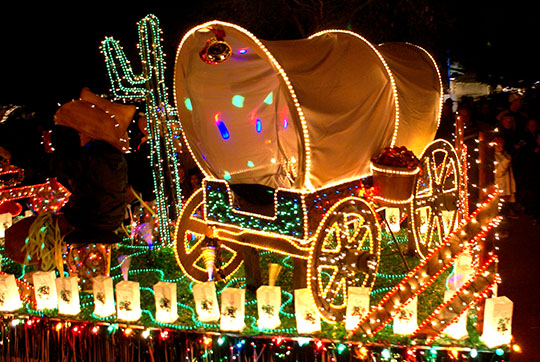 CAREFREE – The Carefree Cave Creek Chamber of Commerce is now accepting parade entries for the 8th Annual Carefree Christmas Festival's Holiday Parade of Lights that will take place on Saturday, December 12, 100 Easy Street in downtown Carefree.

Entry fees are $50 for non-profits and $100 for commercial vendors. All entries must be submitted by 4 p.m. on Friday, November 20. For more information contact the Carefree Cave Creek Chamber at 480-488-2051.

All floats must be decorated in holiday lights and carry a fire extinguisher. Horse riders will be permitted if handlers are present to walk alongside. Those with animal groups must provide cleanup crews.

The parade is sponsored by APS and produced by the Chamber of Commerce. Float prizes include a Mayor's Award, Ambassador's Award, President's Award, and Director's Award.