NOVEMBER 4, 2015 | MARIELLE D. MARNE
Extended happy hours, delivery, daily specials, Cibo e Vino is top choice for all
SCOTTSDALE – Diners know Cibo e Vino delivers on authentic Italian cuisine, but now they actually deliver. Yes, enjoy any one of the delicious entrees at home … without leaving the house. Order a minimum of $25 and home-cooked meals are yours without lifting a finger, except to pick up the phone. (Delivery charge of $3 applies.)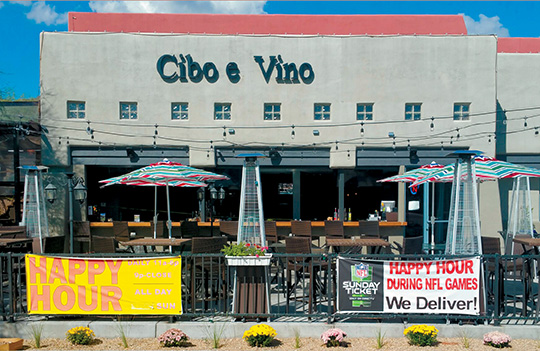 Owner and Chef John Collura is excited about the NFL Sunday Ticket. With nine big screen TVs visible from all tables, sports fans can watch all NFL games and partake of extended happy hour during the whole game. And don't be shy about asking the staff to turn the channel to your hometown team. "Customers like that they can watch whatever they want," Collura added. Given the great deal, apparently quite a few women who don't care about passing the pigskin are looking forward to football season, because "happy hour includes wine!"

Collura makes dining at Cibo e Vino fun and affordable for all. On Monday, with the purchase of an adult entrée, kids 12 and under eat free! Tuesday, enjoy complimentary wine tasting from 6 p.m. to 8 p.m. Bottles of wine are half off on Wednesday. There's a bit of madness on Thursday – Martini Madness. House martinis are $5, specialty martinis are $7. Find more deals at ciboevinoaz.com.

Fall is an ideal time to enjoy a meal on the new patio. The flowers are in full bloom! Anytime is a wonderful time to sit at the remodeled bar and chat with the friendly bartenders while you sip a beer or cool off with a margarita. Remember, Cibo e Vino caters, too!

Cibo e Vino is located at 34522 N. Scottsdale Rd. See why they earn reviews like: I believe the food can be described in two simple words - "Dee Lissssh" by calling 480-595-6600.