October 21, 2015 | By Marielle Marne
Take a trip to the Chip for cowboy food and western flair
CAVE CREEK – A dream team has assembled at the Buffalo Chip Saloon & Steakhouse. With the recent additions of "Big Marv" Dickson, Robert Smith and Scott Reisenbigler, owner Larry Wendt offered, "We've always had good food, but now we have great food!"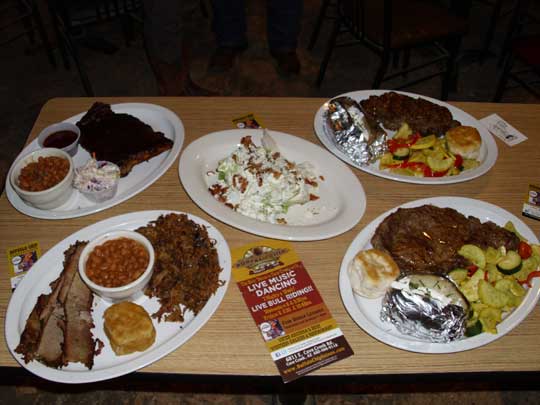 Indeed it is. Big Marv was a well-known fixture at Pinnacle Peak Patio before it closed. He's cooked up 11 million steaks, and he's intending to add to that number at the Chip. He shared some secrets to superior steaks. "I use tongs to turn them." Puncture them with a fork and you let the juices leak out! Unlike some chefs who turn steaks a time or two, Big Marv turns them 10 to 15 times. It's what he does and it's another reason Wendt is so glad to have him on board.

As the name implies, the Buffalo Chip is a steakhouse, but it serves its fair share of barbecue. Bob Smith is the resident competition BBQ pit master. Unlike Big Marv, who uses mesquite wood, Smith cooks on almond wood, for 15 hours! He likes to say "a bad day of barbecue beats a good day of work." Over the years and through trial and error, he's come up with unique and flavorful rubs diners will only find at the Chip.

"It doesn't matter how good your steaks are or how good your BBQ is if you don't have good sides, delivered in a timely manner, to go with them," Wendt explained. Reisenbigler rounds out the culinary trifecta. He's coming up with new sides to appeal to everyone's tastes, not just the meat eaters among us. Salads, mac and cheese, pasta, grilled veggies, wraps (to be known as saddle blankets to keep with the cowboy theme that is the Buffalo Chip). "We're going for bigger, bolder favors," Reisenbigler added. The whole menu is being revamped and will even include kid fare.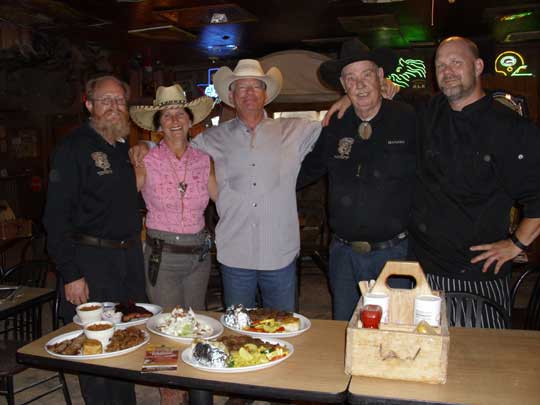 Photo (l-r) Bob Smith, Barb Kennedy and Larry Wendt, Marv Dickson, Scott Reisenbigler

Barb Kennedy, Larry's wife, is an Arizona State Chuckwagon Champion. There's nothing she can't make in her Dutch ovens. Lucky for her Desert Foothills neighbors, she can take the show on the road. "I've done this on the top of a mountain to the steps of the capitol building," she said. Barb caters, and of course, the Chip is available to host private parties.

But for those who love the Chip, it will still be the same great place with the western décor, live music, karaoke, free dance lessons, pro bull riding on site, TVs to watch the Green Bay Packers and food prices that won't break the bank. It might be a little more cowboy chic, but it will still be open 365 days a year. "We will always be open for our customers," Wendt assured.

There's a reason the Chip has enjoyed success since 1951; people love it! They love to bring friends to enjoy the food, the entertainment and the staff who treat them like family. Check out the menu at www.buffalochipsaloon.com and visit them at 6811 E. Cave Creek Rd. Call for more information: 480-488-9118.