october

7, 2015
Unprecedented partnership moves Sonoran desert tortoise conservation forward
U.S. Fish and Wildlife Service currently considering tortoise's endangered status
PHOENIX – With a tight timeframe, the Arizona Game and Fish Department recently led 16 federal and state partners in a proactive effort to develop a statewide conservation agreement to benefit the iconic Sonoran desert tortoise in Arizona. The agreement, a Candidate Conservation Agreement (CCA), was completed to outline effective conservation for the species and submitted to the U.S. Fish and Wildlife Service (Service) for consideration as they evaluate the need to list the Sonoran desert tortoise as threatened or endangered.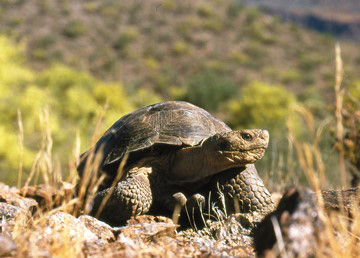 The agreement guides tortoise conservation actions across multiple agencies that have the potential to directly conserve the species in Arizona. It promotes a coordinated conservation approach statewide; integrated monitoring and research efforts; shared expertise; and, supports ongoing conservation partnership formation.

"Arizona Game and Fish is committed to keeping common species common and we know that conserving the Sonoran desert tortoise before it reaches a critical point that requires federal listing is more cost effective and allows us greater management flexibility," said Thomas R. Jones, acting nongame wildlife branch chief for the department. "Creating this large-scale partnership and developing the Candidate Conservation Agreement will contribute greatly to tortoise conservation and we hope will keep it from needing to be federally listed."

The Arizona Interagency Desert Tortoise Team (AIDTT) will manage and periodically review the implementation of the species conservation measures outlined in the CCA. The initial term of the CCA is ten years with five year increments thereafter until long-term habitat and population conservation of the desert tortoise is achieved, as determined by the AIDTT with concurrence by the Service.

"This ground-breaking collaborative effort provides better protections for the Sonoran desert tortoise in Arizona, and the Bureau of Land Management is proud to be a partner at the table," said BLM Arizona State Director Raymond Suazo.

CCA partners include the Bureau of Land Management, U.S. Fish and Wildlife Service, Bureau of Reclamation, National Park Service, Department of Defense, Customs and Border Protection, U.S. Forest Service, Natural Resources Conservation Service, Arizona Department of Transportation, and the department.

Desert tortoises are native to the southwestern desert and can live up to 100 years. They grow to be about 15 pounds and hibernate in the winter months. Desert tortoises eat plant material, including grasses and wildflowers. Once captive, desert tortoises cannot be released back into the wild. It is also illegal and harmful to desert tortoise populations to collect tortoises from the wild.

For more information on the Sonoran desert tortoise, visit www.azgfd.gov.