September 30, 2015
Local DAR Rings In Constitution Week
Scottsdale-chartered Grand Canyon Chapter Daughters of the American Revolution (DAR) held its first fall meeting Sept. 5 at Chaparral Suites Resort, Scottsdale to commemorate Constitution Week September 17- 23.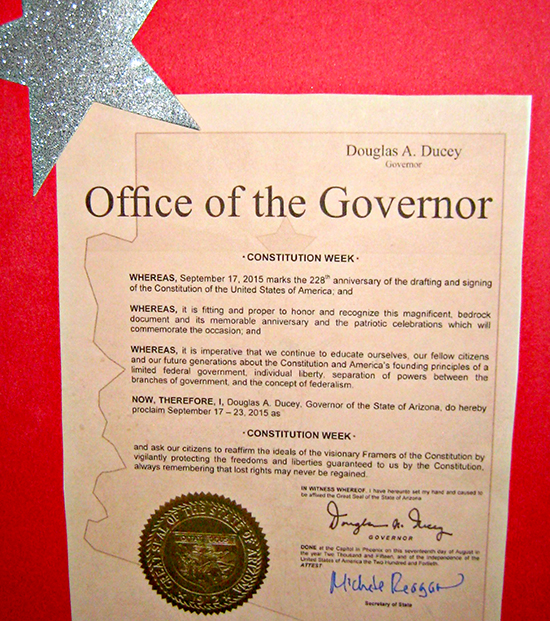 Constitution Week proclamation issued from the office of Governor Douglas A. Ducey.

The tradition of celebrating Constitution Week was initiated by DAR. In 1955 the society petitioned Congress to set aside the week of September 17 – 23 annually to honor the United States Constitution. A resolution for the annual observance was adopted by Congress and signed into Public Law #915 on August 2, 1956 by President Dwight D. Eisenhower. September 17, 2015 marks the 228th anniversary of the drafting and signing of the Constitution.

Guest speaker at the meeting was Jared Blanchard, staff attorney for the Scharf-Norton Center for Constitutional Litigation. Created in 2007, the center advocates adherence to constitutional law and protection of individual rights such as property rights and entrepreneurial freedom.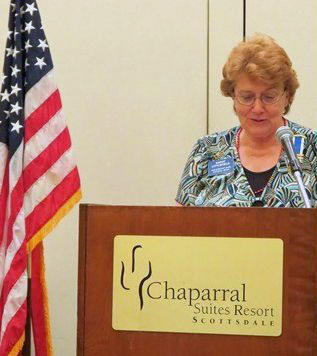 Chapter honorary regent,
Jean Howell
Photo courtesy Scottsdale councilwoman, Kathy Littlefield

City of Scottsdale councilwoman, Kathy Littlefield, presented the chapter with a Constitution Week proclamation signed by Scottsdale mayor, W.J. "Jim" Lane.

Grand Canyon Chapter Constitution Week committee chairman, Nancy Arnold, dressed as Dolly Madison, spoke about the significant role played by President James Madison as the "Father of The Constitution." Ms. Arnold's self-designed Constitution Week poster, to be delivered to a Scottsdale school, featured a Constitution Week proclamation signed by Arizona governor, Douglas A. Ducey.

DAR, founded in 1890, is a non-profit, non-political women's service organization dedicated to patriotic endeavor, historic preservation and better education for children and is open to any woman 18 years or older who can trace her lineal descent to a Revolutionary War patriot. For more information about today's DAR and Grand Canyon Chapter visit www.dar.org and http://grandcanyon.arizonadar.org.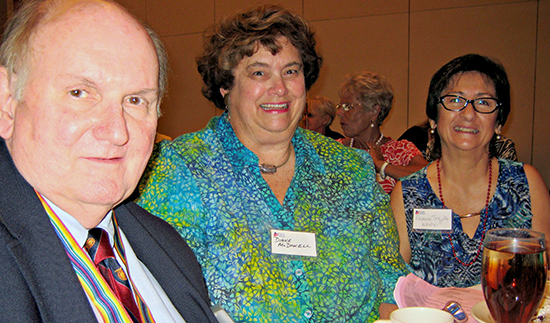 Chapter guests from Apache Trail Chapter, Military Order of the World Wars. From l.: LTC Edward McDowell, chapter commander; his wife Diane; and MAJ, USA, Ret. Rosanne Trujillo.

The next meeting of Grand Canyon Chapter is October 3. Guest speaker is Peggy Hurd, member of the Arizona State DAR speakers' bureau. Guests are welcome. For reservations, contact regent Kathy Shields at 602.820.5427.