By Marielle D. Marne

| SEPTEMBER 16, 2015
Beyond relief … Better than ever! by Dr. McFarlane, chiropractor and acupuncturist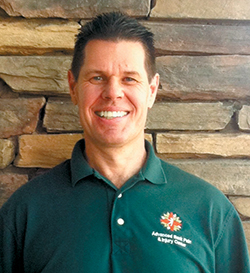 CAREFREE – Patients of the now-retired Dr. John Amaro and his wife Dr. Debra Richel of Carefree Acupuncture & Chiropractic Clinic appreciate seeing the familiar faces of the staff – Laurel, Lisa and Mary – since Dr. Jay McFarlane took over the practice. While familiar may be comforting, McFarlane has gotten rave reviews for the remodel he's undertaken recently at the office. In addition to the new paint, carpet and treatment tables, he's expanded space and will be offering functional rehab (around Nov.) for issues like injury or chronic conditions, stroke patients or even athletes and casual golfers.

McFarlane's patients have experienced a lot of relief in the last year since he started seeing them in Carefree (7518 E. Elbow Bend Rd.) on Tues and Thurs. He continues to offer supportive care to maintain optimal health on Mon, Weds and Fri at his 11030 N. Tatum Blvd. office as well. Regardless of the location, he receives countless referrals. "I have one guy who referred 10 people in the last year," he said. What people may not always know until they've tried acupuncture and/or chiropractic (the two practices truly go hand in hand) with Dr. McFarlane is how much better they can live. A few aches and pains may be acceptable to some, but it doesn't have to be!

McFarlane shared the account of a recent facelift patient. She came in hoping for relief from continued swelling. "She said the acupuncture was more intense, but she walked out looking less inflamed and her skin feeling less tight. As soon as she looked in the mirror she was amazed how much better she was." It stands to reason as historians have averred: "More people have benefited from acupuncture over the course of 50 centuries than the combined total of all other healing sciences, both ancient and modern." With that glowing endorsement, why not give it a try? As McFarlane says, Beyond relief … Better than ever!

For acupuncture, chiropractic adjustments and nutrition guidance, call Dr. Jay McFarlane at 480-488-9647. More details on weight loss/gain, coaching in exercising, supplements and/or smoking cessation may be found at pinnaclelifestyles.com.