By Linda Bentley

| SEPTEMBER 9, 2015
Haggen sues Albertson's, files for Chapter 11 bankruptcy


WILMINGTON, Del. – Last week, Haggen Holdings, LLC filed a complaint against Albertson's LLC and Albertson's Holdings LLC in U.S. District Court for the District of Delaware for more than $1 billion in damages.

Anyone who has been to the Haggen supermarket, formerly Albertson's, at Terravita Marketplace, can't help but notice the lack of employees, customers and merchandise.

The complaint alleges Albertson's engaged in coordinated and systematic efforts to eliminate competition and Haggen as a viable competitor in over 130 local grocery markets in California, Oregon, Washington, Nevada and Arizona.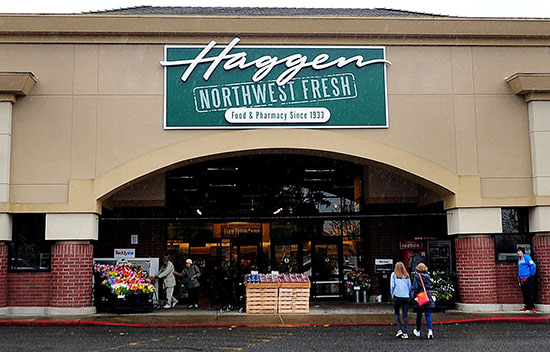 Haggen claims Albertson's, after Haggen purchased 146 Albertson's and Safeway stores in December 2014, engaged in an "illegal campaign includes premeditated acts of unfair and anti-competitive conduct that were calculated to circumvent Albertson's obligations under federal antitrust laws, Federal Trade Commission (FTC) orders, and contractual commitments to Haggen, all of which were intended to prevent and delay the successful entry of Haggen (or any other viable competitor) into local grocery markets that Albertson's now dominates."

Albertson's apparently sought out Haggen to purchase some of its stores in order to obtain FTC approval for its merger with Safeway by introducing Haggen as a new competitor in those markets.

Haggen claims Albertson's conduct, which reduced competition in the affected local markets, resulted in reducing consumer choice and decreasing quality while increasing prices for consumers throughout the five states, a needless loss of jobs, and infliction of severe brand, reputational and financial harm on Haggen.

In March 2014, Albertson's, in announcing its merger with Safeway, its largest and, in many cases, its only competitor in the affected local markets, stated the two supermarket chains intended to merge to create one of the largest food retailers in the United States, attaining the number one or number two competitive position in over two-thirds of the markets in which it does business.

In reviewing Albertson's regulatory filings, the FTC responded with immediate and serious concerns that the merger could eliminate "substantial competition" and reduce the number of meaningful competitors in those markets.

According to the complaint, rather than abandoning the merger, Albertson's decided to sell some of the existing Albertson's and Safeway stores to competing grocers, which it purported would address competitive concerns in certain local markets.

In order to convince Haggen to purchase 146 stores, Haggen claims Albertson's made false representations to both Haggen and the FTC, which considered Haggen a "highly suitable" candidate for new ownership of those stores, about its "commitment to a seamless transformation of the stores into viable competitors under the Haggen banner."

To remedy the regional monopolies that would harm consumers and competitors in scores of local markets, the FTC ordered Albertson's, and Albertson's agreed, to divest itself of 168 stores under detailed terms and conditions.

The FTC stated the express purpose of its orders was to ensure that the divested stores would continue to operate as "ongoing, viable enterprises engaged in the supermarket business and to remedy the lessening of competition resulting from the acquisition."

Albertson's allegedly was only able to secure the cooperation and commitment it needed from Haggen to meet the conditions the FTC imposed on the merger by making false statements to Haggen.

The FTC subsequently approved Haggen's purchase of the stores, which it acquired pursuant to an asset purchase agreement dated December 10, 2014 for a price in excess of $300 million.

During the transfer of stores, the complaint alleges Albertson's launched a plan to gain market power and/or monopoly power in the relevant markets, where Haggen was a new entrant, designed to hamstring Haggen's ability to successfully operate the stores after taking ownership.

Haggen claims Albertson's critically damaged Haggen's competitive niche, which it states was "firmly grounded in Haggen's 82-year history of being a neighborhood grocer that earned the trust and respect of its shoppers by: (1) providing fair pricing and healthy competition; (2) expanding the selection of local product offerings and consistently bringing a unique and broad selection of quality products to its shelves; and (3) focusing resources on supporting local communities through employing local residents, supporting community events and contributing to food banks and other worthy causes."

Haggen claims Albertson's used Haggen's confidential, proprietary business information to unfairly compete with, and ultimately destroy the profitability of, Haggen's newly acquired stores by:

a. Inducing Haggen to acquire the stores under an aggressive time frame by (i) making false representations about the existing merchandising data system, back-office data system and infrastructure that Haggen would be relying on in converting the transferred stores to the Haggen brand, and (ii) falsely promising to provide to Haggen the information, cooperation and training that was necessary for a seamless and successful transition;

b. Misusing Haggen's confidential information as to the cadence, or sequence, of store conversions and other confidential customer data to time and coordinate advertising campaigns, discounting, remodeling and rebranding of retained stores, and other strategies to draw customers away from Haggen Stores immediately before and after conversion and lure them to nearby Albertsons and Safeway stores;

c. Providing inaccurate data about transferred inventory that was on store shelves, and burying relevant data relating to phantom inventory that was not on stores' shelves, which was intended to disrupt the transition and to ensure an unsatisfactory customer experience upon grand opening;

d. Providing inaccurate, incomplete and misleading price information to Haggen about products on transferred store shelves, causing Haggen to tag products with inflated prices and causing customers to conclude that Haggen was price gouging on products that, just 48 hours earlier, had been priced much cheaper;

e. Sabotaging the quantity, assortment and quality of inventory transferred to Haggen, so that new consumers would be dissatisfied with Haggen and thus shop at nearby Albertsons and Safeway stores, including (i) deliberate understocking of certain inventory at Haggen-acquired stores below levels consistent with the ordinary course of business just prior to conversion, resulting in out of stocks which negatively impacted the shopping experience upon Haggen grand openings, and (ii) deliberate overstocking of perishable inventory at Haggen-acquired stores beyond levels consistent with the ordinary course of business just prior to conversion such that Haggen had to throw away significant amounts of inventory it paid for;

f. Removing store fixtures and inventory from Haggen-acquired stores that Haggen paid for;

g. Strategically cutting off Haggen-acquired store advertising in order to decrease customer traffic prior to and leading into the conversion; and

h. Failing to perform routine maintenance on stores and equipment prior to conversion, ensuring that Haggen's grand opening would not meet customer expectations.

Haggen stated it never intended to close any of the stores it acquired and saw them as "an exciting opportunity to transform itself into a super-regional grocer … and its plan was to bring new communities under the respected Haggen banner."

Haggen claims Albertson's was misleading with respect to certain "underperforming" stores included in the sale to Haggen and quoted from a Nov. 17, 2014 e-mail from Albertson's counsel, who indicated, although those stores were not profitable at the time, "these stores will get a boost from the rebranding/grand re-opening by new ownership as well as any planned investments" Haggen would make.

A few days earlier, Albertson's made similar claims to the FTC where it emphasized Haggen will "have an even better chance at improving the profitability of these stores" because "[r]e-branding and re-grand opening of stores will give the stores a fresh start in the eyes of consumers."

However, as the complaint states, Albertson's then took anti-competitive steps to undermine the grand openings and deprive Haggen of the promised "boot" and "fresh start" from rebranding.

Additionally, it states Albertson's, by engaging in anti-competitive conduct, has forced Haggen to close stores, creating substantial barriers to entry that protect Albertson's competitive position in each of those markets.

On June 29, 2015, Haggen provided Albertson's with a notice of its breaches of the purchase agreement within 30 days of learning of those breaches, although it claimed the notice was futile since Haggen's successful entry into the market depended on a favorable first impression with consumers at the grand opening.

Rather than responding to the notice, Haggen claims Albertson's "raced to the courthouse and filed identical complaints in California and Delaware alleging Haggen had breached the purchase agreement and committed fraud."

Albertson's accused Haggen of fraud for failure to pay millions for inventory acquired through the purchase agreement.

Haggen is seeking judgment in an amount to be determined at trial, including compensatory damages, treble damages and punitive damages.

In the alternative, it asks the court to declare Haggen has the right to rescind the asset purchase agreement.

After lackluster grand re-openings that failed to win over customers, who complained Haggen charged higher prices than the stores it replaced, Haggen, after laying off and cutting employees' hours, announced it would be closing nearly 30 of its stores.

On Tuesday, Sept. 8, Haggen filed to reorganize under Chapter 11 bankruptcy, which Haggen CEO John Clougher said was "the best way for Haggen to preserve value for all stakeholders."