My View

BY DON SORCHYCH | SEPTEMBER 9, 2015
Daughter Dawn
Five years ago I would be in Colorado or here hunting Elk. However, today I can no longer skin, quarter and pack an Elk back to my Jeep.

But the change from lifelong hunting has other pleasures. Shari Jo has created two oases for animals to drink water and we can see and photograph lots of desert creatures. I have no doubt she saved some lives. We have seen and photographed deer, javelina, coyotes, both red and grey foxes, bobcats, ground squirrels, snakes, lizards and missed a picture of a mountain lion. Birds too drink at the oases: Hawks, owls, Gambel's quail, doves, Roadrunners (our favorite), English sparrows and numerous small birds we can't identify.

We wonder if the disappearance of rattlesnakes is due to roadrunners and/or owls and hawks.
In other years we would see at least a dozen rattlesnakes.

But in any case desert varmints have become family.

My daughter Dawn inherited my passion for hunting, fishing and snorkeling. She hunted and fished with me almost as soon as she walked. She learned to drive on the sand roads of my hunt camp and killed Whitetail deer in Florida and South Carolina when she was a pre-teen. We snorkeled together, caught and ate lobsters.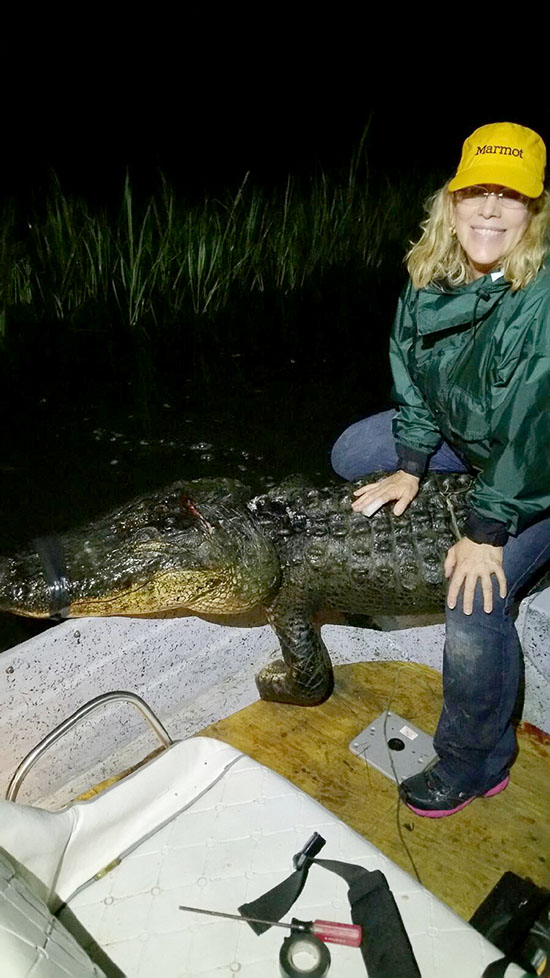 We often fished for shad in the St. Johns River. She was an excellent wing shot as doves and ducks found out.

After high school graduation she earned Bachelor's and Masters Degrees.

She married and moved to Tallahassee, Florida where she raised two boys and a girl, homeschooling them for a time. They are all Christians, conservative and bright as a new penny. They all have graduated from college and are considering advanced degrees, but often work in Dawn's gun store. They all hunt, shoot, fish and scuba dive.

Dawn continued her firearms training by being schooled by Masaad Ayoob, an expert in use of force. She partnered with a gun expert friend, Tom Monahan, with whom they earned recommendations by the NRA for important training in the U.S. and South America. Dawn opened a gun store and then purchased about two hundred acres on which she established a gun range to expand her training offerings. The family also uses the range to hunt deer, feral hogs and turkey.

Dawn called me on Labor Day weekend having just returned from a knife show. She not only teaches gun handling but both knife defense and knife fighting.

She told me of a recent alligator hunt. The State of Florida has an annual draw and a successful draw allows for two alligators to be taken, but not with firearms. In earlier hunts she used a harpoon. Now she has a crossbow with ropes attached to the arrows.

She got two gators, one 11 feet and the other 8 and a half feet long. You can see the 11 footer in the cartoon space. She had to shoot it twice and Tom had to hold the back of her jacket to keep her from being pulled into the water by the huge gator.

People often ask what she does with the gator hide and meat. She has the hides tanned and uses them for making personal items. She freezes the meat and holds a gator bash for her customers and clients annually.

If you access her web page you will see this first:

DSH Firearms is located at 2613 Centerville Road in Tallahassee, Florida.

We also conduct training in Midway, Florida 20 miles west of Tallahassee. The property borders the Florida Public Safety Institute. Some of our clients include Nuclear Power Plants, Military Contractors, College ROTC Programs, Security Companies, USDA Wildlife Services, Department of Homeland Security, and State/ Local and International Law Enforcement Agencies and even History Channel's SWAMP PEOPLE!

In addition to conducting firearms training, we sell and transfer firearms including Class III SOT and AOW firearms to the Public.

DSH Firearms
Phone: 850-386-5370
2613 Centerville Road
Fax: 850-386-3238
Tallahassee, FL 32308
E-mail: info@dshfirearms.com

Am I am proud dad and granddad or what?