SEPTEMBER

9, 2015
Hope for Horses Gala is right around the corner!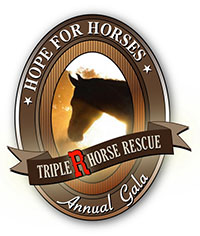 Tickets are on sale now! www.triplerhorserescueaz.com

$75.00 per ticket includes 3 course meal / one drink ticket / entertainment for the evening.

This year we have a western theme and are encouraging all of our guests to wear their favorite western attire. Mary Hoffman and her band will provide entertainment and the dance floor will be ready to go!

We are still seeking a few items for our live auction - if you wish to donate, please contact Michele Schafer @ micheles@triplerhorserescueaz.com.

We are looking for wine for our wine toss event - if interested, please contact Courtney @
courtneyo@triplerhorserescueaz.com

If you are able to support our mission with a donation please visit http://www.triplerhorserescueaz.com or send to P.O. Box 4925 | Cave Creek | AZ | 85327.