BY LINDA BENTLEY | SEPTEMBER 2, 2015
Clock ticks for Roadhouse to remove improvements in town ROW
'Government's desire to spend drives the process. Property tax bills have no real relationship to the value of your property.'
CAVE CREEK – On Aug. 4, Town Engineer David Prinzhorn sent a letter to O'Toole Land LLC, the recorded property owner of the Roadhouse, owned by Jim O'Toole and Mark Bradshaw, at 6900 E. Cave Creek Road, advising them to cease and desist the use of newly constructed improvements that the town has determined are encroaching into dedicated town of Cave Creek public right-of-way (ROW).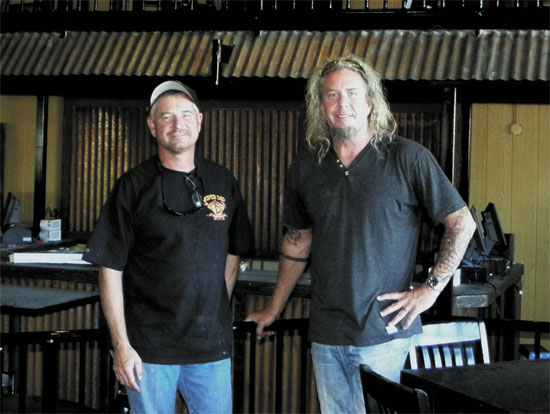 Jim O'Toole Mark Bradshaw

While Prinzhorn gave O'Toole the benefit of the doubt that the improvements were inadvertently placed within the boundaries of the town's ROW, he advised they would be required to remove them within the next 30 days.

He also strongly advised, if they questioned the limits of the existing town ROW, to have a licensed land surveyor verify their property boundaries in order to determine the areas in which they are legally allowed to conduct business.

Prinzhorn's letter pointed out the construction was performed without obtaining any building permits and stated, "Undoubtedly, during this plan review and permitting stage, we would have discovered that your work would have encroached into existing town ROW and your project would have been denied at that point."

O'Toole has until Thursday to remove the encroaching improvements.

As of Tuesday, the encroachments had not yet been removed.