SEPTEMBER 4, 2015
New Arizona Motorcycle Safety & Awareness Foundation merchandise reminds motorists that "Left Turns Kill"
PHOENIX – The Arizona Motorcycle Safety & Awareness Foundation (AMSAF), which has made tremendous progress in making change in the Arizona motorcycle industry, now is offering short- and long-sleeved shirts to assist in getting the word out about motorcycle safety in Arizona. In 20142015, AMSAF helped hundreds of Arizona residents complete a basic rider course through the many credentialed training schools across the state. With the shirts' statement, and the monetary donations, more and more riders will be able to learn the skills they need to make smart, safe motorcycling decisions – life-saving decisions.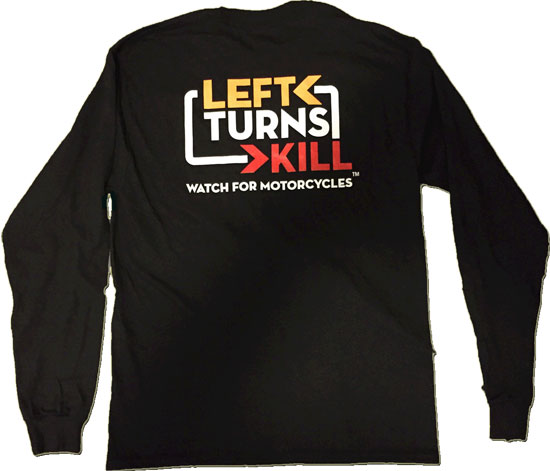 Both shirts read "Left turns Kill…Watch for Motorcycles" because left turns are where most accidents occur. The shirts range from $20 to $25 and are a donation to AMSAF. Both can be ordered on Facebook or at www.amsaf.org/store.

AMSAF is a motorcycle non-profit foundation working to help the motorcycle community be more aware and to reducing motorcycle crashes and fatalities. The organization seeks help in the form of tax-deductible contributions to achieve its statewide goals. All proceeds go to the AMSAF mission to promote motorcycle safety and awareness and reduce motorcycle accidents.