SEPTEMBER 2, 2015
Desert Foothills Chapter, Arizona Archaeological Society presents guest speaker Scott Wood September 9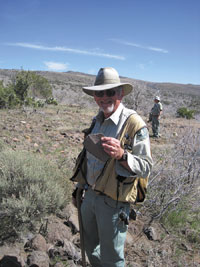 The Desert Foothills Chapter (DFC) of the Arizona Archaeological Society (AAS) is pleased to announce Scott Wood an expert in southwestern archaeology, especially within the Tonto National Forest and on pottery, as a lecturer on September 9. J. Scott Wood received his MA in Archaeology from Arizona State University and was an archaeologist in Tonto National Forest for 40 years before retiring earlier this year. Earlier, he worked at Pueblo Grande Museum and at the ASU Office of Cultural Resource Management.

Goat Camp Ruin is in the Payson area, much like Shoofly Ruin and Risser Ruin. The currently assumed occupation is approximately 750 to 1280 CE. The occupants of this ruin were under Hohokam influence, if not Hohokam colonists. Clues to the Hohokam culture exist in pottery types, rounded room corners, and others artifact hints. After several changes in ownership and extensive artifact pot- hunting, the city of Payson is the current owner. With subsequent little activity for years, the Rim Country Chapter of AAS with Scott Wood's assistance proposed an eventual archaeological interpretive site as well as hiking trail for this 6 acre parcel of land (similar to Shoofly Ruin). Scott Wood has lead groups of volunteers each spring and fall the past few years excavating and interpreting areas within the overall complex. The goal is not rebuilding or total excavation, rather knowledge and public education through an interpretive package. Scott Wood provides a report on recent activities and findings at Goat Camp as well as the plans for the future. As one of the founders in the Friends of the Tonto National Forest, Scott Wood is also updating us on "The Tonto Friends" activities including the survey project planned for this fall/winter on Perry Mesa.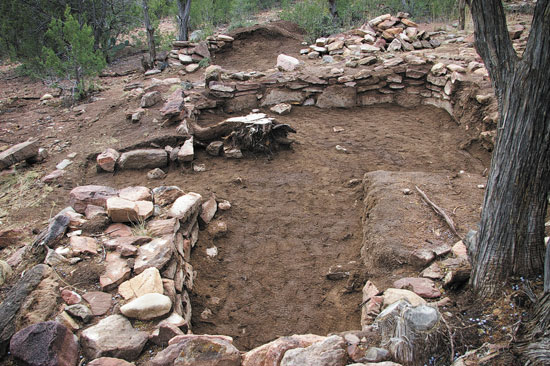 In retirement, Scott continues as a professional advisor for two Arizona Archaeological Society Chapters (Desert Foothills and Rim Country). He is an establishing member of the Friends of the Tonto National Forest and continues work at Goat Camp (near Payson). Scott was named Arizona Archaeological Society Professional Archaeologist of the Year in 2011. His volunteer activities are extensive developing public archaeological interpretive sites at Sears Kay and Goat Camp, assisting with training Arizona Site Stewards for the Arizona State Parks Department program, helping with AAS workshops/field schools/hike leader to specific areas of interest, and partnering with AAS and ASU Professor David Abbott for pottery temper studies suggesting possible prehistoric trade routes. Scott Wood is an author and coauthor of many publications and his Checklist of Pottery Types for the Tonto National Forest is a primary expert reference for prehistoric pottery in the Tonto National Forest, Central Arizona Tradition.

The general public may attend an Arizona Archaeology Society – Desert Foothills Chapter meeting at no charge, except for the holiday party in December. The AAS-DFC meetings are held on the second Wednesday of each month, September through May. There are refreshments available at 7 p.m. and the meeting begins at 7:30 p.m., usually ending prior to 9 p.m. The meetings are held in the community building (Maitland Hall) at The Good Shepherd of the Hills Episcopal Church, 6502 East Cave Creek Road, Cave Creek, AZ 85331. Visit www.azarchsoc.org/desertfoothills.