SEPTEMBER 2, 2015
There's No Place Like Home!

Photo by Samantha Miller
Last Friday, in Raptor Bowl I at Apollo, the Hawks flew faster, 40-13, so the 0-2 Falcons are more than glad to finally be home, hosting the (Glendale) Ironwood Eagles in Raptor Bowl II, Friday evening, Sept. 4. Behind seven "good men" (Falcons' captains with Head Coach Mike Hudnutt) stand 11 "good women"

Bottom Row- Varsity Football Captains (left to right)- Matt Sill, Logan Kloss, Tim Dabrowski, Coach Hudnutt, Michael Maloney, Carlo Paoletti, Antonio Marchica

Top Row (left to right)- Coach Knuteson (Pom), Becca Swedler (cheer), Bianca Wright (Pom), Ella Asterino (cheer), Taylor Pedersen (Pom), Madi Garrigus (Cheer), Camryn Mayer (Pom), Allie Capozello (Cheer), Jenna Cahanes (Pom), Emma Nichols (Cheer), Coach Dodd (Cheer).

Belated congratulations to Coach Dodd and her Cheer ladies on their championship won at Nationals last spring. C'mon, CSHS students and Falcon fans, be in the West Stands to help the 'Birds get off the deck! Why, I can almost smell those Falcon Athletic Club footlongs grilling!
BY PETE MOHR | SEPTEMBER 2, 2015
Meet the Football seniors' "Final Four"
Troy Ralston, Ryan Sefcik, Matt Stevenson, Caleb Young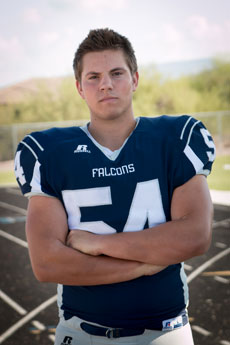 TROY RALSTON
6'0" | 210 lbs. | MLB

In their first two games, the Falcons were whacked by a combined 82-28. One player Coach Hudnutt will be counting on the reignite the Falcon "D" is starting middle linebacker Troy Ralston. In what will "most likely" be his last football season, Troy is shooting to make "100 tackles and three INTs." He's been on a football fast track since first playing as a CSHS sophomore, shuttling between JV and Varsity. Last season, Troy earned his first varsity letter. This fall, he'll be at the heart of the Falcons' line backing corps. Born July 7, 1998 in Scottsdale, Troy lives with his Creeker parents Jeff and Gina Ralston. Headed to ASU and a degree in Business, he names Dad Jeff and teammate Tim Dabrowski as his biggest football encouragers. As a Football Falcon senior, Troy embraces his responsibility to promote school spirit both on and off the field. You're right on-target, Troy!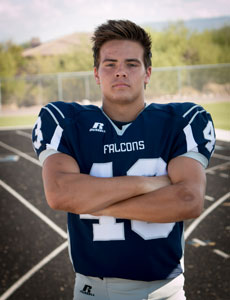 RYAN SEFCIK
5'7" | 170 lbs. | MLB
From his size, Ryan Sefcik (pronounced Sef-ick) doesn't appear "Top-heavy," but that's his nickname. Complimented by Coach Hudnutt as "a bulldog," Ryan will see back-up duty this season at middle linebacker and on special teams. He wants "to get a sack and a pic 6." He's expecting the Falcons to "play well as a team and make State." Born July 16, 1998 in Scottsdale, Ryan lives in Phoenix with his parents, Jon and Carrie Sefcik. 2015 will be his last football season before heading to Ohio State and majoring in Engineering. Ryan lists as his special lady "a very beautiful girl" – unnamed. Having lettered as a junior, he credits "my coaches" as most encouraging his football playing. For Ryan, to be a Football Falcon senior is all about "pride" and "leadership." Hey, Ryan! Which do you want most … the sack, the pic 6 or the very beautiful girl? Don't answer that!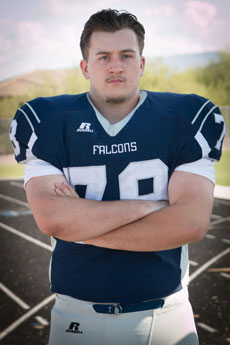 MATTHEW STEVENSON
6'2" | 245 lbs. | OLT/DT
Matt Stevenson is what I call a "Throwback" – a throwback that is to the days when high school athletes played a varsity sport in the fall, winter and spring. When his injured knee is rehabbed, Matt's size will make him an OL/DL force for Coach Hudnutt. He wants to "start" and have the Falcons win the State Championship. When this season is done, Matt will train down to wrestle at 190 lbs. for Coach Joe Crosswhite, then switch from mat to mound, where he'll be a left-handed pitcher in Coach Guy Gianni's rotation. He'd like to play football at Duke University. Born March 1, 1998 in Tempe, Matt lives in Cave Creek with his mother, Patricia Stevenson. His father, Gavin, resides in Scotland. Who has been Matt's most encouraging football supporter? His maternal grandfather, Thomas Bergin. Matt sees being a Football Falcon senior as "having to carry myself with a certain amount of swagger." At 6'2," 425 lbs. DT gets not argument from me!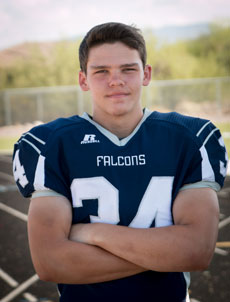 CALEB YOUNG
5'9" | 165 lbs. | LB
Caleb Young's nickname is "Bulldog," but he prefers to be called "Caleb." Coach Hudnutt is hoping that Caleb, a letterman from his junior season, will "play like a bulldog, maybe even meaner than a junkyard dog?" I'm sure there are Falcon fans out there who remember the late Jim Croce's classic hit. Back to Mr. Young, born February 24, 1998 in Columbus, Ohio, Caleb lives in north Scottsdale with his parents, Brian and Lisa Young. He first played organized football as a 5th grader; and this season (his last) he'll be a member of the Falcons' line backing corps and do special teams duty. Following his CSHS graduation, Caleb plans to head back to his native Columbus, where he'll be an Engineering major at Ohio State. Dad Brian has been Caleb's biggest football booster. As a Football Falcon senior, Caleb has only two goals in his sights: "playing hard and winning games." "Bad, bad Leroy Brown! Baddest man in the whole damn town!" Is that you, Caleb?!