By Marielle D. Marne

| SEPTEMBER 2, 2015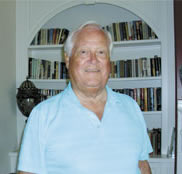 CAREFREE – For the last four years, Jim Branson has appreciated retirement living at the Heritage at Carefree. He and his wife, Madeline, moved in after she suffered a stroke and needed more care. "Madeline's daughter looked at 10 places," Jim explained, "and the Heritage was by far above the rest." Jim needed no further convincing that it was the place to go.

Though Madeline, Branson's companion of 37 years, passed a year ago, he decided to stay at the Heritage since he felt comfortable there. He has his own car to get around and is primarily independent, but he's made friends and has a good relationship with the owners, the Holburas, so he never considered leaving.

Branson enjoys cooking, which he does miss, and knows good food. "I like to fill up on the lunches," he laughed. At 84, he strives to keep his mind active and sharp. The Heritage has a well-stocked library and Branson reads his share of e-books, too. "I probably read three or four books a week," he said.

There are plenty of opportunities to interact with the residents at the Heritage as well. Every Friday morning, Branson hosts a current events discussion. "I like to help out when I can," he added. The group talks politics, world news, even what's happening in Cave Creek. He preps for his weekly forum by heading outside on the Heritage's beautifully landscaped lawn, settling in his special chair, reading the newspaper and smoking a cigar. It's a good life! Branson highly recommends it.

See for yourself by calling for a guided tour at 480-488-1622. The Heritage is conveniently located at 36590 N. Pima Rd. More details may be found online at www.heritagecarefree.com.