By Marielle D. Marne

| SEPTEMBER 2, 2015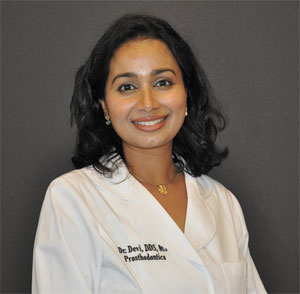 SCOTTSDALE – As her Smile Design Specialist studio continues to welcome new patients, Dr. Shreedevi Thulasidas (Dr. Devi) finds too many people coming in with dental work recommendations they simply don't need. As both a specialist and a family dentist, she can assess what her patients truly require. Dr. Devi has the education (an additional three-plus years beyond "traditional" dental school), experience (15 years in practice) and excellence folks want in a dentist. As a result, you'll hear both her patients and staff speak to her honesty and integrity. It's no wonder why Dr. Devi has earned being rated one of the "Best Dentist" facilities in the Cave Creek/Carefree area.

So while you can get a cleaning, a checkup and x-rays by Dr. Devi, she explained: "I am a dentist with specialty training in dental implants and crowns and bridges (Prosthodontics). My advanced education in prosthodontics enables me to provide full mouth reconstruction with emphasis on esthetics and function, TMD treatments, fixed and removable implant prosthesis, advanced cosmetic dentistry including veneers and esthetic crowns and bridges and sleep apnea/snoring solutions. I have undergone 10 years of rigorous dental training to provide my patients with specialty level care and they will no doubt be pleased to receive the highest standards of attention in my office." Smile Design Specialist is a one-stop studio for all your dental needs.

Dr. Devi treats adults and kids and takes special care for those who have anxiety issues when it comes to dental work. "We treat those with dental phobias," she said. "Our procedures are painless and sedation is available if needed."

Whether you're interested in family dentistry, cosmetic dentistry, dental implants, veneers and/or full mouth reconstruction, Dr. Devi can transform your smile and your confidence! See why she is so highly recommended by calling 480-488-9655 or visiting www.drdevi.com. Her office is located at 34597 N. 60th St. #101 (opposite the YMCA).