AUGUST 26, 2015
Deputies arrest 8 smugglers and seize 400 pounds of marijuana


Florence – On August 19 at 8:30 p.m., a Pinal County Sheriff's Deputy working with the Anti-Smuggling Unit, attempted to stop a 2005 Ford van driving north on Anderson Road, near Stanfield, Ariz. The van did not yield and continued driving eastbound into the desert area at Eclipse Road. The van stopped and 8 males jumped out and fled into the surrounding farm lands.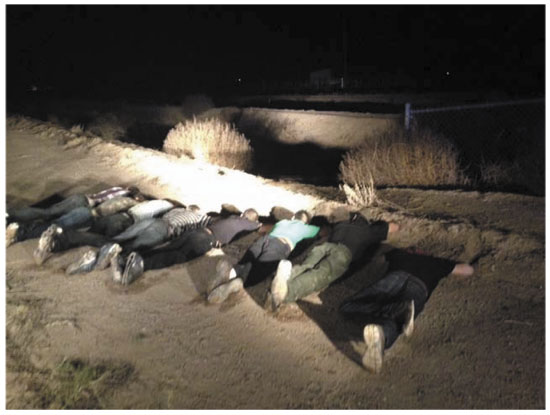 The deputies secured the now unoccupied van and discovered 402 pounds of marijuana in 9 packaged bales inside. They also found a camouflaged backpack containing 7 portable radios.

Responding units from the PCSO and the US Border Patrol set up a perimeter around the area the suspects were last seen.



Sheriff Paul Babeu said, "Our deputies tracked the suspects south for about a quarter of a mile from the van and located 8 suspects floating in an irrigation canal attempting to hide from their pursuers. When interviewed, the suspects admitted to having been picked up along the road after walking through the desert from Mexico carrying the packs of marijuana."

Seven of the eight suspects were booked into the Pinal County Adult Detention Center on charges of smuggling marijuana. One suspect was identified as a Juvenile, and was transported to a local juvenile detention center.

The van, marijuana and other items were seized for evidence and later destruction.

Sheriff Paul Babeu said, "Law enforcement is faced with crimes related to drug and human smuggling every day. If that's not enough, President Obama has releasing 67,000 dangerous criminal illegals into our communities. It's like he wants us to fail and wants our citizens to be brutally victimized. It's a sad irony that as we talked about drug and human smuggling with presidential candidate Dr. Ben Carson yesterday, these 8 Mexican Nationals were smuggling over 400 pounds of marijuana through the Arizona desert that I showed him yesterday by helicopter. We need help and we need leaders who will make America's safety a priority."

The following persons were arrested for these crimes: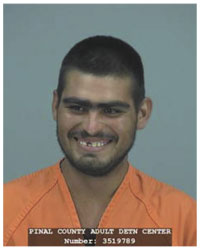 Name - BERMUDA-VALENZUELA, JOVAN
Date of Birth - 01/01/1991
Place of Birth - CABORCA, SINALOA MEXICO
Nationality – MEXICO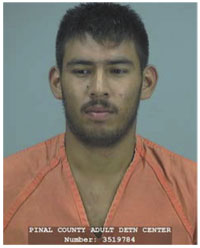 Name - CHAPARO-CRUZ, JESUS
Date of Birth - 10/15/1993
Place of Birth - CHIHUAHUA, CHIHUAHUA MEXICO
Nationality – MEXICO
JUVENILE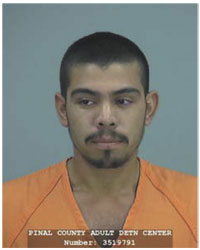 Name - GERMAN-FLORES, ISIDRO
Date of Birth - 04/04/1994
Place of Birth - SINALOA, SINALOA MEXICO
Nationality – MEXICO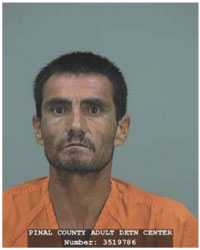 Name - LOPEZ-MARTINEZ, JOSE JESUS
Date of Birth - 02/15/1976
Place of Birth - CABORCA, SONORA MEXICO
Nationality – MEXICO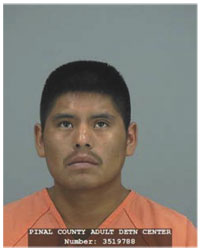 Name - VASQUEZ-JUAREZ, JAVIER
Date of Birth - 04/14/1993
Place of Birth - LEYVA, SINALOA MEXICO
Nationality - MEXICO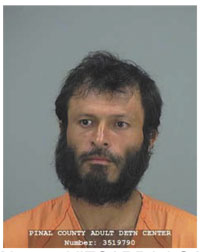 Name - VIZCARRA-LOAIZA, TRINIDAD
Date of Birth - 02/17/1981
Place of Birth - SINALOA, SINALOA MEXICO
Nationality – MEXICO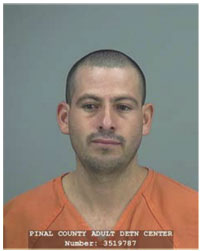 Name – CASTRO-HAROS, EMMANUEL
Date of Birth – 12/25/1986
Place of Birth: SINALOA, SINALOA MEXICO
Nationality – MEXICO


Name - CRUZ-BOJORQUEZ, ADRIAN ANTONIO
Date of Birth - 09/23/1997 (Juvenile)
Place of Birth - CABORCA, SONORA MEXICO
Nationality - MEXICO