AUGUST 28, 2015
Obituary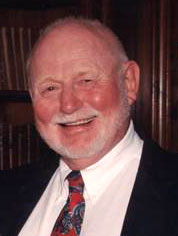 Karl August Ratzsch, Jr.

Karl August Ratzsch, Jr. died peacefully on Thursday, August 13, 2015 in Carefree, Arizona at the age of 89.

Karl is survived by his wife, Sally Webb Ratzsch; sister, Gloria Mitchelson; children, Josef Ratzsch (Jane); Lisa Braun (Tom); Andrew Ratzsch (Florence); and Carrie Collins (James); and was the beloved Grampy to 12 grandchildren and 3 great-grandchildren. His parents, Karl and Helen Ratzsch, and his son, Karl "Kelly" Ratzsch III, preceded him in death.

Karl was born on January 7, 1926 in Milwaukee, Wisconsin. After graduating from St. John's Military Academy in 1943, he served in the Army from 1944-46 and was stationed in Europe. He then attended Cornell University where he studied Hotel and Restaurant Management and later became a restaurateur, operating Karl Ratzsch's in Milwaukee, Wisconsin and the Fox and Hounds in Hubertus, Wisconsin. Karl was actively involved in the restaurant industry, serving as the director of the National Restaurant Association and Vice President of the International HORECA Association, and in 1994 his contributions were honored with his induction into the DiRoNA Hall of Fame. In 1993, Karl and Sally retired to Carefree, Arizona.

Karl and Sally would have celebrated their 64th anniversary at the end of August. His family remembers him as a generous and tenacious person with an indefatigable work ethic, who regularly employed his quick wit for both political debates and terrible jokes. Karl was the consummate host, and his parties – especially his annual Thanksgiving gathering – will be missed. Those who knew him will remember him as a gregarious and jovial personality, who always made the people around him smile. Karl enjoyed golf, bridge, reading, hunting, meeting with his regular "lunch bunch," and yodeling when the opportunity beckoned.