Refreshing use of the English language
When I started to learn English and Spanish concurrently in Buenos Aires in 1943, having spoken only French as a refugee from Nazi-controlled France, I was exposed to the clear, concise language of Anglophonic authors. Later, I attended Saint Andrew's Scots School in a Buenos Aires suburb, where I really came to appreciate the written word of Kipling, Burns, Conrad, Milton, Dickens, etc. My love for the language continued when I cane to the USA in 1953 to study Today, here in the USA, I have noticed the throttling of the English language. While Charles Dickens appropriately described Tiny Tim as a cripple, our language nannies are horrified that he did not use the PC term, "differently abled." The blind and deaf are not so described in today's language-suppressed society: they are now "vision and hearing impaired." It is refreshing that a presidential political candidate has employed proper terminology in referring to infants dropped over the line on US territory as "anchor babies," inasmuch as they are, in essence, legal means to bring in the entire clan to live here at our expense, with schooling, housing, medical and dental care, ObamaPhone, instant membership in the Democrat Party's rolls, voting cards, etc. on MY tax dollars. Go for it, Mr. Trump! Please make free use of the English language, under the blessing of the First Amendment, and keep on telling the uninformed, lazy, indolent American voter that the illegals are squirting out anchor babies to become instant Entitlementarians*! In the meantime, I shall continue to call a spade a f_cking shovel in your honor.

J-P. A. Maldonado
Lafayette, Colorado 

* Term coined by Chief Ronald Colburn of the U.S. Border patrol, now retired in Arizona
Bike lanes in Cave Creek and Carefree
To Cave Creek Council:  

It is my understanding that the previous council was the initiator of the $3.7-million bicycle lane project. If improving tourism traffic in the town core is the primary objective, I doubt adding bike lanes is the solution. The infrastructure priorities should be sidewalks for pedestrian traffic and parking.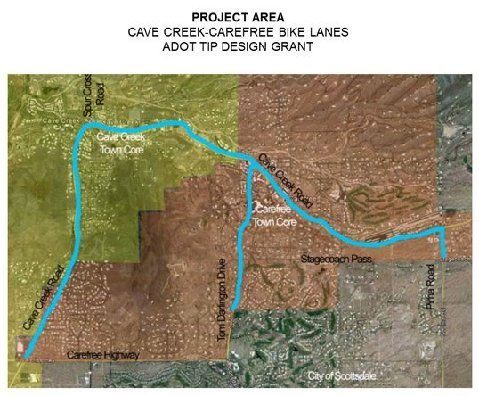 Visitors conveniently parking their cars and walking around town will add value to the local economy. Bicyclists just pass through town, run stop signs and may only stop to use Cave Creek for a toilet.

Many are unhappy with the decision to move forward with the project, many more are unhappy with the proposed construction schedule.  If there is a way to scrap this initiative you should.

Thank you.

John Hoeppner
Cave Creek  

P.S. I know the Federal Government is funding about 94 percent of this project. However, this is not "free" money for the town. Perhaps this is why the highway fund is broke and the country is bleeding red ink.
Carefree's Future Matters
Friends of Carefree, there was a Special Meeting of the Town Council on August 13th to authorize the Mayor to enter into a mortgage loan agreement for the purchase of the 33 Easy Street property.

Special Town Council Meeting, August 13, 2015, 5 p.m.

John Crane participated by phone and Bob Gearhart was absent.

Item 1, Financing arrangements for 33 Easy Street. After consideration of the proposals from three banks, the Council authorized the Mayor to execute the required documentation for a mortgage loan on the property, voting 6 – 0, one absent.

Residents in attendance were Al Swanson, Jim Van Allen, and the Hitchons. [I was taking a few days away from the oppressive heat. Thanks to Jim Van Allen for his notes!]

Mayor Peterson opened with short message on the reason for meeting, and then turned it over to the Town Administrator for the details.

The proposed Resolution would authorize the Mayor to sign a loan agreement for $407,400 with terms equal to or better than the current best proposal. National Bank's proposal involves 100 percent financing for 20 years, an Interest rate of 3.92% for the first 5 years, and [this time] absolutely no pre-payment penalty or any other termination fees if the loan is paid off early. There will be a $2,500 origination fee, with the first semi-annual payment due on March 6, 2016. The town plans to pay off the loan in 2018/2019, although no reason was given why it would not be paid off at the earliest opportunity in next year's budget (July 2016) from the $6M town surplus.

The Town will inherit and continue the lease of the upper floor (1,000sf) of the property, with rental income of $1,250 per month. [Since the lease for the current Council Chambers (and additional space) is in force until June/July of 2016 there is a good possibility that the 33 Easy Street property could be made available for a short term lease, thereby generating additional income from the new property.]

The two other bank proposals were from Biltmore Bank and Desert Schools, but both required 30% down, and involved pre-payment penalties. A 4th bank, Arizona Business Bank, said they are also interested in making a proposal, which will be forthcoming early this coming week.

There was considerable discussion regarding reasons the town should give National Bank every consideration since they are a local business. John Crane asked the town attorney if "bank shopping" was legal. Michael Wright essentially said that it was. Council members Miller and Price seemed to express support for National Bank.

Jim Van Allen inquired if residents would be advised of the final decision regarding the bank and the terms. The Mayor made assurances that would be the case.

Item 2, Adjournment: The meeting was adjourned at approximately 5:25PM.

Don't forget to visit CarefreesFutureMatters.com

Respectfully submitted by
Jim Van Allen and John Traynor
Kiwanis v Hidden Rock Meeting of May 19, 2015
Why? Does the town not want to clarify its own guidelines? Does a citizen not deserve a timely response? I have been told "it's a complaint driven system." Do I need to come in and file a complaint so Hal can get a response?

Thanks
Toby Payne CTS

From: Hal Marron
Date: August 19, 2015 at 7:06:25 PM MST
To: HalMarron@aol.com, pjankowski@cavecreek.org, dprinzhorn@cavecreek.org
Cc: toby@technicallyintegrated.com
Subject: Re: Kiwanis v Hidden Rock Meeting of May 19, 2015

Dear Mr. Jankowski and Mr. Prinzhorn

It has now been three months since out meeting of May 19th and my request for clarification regarding the Town of Cave Creek's Drainage Procedures.

Since my request, I have yet to receive a call or e-mail from anyone at the Town with the information I requested, or even the courtesy of any response at all.

I will remain patient in hopes that either of you will be able to help me understand the Town's interpretation of your Drainage Guidelines and Procedures.

Sincerely,
Hal Marron, PE

In a message dated 7/17/2015 1:29:27 A.M. US Mountain Standard Time, HalMarron@aol.com writes:

Dear Mr. Jankowski and Mr. Prinzhorn

We are now approaching 2 months since our May 19, 2015 meeting at Hidden Rock and my request for clarification concerning the town's drainage criteria.

As of this date, I have not had a response to my request for information from the Town.

I am also concerned about statements attributed to the Town that I am "not a well regarded engineer".

Over the course of my 36 year career I have worked very hard to maintain a high standard of engineering professionalism. My work has included large flood studies for communities, private developers and FEMA; major water, sewer and reclaimed water projects for public agencies; and participating as a lead in the planning and development of 1000's of acres of residential and commercial projects in the southwestern portion of the US. I also serve as a volunteer on the Advisory Committee to the Arizona State Board of Technical Registration to help maintain the engineering standards of the profession.

A statement such as the one attributed to the Town staff usually indicates some action on my part that has been reviewed by the Town staff and not to be found as valid. Over the time I have been involved with the review of the Hidden Rock plans / reports I have prepared three letters on the subject dating back to January 29, 2015. As of this date, I have received no review comments from the Town regarding my reports.

The only correspondence that I have received from the Town was a request for my calculations that supported my findings reported in my June 8, 2015, and a follow up e-mail stating that a meeting to go over the calculations / report was not required. As of this date there has been no response to either me or my client regarding the calculations provided, despite the fact that the June 8 analysis related to what the Kiwanis would accept was requested by Mr. Jankowski.

If the Town has an issue with any of my calculations / reports I would hope that correspondence, review comments, or a meeting to discuss the Town's concerns would proceed comments that take aim at my character or engineering abilities.

I respectfully request a response to the topic listed below, as well as my current concerns over the comments concerning my reputation being attributed to the Town staff.

Please let me know if a meeting can be arranged to discuss and resolve these topics. I hope that we can schedule something for early next week.

Respectfully,
Hal Marron, PE

In a message dated 6/18/2015 11:16:36 A.M. US Mountain Standard Time, HalMarron@aol.com writes:

Dear Mr. Jankowski and Mr. Prinzhorn

As tomorrow will be a month since our Hidden Rock meeting, I thought I would follow up with you concerning my request for clarification of May 20, 2015 (included below).

As of this date I have not had a reply to my question concerning the Town Engineer's statement and want to make sure that I am interpreting the Town's grading and drainage guidelines correctly.

As Mr. Prinzhorn made the same statement during a March 3, 2015 meeting held at the Town with Mr. Nick Wold of Sonoran Villas, I am concerned that there has been a change to the written policy that I am not aware of. As a professional engineer, it is my obligation to try and stay current with the policies and procedures of the communities where I perform services for my clients.

As I have other potential projects within the Town's jurisdiction and wish to stay current with the Town's practices and procedures, I would like to renew my request for clarification related to the definition of a Major Wash as listed below or in the Town's adopted Master Drainage Study.

I look forward to your reply.

Regards

Hal E. Marron, PE

From: halmarron@aol.com
To: PJankowski@cavecreek.org, dprinzhorn@cavecreek.org, icordwell@cavecreek.org
CC: geverland@aol.com
BCC: "TobyPayne"<toby@tech-integ.com>, <sslyder@cox.net>
Sent: 5/20/2015 9:34:00 A.M. US Mountain Standard Time
Subj: Kiwanis v Hidden Rock Meeting of May 19, 2015

Gentlemen,

I want to thank you for being a part of the meeting yesterday. I believe that your participation kept the meeting moving in a direction towards resolution.

There were a couple of comments made by Mr. Prinzhorn, Town Engineer, that I would like to get some clarification on.

Comment 1 - We were discussing the wash that goes through the south portion of Hidden Rock Phase 2 and the study elements that we would have expected to find as part of the Hidden Rock report. Mr. Prinzhorn stated that "this is not a major wash". It is this statement that I would like some clarification on.

The Cave Creek Development Guidelines has the following information contained in Section 4 – Drainage Guidelines....

The question is raised as the drainage report for Hidden Rock Phase 2 shows a Phase 2 Area A/B Post of 44.87 Acres and a reported 100-year peak flow of 196.4 cfs. My understanding from discussion with the preparing engineer, Paul Cleveland, is that the upstream contributing area has been reduced by the removal of any areas that had retention designed as they considered the retention areas to be 100 percent effective. Recent storms have not borne this assumption to be true. This would indicate that the actual area (as well as the peak flow value) is significantly larger than the 44.87 acres reported. In either case it is over 4 times larger than the classification limits defined in the Town's Guidelines.

Hence my question regarding Mr. Prinzhorn's statement about this not being a Major Wash as defined by the Town. Please let me know what I am missing related to the above, and why the Towns criteria was not followed.

After Mr. Prinzhorn's statement, we did not continue discussion on this topic as the Developer of Hidden Rock wanted to know how this impacted the Kiwanis property. At that point I knew that a discussion in hydraulic methods without the drainage engineer from JMA was only going to confuse things and moved along. However, the impact is the amount of flows from the offsite areas that enter the Kiwanis property, flow through their retention basin, exit through Phase 1 of Hidden Rock, and are directed towards and through Little Red Truck is very much dependent upon the analysis methods associated with Special Flood Hazard Area (SFHA) methods that would be applied for a Major Wash watershed.

Comment 2 – This was with respect to the type and cost of analysis that would assist the Town quantify and plan for storm events in the Town Core area. My belief is that the type of analysis that should have been performed (and should eventually be performed by the Town if Hidden Rock is no longer an option) would include a sub-divided update to Drainage Area AWH7 from the Cave Creek above Carefree Highway study prepared by the Flood Control District. Drainage Area AWH7 covers the majority of the downtown core area of the Town of Cave Creek. Mr. Prinzhorn stated that a study for the Town of this nature would be about $250,000. I believe that Mr. Prinzhorn would be correct if it is the desire of the Town to update all of the washes and tributary areas within the Town limits. As most of the major washes have current studies that are delineated on FEMA firm maps, I do not personally see a reason for such a study, but will yield to Mr. Prinzhorn's judgment as he lives with the studies on a daily basis. A drainage restudy of the Town Core area that contributes to AHW7 (0.34 square miles or 217 acres) and includes Capital Improvement recommendations for Cave Creek Road and the watershed area should cost significantly less ($20 to 30 K) depending upon level of detail desired by the Town and if the Town has current mapping covering the area that could be used. The area for which Hidden Rock would have been responsible is only a portion of the area and should be significantly less.

Again, thank you for being a part of the meeting. We look forward to a resolution that will minimize the adverse impact on the Kiwanis property. I would also like to thank you in advance for the clarification of Mr. Prinzhorn's statements concerning the classification of the wash with respect to the Town's criteria and the scope of a potential analysis.

Respectfully,

Hal E. Marron, PE
Both the sovereignty & martial credibility of USA should be defended by Donald Trump
If Donald Trump wants sure success in U.S. Presidential election then he will have to restore the U.S. sovereignty and credibility first in the neighborhood of USA which (as mentioned at http://www.pakistanchristianpost.com/detail.php?hnewsid=5555) have been comprehensively breached by its neighbors – Mexico (through illegal immigrants) and through its actions in Ukraine by another neighbor, Russia (which almost can be seen from the roof of the house of a former Governor of Alaska).

Regards,

Hem Raj Jain
Pennington, New Jersey
Bathroom Servers, Destroyed BlackBerrys, and State Secrets
Trump has been accused of buying political influence for cash, but as Secretary of State, Hillary Clinton sold U.S. influence for cash. Which is worse? I'd venture the latter.

Part of Trump's appeal is that, unlike Romney, he's not defensive about being rich—indeed, he presents wealth as a measure of earned success, something that voters are craving.

This week, Trump and all of the other candidates are batting it out in New Hampshire, meanwhile Hillary continues to deflect questions about her unraveling email stories, which now include sagas of bathroom servers, destroyed BlackBerrys, and top secret material.

In reality, this poor Marine who was indicted for a justifiable classified information violation should be excused and Hillary should be indicted, but justice won't be served in Obama's America and the Marine who broke the rules to save lives will probably receive a harsher punishment than Hillary will.

As this new American Thinker article explains, there are sweeping cultural ramifications to the wide-eyed Lady Justice of Obama's America that winks at her friends and punishes her enemies. The author explores the larger cultural implications of my captivity and ongoing therapy in the context of American justice: "The tarring and feathering of D'Souza is but one high-profile example of a pervasive, anti-American assault on core conservative, constitutional values." Click here to read more.

I predicted this type of failing leadership in my two books about Barack Obama, and I explained the psyche that motivates his dealings with Iran, his not-so-secret war against the oil industry, and his politics of race in America. For example, The American Spectator now makes the connection between my 2010 book, The Roots of Obama's Rage, and Obama's bad Iran deal.

As we approach the heart of the 2016 election cycle, I am approaching one million fans on Facebook—help me get there in the next 45 days and build the vast right-wing conspiracy! Join me in the restoration of America—each and every person makes a difference!

Sincerely,

Dinesh D'Souza
Polar ice caps stable since 1979
1979 is a very important year in global warming science.

It was also the last year the Washington NBA franchise went to the finals, and Pittsburgh ruled the sports world with the We Are Family Pirates winning the World Series and the Steelers defeating a gutsy Los Angeles Rams franchise in the Super Bowl. Donna Summer and Gloria Gaynor dominated the Pop Music Charts, and Jimmy Carter bemoaned the malaise that afflicted America.

On the weather front, the World Meteorological Association issued a declaration from their meeting in Geneva, Switzerland that included the appeal "to foresee and to prevent potential man-made changes in climate that might be adverse to the well-being of humanity." Later, the WMO joined with the United Nations Environment Programme to form the International Panel on Climate Change, the U.N. panel whose global warming predictions have been discredited by the earth's failure to warm.

Another major event was the launch of a satellite system designed to track global temperatures and other environmental phenomena like the health of the polar ice caps.

Today, we have the benefit of reviewing thirty-six years of satellite data detailing the shrinking or increase of the polar ice caps, and the results are amazing.

The global ice area is virtually the same today as it was in 1979.

After all the worry about polar bears dying from lack of sea ice habitat (Note: Polar bears may well be more abundant today than in 1979.) and carbon-dollar-capturing Al Gore, Jr.'s dire prediction of the total disappearance of the Arctic ice cap by 2013 and the resulting rising tides, it turns out that there has been little, if any, change.

What's more, the satellite system, which – unlike ground monitoring stations – is not impacted by localized variants caused by development, has found that the global warming pause now stands at seventeen years. In fairness, the average temperatures are higher than all but a couple of years between 1979 and 1988, but the predicted escalation of temperatures that undergirds the entire push for massive changes to the world's electricity generation system are paltry.

With polar ice caps remaining stable since the beginning of the global warming crisis, and the earth's temperatures stubbornly refusing to rise for almost two decades, despite increasing carbon emissions, every assumption used by the Environmental Protection Agency to justify their regulatory assault on America's legitimate energy sector needs to be rethought.

Little did those who launched the climate satellite in 1979 know that they were putting into place the scientific data collection technology that changed everything in the global warming debate. One wonders what it feels like to be hoisted on one's own petard.

Rick Manning, President
Americans for Limited Government

Abortion: The "Rape and Incest Exception" is demagoguery
Whenever abortion comes up in a political context, pro-choice advocates highlight pro-life candidates' refusal to support a "rape and incest exception" to any proposed ban on, or regulation of, abortion. The 2016 presidential campaign is no exception. This week CNN anchor Dana Bash handed the hot potato to former Arkansas governor Mike Huckabee. Huckabee's response:
"A 10-year-old girl being raped is horrible. But does it solve a problem by taking the life of an innocent child? And that's really the issue."

Pro-choice publications predictably erupted, painting Huckabee as cold-hearted for his position. But that position flows inexorably from the logic of his larger pro-life stance, and is in fact a libertarian argument.

Notice that I said A libertarian argument, not THE libertarian argument.

Libertarians differ among ourselves on abortion (no, I'm not going to tell you where I come down on it). Some of us are pro-choice. Some of us are pro-life. But all of us view the issue through the lens of the same principle: That it is impermissible to initiate force and that we may only use force defensively or to recover damages from someone who "threw the first punch."

Pro-choice libertarians believe that a fertilized embryo or in utero fetus is not a person with rights, that the mother is fully entitled to control of her own body, and that forbidding her an abortion would be an initiation of force against her.

Pro-life libertarians believe that at some point prior to birth (for some, that goes all the way back to conception), a fertilized embryo IS a person with rights -- a person who has initiated force against no one and who therefore may not be permissibly killed.

There are other, more nuanced, libertarian arguments about abortion, but those are the bare basics.

Coming from the pro-life libertarian position, both the 10-year-old pregnant girl and her unborn child in this story are victims of an aggressor (the rapist whose actions resulted in the pregnancy). Abortion violates the rights of the unborn child, who is not an aggressor, and is therefore morally impermissible (unless, of course, it becomes a matter of self-defense, i.e. carrying the baby to term would kill or gravely harm the mother).

The problem with the "rape and incest exception" position is that it doesn't address the questions raised above.

If abortion is a right, it's a right whether rape or incest are involved or not.

If abortion is not a right, rape and incest don't make it into a right.

To put it more bluntly, the "rape and incest exception" attack is demagoguery -- a crass play on emotion rather than an appeal to fact. As a pro-choice argument, it's an epic fail.

Thomas L. Knapp, Director and Senior News Analyst
William Lloyd Garrison Center for Libertarian Advocacy Journalism
An open letter to President Obama
Mr. President, please speak out clearly and repeatedly that the enemy is Radical Islam. The war they are fighting against us is being carried out by a deadly and uncompromising group called ISIS (Islamic State of Iraq and Syria). It is an off-shoot of the 7th Century Ottoman Empire which was lead by Muhammad and radical Islamic beliefs.

In addition to military force, they also use other methods to target, demean, torture and kill their non-member "apostates." These include Christians, Jews, Yadizis and others who dare to worship deities other than Allah. This also applies to some Muslims who deviate from the Sunni and Shiite interpretations of their "rule books", the Koran and Hadith. Their enforced 7th Century religious practices such as chopping off heads, hands, feet, burning people alive, and stoning people to death for minor offenses have grown from this basic ancient religion. We cannot allow these barbaric savage adherents of Radical Islam to take over our western Judeo-Christian civilization. Signing the Iranian Agreement and permitting Iran to have a nuclear bomb while at the same time they continue to shout "Death to America" is further manifestation of our weakness.

We cannot remain silent! We cannot continue to appease Iran by looking the other way. We must directly confront the rise of radical Islamic terrorism and refuse to negotiate as long as Americans remain hostage. We cannot support Iran, its terrorist proxies and ISIS with meaningless peace agreements and hard earned tax dollars.

We call upon you, President Obama, to acknowledge and condemn the brutality of radical Islamic terrorism. After all, protecting American citizens is the primary responsibility of our president and the United States government. It is what you were elected to do. Please listen to the sound advice of your military advisors and act against these increasing terrorist threats. THE TIME IS NOW!

Esther Levens, CEO & Founder
Unity Coalition for Israel
Is America headed for nothing at all?
Our congress should immediately put on hold any H-2A agricultural visas and H-2B non-agricultural visas. People are brought in from other countries on these visas to work for as much as 20 – 45 percent cheaper labor than our own American people. Business owners need to invest in America. They need to hire the American people.

Farmers in America are hiring thousands of Mexicans on the H-2A Visa. There are reports of workers being crowded into houses with less pay than farmers would have to pay Americans. We should pay Americans $10 - $15 an hour to do these jobs that Mexicans are doing for much less.

It's time to cut welfare back 25 percent over the next three to five years and 50% over the next eight years. People should only be on disabled Social Security if they are truly disabled. Put limitations on food stamps, SSI and unemployment pay. There are plenty of jobs in America. People are flooding this country from all over the world and working in America. We need to take our jobs back. America needs to get back to paying our workers a little more but Americans must go back to work. The fact that so many Americans are not working is killing this nation. We are dying on the inside. If the tide does not change the day will come when the majority of Americans will be from Mexico, Asia and India. These people who have had to work so hard will gladly eliminate most of our entitlement programs.

It's time to put a tax on everything Mexico and China wants to ship to America. This will hurt at first but we need manufacturers to make their products in America. Give the American manufacturers a corporate tax rate of 15 percent and let's return back to the days of good paying jobs in America.

Fine employers thousands of dollars for each illegal immigrant they hire. People who break into our country should not be rewarded with a job. Our employers are the major problem.

One of the sources of American pride has been the hard work put into this nation. Our nation once was the envy of the world. We once were considered number one. We became number one through hard work, strong families and a strong faith in God. Would any of us venture to say that America is leading the world now in any of these three categories?

We must return to what made us great or eventually we will be nothing at all.

Glenn Mollette
American Syndicated Columnist and Author