BY PETE MOHR | AUGUST 26, 2015
Meet Football seniors K-O:
Greg Ketter, Brendon Long, Sean Long, Connor Musick, Dayton Overby
CSHS – A high school football team can never have too many seniors; but because of space limitations, all 21 could not be profiled before the season's opening game. And Gina Brown's excellent "head shot" photos (with seniors in game uniforms) were more than worth waiting for. Seniors (R-Y) will appear online Wednesday, Sept. 2. Senior parents (and your Football Falcon sons), thank you for your understanding and patience.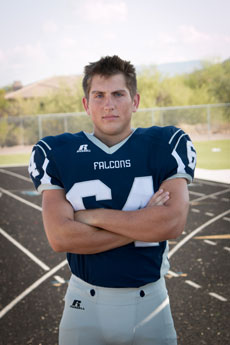 GREG KETTER
5' 10" | 195 lbs. | MLB
After reading his Senior Profile answers, I could tell that Greg Ketter is what coaches call "a player."

And confirmed to me as such by Head Coach Mike Hudnutt: "Greg plays tough and smart. He's very knowledgeable about the game and does everything we ask him to." If the Falcon "D" bounces back from last Friday's lackluster performance at Mingus, you can be sure that middle linebacker Greg Ketter will have played a major role in the recovery. A native Arizonan, Greg was born December 8, 1997, the son of David and Elizabeth Ketter, his Creeker parents with whom he lives. He first played organized football as a 6th grader; graduated from Sonoran Trails; and has played all four years at CSHS, winning varsity letters as a sophomore and junior. This season, Greg's out to break the Falcons' "sacks record;" and he expects his team to make the State Playoffs – "then anything." He knows that first, the Falcons will have to get there. 2015 will be his football finale before pursuing an Electrical Engineering curriculum in college, his preference presently undecided. Dad David has most encouraged his football career; and as a football Falcon senior, Greg sees this season as "the end of good times with my teammates." Greg, you know how to make those "good times" happen.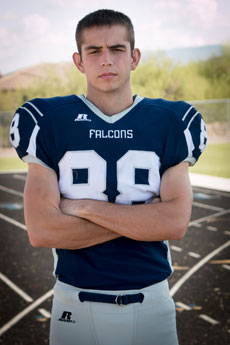 BRENDON LONG
6'3" | 180 lbs. | WR/PK
For "B Long," as he prefers to be called, it's "one if by his good hands, two if by his sure right foot." Either way, the Falcons will count on him for offensive production, if they are to make the "Playoff run" Brendon is counting on. At his starting wide receiver position, he's looking to record 50 receptions, good for 700 yards and seven Tds. A native Arizonan, Brendon was born September 26, 1997. A CCUSD "lifer," he lives with his "Creeker" parents, Mark and Pam Long. A Sonoran Trails graduate, Brendon first played organized football as a CSHS freshman, moved up to JV as a sophomore, then lettered as a junior. For his four years at Cactus Shadows, he's also been a centerback for Boys Soccer Coach Tony Vos. He'll catch a quick breather, then play again this late fall-winter. Shades of Michael Moorer '06 and Kyle Royer '07, both dynamic two-sport standouts. He wants to become an Arizona Wildcat, his major undecided. Will he play football again? "Maybe," he answers. "My friends" have most encouraged his football; and he sees his senior season as "my last chance to win a State title for Cactus Shadows." "B Long," go long!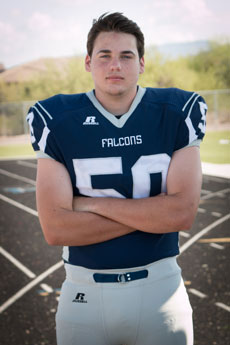 SEAN LONG
6'0" | 200 lbs. | DL

Look for Sean Long to play a role in the Falcons defensive rotation, probably defensive end. His goals for this season are simple – and unselfish: "Play hard and work hard." Hit both of those targets, Sean and you'll put up a successful senior season, which you indicate will be your last. Even after the disappointing loss at Mingus, Sean celebrated his 18th birthday at Saturday's practice and film session. "Happy Birthday!" right Sean? Better days lie ahead for the Falcons. You 22 seniors must lead the way. Sean first played organized football as a 5th grader. In addition to being in Coach Hudnutt's defensive rotation, Sean will see special teams duty. He lives with his "Creeker" parents, Michael and Kerri Long, crediting Dad Michael with being his biggest football booster. As a Football Falcon senior, Sean writes that he embraces the responsibility of "being a leader." You've got that right, Sean! You and your 20 fellow seniors.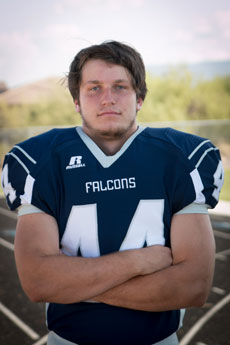 CONNOR MUSICK
6'0" | 190 lbs. | RB/LB
"Big Cat" he gives as his nickname, but "Connor" is how he prefers to be called. A back-up running back and linebacker, Connor vows "to play hard and work hard," being a part of the Falcons' effort "to win State." You seniors had best get going at Apollo this Friday. Don't come home down 0-2! Born April 20, 1998 in Tempe, Connor lives in north Scottsdale with is parents Craig and Susan Musick. Almost a CCUSD "lifer" (2nd grade), he graduated Sonoran Trails. He has played football all 4 years at CSHS and lettered Varsity as a Junior. A strong student (he's taking AP Physics), he plans to attend U of A, majoring in Engineering. Connor has a long distance "special lady," Rebecca Wolfe, a senior in Raleigh, North Carolina. Dad Craig most encouraged Connor to give football a go. As a Football Falcon senior, Connor wants most to lead by the example he sets for his teammates, especially the younger players. Hey, "Big Cat"! Friday night at Apollo would be just the right time to do that!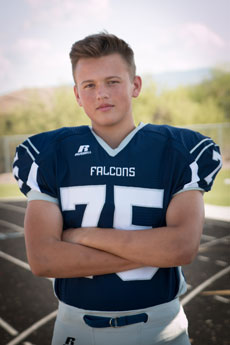 DAYTON OVERBY
6'2" | 190 lbs. | DE
Playing as a sophomore, Dayton Overby was one of the smallest linemen on the team, thus his nickname, "Pip." But "Pip" has grown to a sizable 6´2/190 so he now prefers to be called "Daddy," a good-natured tag he describes as "an inside joke." Whatever, Dayton. Born May 23, 1998 in Columbus, Ohio, Dayton lives with his "Creeker" parents, Troy and Vickie Overby. He first played organized football as a 2nd grader; graduated Sonoran Trails; and has played all four years at CSHS. He's challenging himself "to get better every day" and thinks an 8-2 record will qualify the Falcons for a State Playoffs berth. He doesn't plan to play at the "next level," but names Mom Vickie as his biggest football booster. There'll be a "special lady" for him in the West Stands, one Lorna Cooper, a CSHS sophomore. As a Football Falcon senior, Dayton writes that what means most to him is "being part of something bigger than me." Dayton, I believe that "something bigger" is called t-e-a-m, team. Be proud that you are a part of it.