AUGUST 19, 2015
Obituary

Fredrick "Ted" J. Mollring
Passed away peacefully, at age 87, on August 7, 2015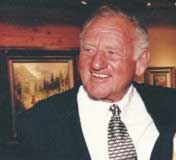 Ted was born in Rock Springs, Wyoming on February 10, 1928 and won that year's "Blue Ribbon" for the best-looking baby boy. Ted spent his formative years in Pinedale, Wyoming with his three brothers, Mac, Bob and Tom, hunting, fishing, horseback riding and skiing. Their parents, Jay and Ruth Mollring, owned The Mollring General Store and started the first local power company.

In 1943, the Mollrings moved to a dairy farm in Northern California where Ted started his sophomore year at Anderson High School and became a star football player. He still holds the record for the most yards gained on the ground. His "pride and joy" at the time was a 1935 Ford Roadster and his love of anything "fast", including airplanes, continued until the end of his life.

Ted's love of his country inspired him to join the U.S. Navy in 1945. While serving on Guam, he became the Marianas light-heavy weight boxing champion and contended for the all-Navy Title. He was honorably discharged in 1947 and decided to ride saddle and bareback bucking broncs … he soon found out that this was no way to make a living. He attended the University of Wyoming and became an auto dealer, Casino bouncer in Reno, oil and gas entrepreneur, Hollywood film creator and stunt man, theater chain manager, ranch real estate broker, western art gallery owner/dealer and an all around great guy!

Ted is survived by his wife of 51 years, Christine, brother Bob (Mona), daughters Jennifer E. Sands (Charles) and Stephanie Longstreet, stepson Christopher Neale (Sonia), nephews and nieces Tom, Jay, Kim, and Kimberly, grandchildren Tangalene, Michael, Nolan, John, Julia and great grandchildren Jacob and Taylee.

The family would like to thank the staff of Carefree Manor and Hospice of the Valley for their kindness and support.

In lieu of flowers, the family would be honored to have donations made in memory of Ted to Western Spirit: Scottsdale's Museum of the West, 3830 Marshall Way, Scottsdale, AZ 85251. A "Celebration of Life" service will be held at a later date.