By Rural/Metro Fire Chief John Kraetz

| AUGUST 19, 2015
Know where you are so help can respond
Emergency services are regularly called upon to either perform a full-blown rescue operation or at least assist someone in need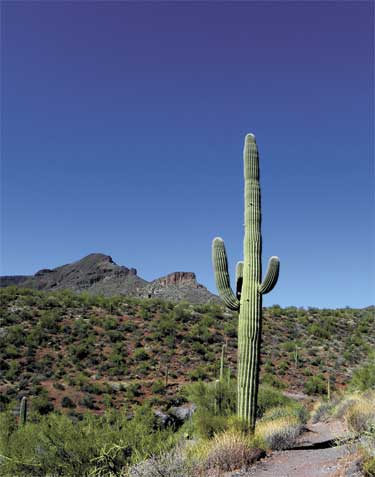 CAVE CREEK – Rural/Metro received a call for help last weekend by a mountain biker who had taken a bad spill and needed help.

Unfortunately, the biker had no idea where he was.

This triggered the idea to start a "Know where you are" campaign here in Cave Creek.

While Cave Creek is blessed with beautiful parks and miles of trails, unfortunately the trails are rugged and at times cyclists, hikers, and equestrians find themselves in trouble.

Emergency services are regularly called upon to either perform a full-blown rescue operation or at least assist someone in need. The problem is, with so many miles of trails, and those trails being spread out across miles of desert, unless the emergency services agencies get a fairly accurate location when someone calls in an emergency, treatment can be delayed for an unnecessary length of time.

The fire department here in town has responded numerous times to calls where either the caller gave the wrong location or had no idea where they were except to say "Cave Creek Park," for example.

Cave Creek Regional Park encompasses a large area that is distinctly separate from Spur Cross Conservation Area, yet we are commonly dispatched to one side of town when the incident is located in one of the parks on the opposite side of town.

Responding to emergencies can tie up a tremendous amount of resources.

On a typical call we may have five fire department units, three or four Maricopa County Sheriff's Office units, possibly the Cave Creek Town Marshal and a helicopter on the call. With an informed location from the outset, we can locate, extricate, and transport the party in a timely manner. In the case of poor or non-existent information, the incident could very well tie up those resources for several hours.

So, I am asking the public to please make a point to "Know where you are" when using the trail system in the town of Cave Creek or any of the surrounding parks.

Maps are readily available from a variety of sources.

In addition, always carry a cell phone. In most cases, cell signals will make it out in and around Cave Creek.

Of course, the mere fact that you have a phone doesn't help a whole lot if you don't know where you are.

Make sure to always carry enough water for the length and conditions of activity anticipated, and start your activity in the coolest time of day during the hot summer months.

Help the local emergency services help you. Follow basic safety guidelines when using the trails and "Know where you are."

Rural/Metro will be starting a cooperative partnership with the bike shop and the town of Cave Creek to produce and provide both digital and paper maps for distribution at local businesses and town hall to try and help the situation.