BY LINDA BENTLEY | AUGUST 19, 2015
Be a hero, give blood and you could drive away a hero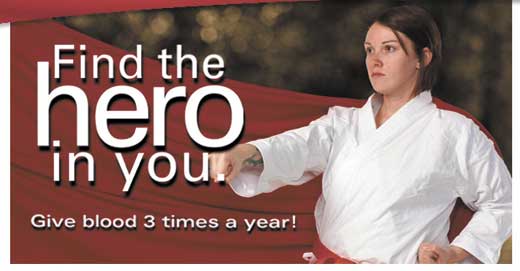 CAREFREE – United Blood Services (UBS) is hosting a blood drive at Carefree Fire Station No. 1 from 8 a.m. to 12 noon on Saturday, Aug. 29.

Anyone who donates blood with UBS during the month of August will be automatically entered to win a 2015 Volkswagen Golf, donated by your Valley Volkswagen Dealers.

UBS is a nonprofit community blood center, providing blood and blood products for local hospitals throughout the United States.

Founded in 1943 as the Salt River Valley Blood Bank in Phoenix, today UUBS community blood centers provide blood, blood components and special services for patients in more than 500 hospitals in 18 states, from California to the Gulf Coast, from the "Tip o' Texas" to the Canadian border.

UBS urges you to be a hero and donate blood three times a year.

Blood donors must be at least 16 years old, weigh at least 110 pounds and be in good health. (Donors 16 and 17 years old must have signed permission from a parent or guardian.)

For more information on eligibility and other Frequently Asked Questions visit www.unitedbloodservices.org and click the "Learn More" link.

To make an appointment, call Cynthia Driskell at 480-488-9095 or visit www.bloodhero.com and use the sponsor code "Carefree."

Walk-ins are also welcome.