BY PETE MOHR | AUGUST 19, 2015
2015 season opens Friday, August 21; Meet six seniors who'll be ready!
Ethan Bondurant, Alex Doughty, Barrett Elletson, Joe Hoffman, Justin Intolubbe and Cory Johnson
CSHS – How did the Falcons look at their August 12 controlled scrimmage with (Mesa) Westview? In "Coach's Corner" Head Coach Mike Hudnutt gives his answer (below) – as he will each week between Fridays. In advance, Sonoran News thanks Coach Hudnutt for his willingness to provide a weekly critique on Falcon Football. This writer would be the first to acknowledge that Coach Hudnutt's "takes" are the only ones that matter.

Why is this 2015 season kicking off one week earlier than usual? The answer first traces back to the declining number of football players at Flagstaff's three high schools, Flagstaff (the city's oldest), Sinagua and Coconino (coming here September 18). Coach Hudnutt reminded me that Sinagua had given up its football program seven seasons ago. And I was at the Walkup Skydome in October 2010, when the visiting Falcons clobbered Flagstaff, 63-0, on the Eagles' Homecoming night. Earlier this summer, facing the very real possibility that Flagstaff might roster only 30 players (or less), their Administration decided to cancel their September 25 game at Cactus Shadows.

A.I.A. had advised its member schools that August 21 would be an allowable date on which to fill out a team's 10-game regular season schedule. Coach Hudnutt provided CSHS Athletic Director Mike Siwek with the names of several schools whom "Coach" considered competitive as possible opponents, (Cottonwood) Mingus being one of those candidates. On his first call, the A.D. sealed the deal with the Marauders – to be played at their house, August 21. Was his immediate success a good omen for the Falcons? Let's hope so.

Opening on the road isn't all bad. A team trades easier logistics and home crowd support for less pressure and a more productive focus on the game itself. The West Stands and the new artificial turf field will be waiting when the Falcons come home to host the Ironwood Eagles, Friday evening, September 4. Two consecutive away games (Mingus then Apollo on August 28) should give the Falcons valuable time to work out their early kinks. Falcon fans, circle September 4. The new turf field is worth the $5 price of admission!

So Falcons, led by your 22 seniors, when you reach Mingus "Maul the Mauraders!"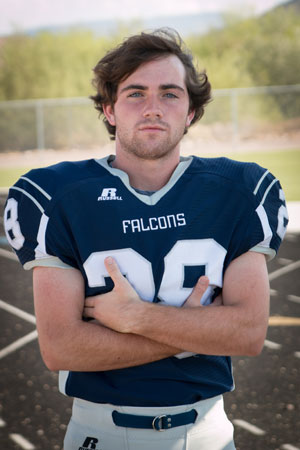 ETHAN BONDURANT
5'7" | 150 lbs | RB/S
The 2015 season will be Ethan Bondurant's fourth as a Cactus Shadows football player. He's plenty smart (Honors and dual enrollment classes), determined ("I want to play my very best") and unselfish ("I want to help my team every way I can"). "All of the above" explains why Coach Mike Hudnutt told me, "Ethan's the kind of kid we want to keep around." As a running back and safety, "Bondo" (his nickname) will play in a back-up role and also on special teams. Born May 1, 1998 in Cave Creek, Ethan lives with his Creeker parents, Jim and Sharon Bondurant. He first played organized football as a 6th grader and graduated from Sonoran Trails. This season will be his football last. Post graduation, he has his sights set on U of A. In the West Stands, he'll have a special fan, his "special lady," classmate Sandi Baker, whom he compliments as a "beautiful soccer player." Ethan identifies "my family, my coaches and my girlfriend" as his biggest football encouragers. He gets an emotional rush "helping to lead the team onto the field." Ethan, in this, your senior season, may "Friday night lights" shine brightly upon you.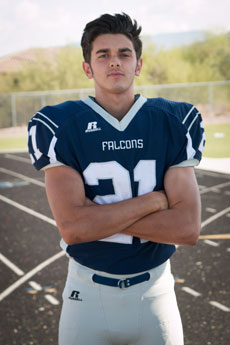 ALEX DOUGHTY
6'0" | 171 lbs | CB
Readers know I'm a sucker for nicknames; but Alex Doughty tells me that his, "Z-Diddy" was expropriated from his brother. But it's what his teammates call him. Encouraged by football-playing classmates, Alex decided to try out, "wanting to end my senior year with a bang." Alex "gets it": to him, being a Football Falcon senior means having "tons of laughs, good friends, and working with them to win a State Championship." Born July 28, 1998 in Scottsdale, Alex lives in Cave Creek with his Creeker parents, Mark and Monique Doughty. Expected to play at cornerback, Alex is aiming "to get a pick 6." And for the Falcons? "Have a winning season." A member of three honor societies (National, English and Spanish), Alex's college preference is ASU, where he plans a Business major. He thanks Dad Mark, his friends and his coaches for most encouraging him to give football a shot. "Z-Diddy", they'll all be rooting for you!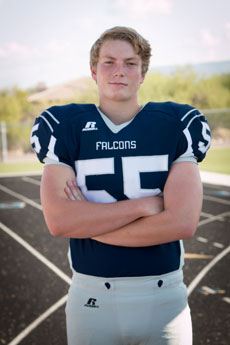 BARRETT ELLETSON
6'2" | 215 lbs | DE/DT
Barrett Elletson (or "Carrot" because of his reddish hair) appreciates his return to Falcon football after a torn ACL sidelined him for his first three years at CSHS. Hopefully healed, Barrett is ready to do some damage at defensive end for the Falcon "D". He's locked in on one goal – both for himself and the Falcons: "win the state title." A Sonoran Trails graduate, Barrett first played organized football as a 6th grader. Turning 18 on August 24, Barrett was born in Las Vegas, Nevada, the son of Lane and Amy Elletson. He has no plans to play at the "next level," but is heading to U of A, his major undecided. He lists his "special lady" as "non-existent," a condition with which I can empathize from my own high school days back in the Ice Age. "Tim (Drabowski) and Troy (Ralston) are my "Swoll Mates" (a weight-lifting term) and his biggest football boosters. I can tell that Barrett is rarin' to go: he writes, in all capital letters, simply "FRIDAY NIGHT LIGHTS!" Whether at home or away, Barrett, may they inspire you every game!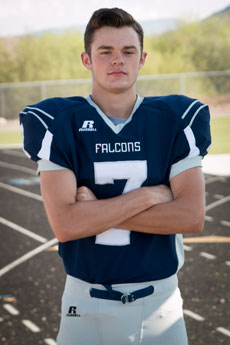 JOE HOFFMAN
5'10" | 155 lbs | CB/WR
Joe Hoffman didn't have to come out for football his senior year: he wanted to. Good news about Coach Hudnutt's Falcons travels fast. And Joe's classmates/teammates Troy Ralston, Mikey Maloney and Carlo Paoletti sold him. Joe will see playing time at corner, wide receiver and on special teams, for all of which his speed will be an asset. Born December 16, 1997 in Scottsdale, Joe lives with his Creeker parents, Ken and Sherry Hoffman. In this, his first season of organized football, all Joe wants is "to win state." Joe is more than speedy in the classroom, having been elected to National Honor Society at the end of his junior year. He'll attend either ASU or U of A, planning a Business major. Joe ends his senior profile questionnaire thusly: "Knowing that I get to spend my senior year with this team means a lot to me." Joe, I'm sure the Falcons are equally glad to have you.
JUSTIN INTOLUBBE
6'3" | 220 lbs | C/OG
Justin tells me that the explanation for his nickname, "Sandwiches", is "too long a story." I take him at his word. His size will provide Coach Hudnutt with good OL depth at center and RG. Justin is a man of few words, boldly listing "State" as his personal goal – and as the meaning of his senior season. Looking at his formidable size, will he play football at the "next level"? "Not a chance," he writes emphatically. Preferring a Finance major at U of A, Justin names Coach Hudnutt as the person who has most encouraged him to play football. Born October 9, 1997, in Albany, New York, Justin lives with his Creeker parents, Dan and Kathy Intolubbe. "Sandwiches", in absentia, I'll order up a Reuben to celebrate that State Championship you're wanting.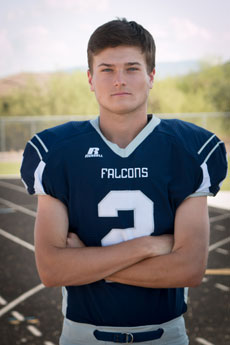 CORY JOHNSON
6'1" | 165 lbs | OLB/WR
For Cory "Big Mac" Johnson, Falcon Football means "family" (his team). His mother, Creeker Lorrie Johnson, and his older sisters, Brittany and Courtney, are his most encouraging supporters. Born on Pearl Harbor Day in 1997, in Bayshore, New York, Cory first played organized football at age six. He entered CCUSD as a Cactus Shadows freshman, playing freshman ball before suffering a serious shoulder injury that kept him out of football his sophomore and junior years. He has a very specific goal for this season, "scoring a touchdown (pick 6) during Homecoming." For the Falcons, he has one word, "championship." He'll play for Coach Hudnutt at offensive linebacker, wide receiver and on special teams. Cory's college preference is U of A, his major undecided. Welcome back to Falcon Football, Cory. Here's hoping you'll get that pick 6!