BY LINDA BENTLEY | AUGUST 12, 2015
Council retreat prioritizes town agenda
McGuire said the town needed to be careful about taking on something the private sector is supposed to do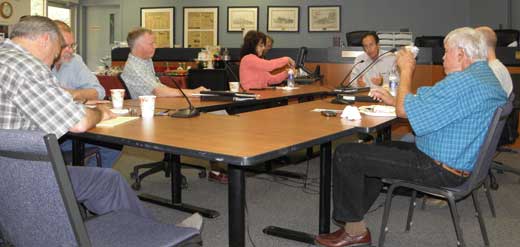 CAVE CREEK – Council held one of its periodic retreats on Tuesday in order to discuss, prioritize issues and provide staff direction in an informal setting.

Although items are agendized and discussed before the public, no legislative action or public comment is taken.

With Vice Mayor Steve LaMar absent, council had a relatively lengthy agenda of topics to discuss and began with a brief dust-up between Councilman Dick Esser and Councilwoman Susan Clancy over dissemination of information, with Clancy requesting more lead time when being asked to appear at a public event.

Town Manager Peter Jankowski agreed with Clancy.

Esser said the e-mails received from Jankowski were great as he chided Clancy about something she said and stated she was not on the school board anymore and this was not the proper venue for her statements.

Clancy was about to respond but decided instead to let it go.

Mayor Vincent Francia commented about how, in an informal setting, people can see how council doesn't always agree.

For clarification, Francia stated the mayor and council may not interfere with staff and when it comes to hiring or dismissing town staff, it is the town manager's domain.

Councilman Ernie Bunch stated, "Our job is to set policy and not be involved in the day-to-day operations."

Councilman Thomas McGuire complimented Jankowski for keeping them informed.

Moving down the agenda, Councilman Mark Lipsky brought up the subject of infrastructure work and said, "I think we ought to hook up the Westside [to water] tomorrow. If not, why not?"

Utilities Manager David Prinzhorn enumerated all the steps involved that needed to be accomplished before that could occur and said they were underway.

Lipsky asked if Cahava didn't exist, what would be involved.

Prinzhorn responded the cost would be $75,000 to $100,000 and they would still need to go through all the same steps.

Lipsky asked what milestone he would set for Cahava Springs to complete before the town stepped in to get it done.

Prinzhorn said the design phase was almost complete.

Jankowski pointed out Cahava just got its funding mechanism approved so that it could proceed with its infrastructure improvements.

Jankowski also explained the town doesn't own the infrastructure; it belongs to Cahava.

Francia asked Prinzhorn to keep the Westside in the loop by notifying Terry Smith of updates.

Esser said they also need to know how many potential customers there would be.

Clancy asked whether the town could move ahead and pay for the improvements and enter into a payback agreement with Cahava in an effort to expedite the process.

Jankowski said he would have a conversation with Mark Stapp with Cahava.

Esser called the non-functional water line an "attractive nuisance."

Prinzhorn said there is a cost of approximately $65 per linear foot associated with residents hooking up to the water line and it would cost around $7,400 to install a three-quarter-inch water line, loop lines and fire hydrants.

Jankowski reassured council, since passing the financing mechanism; Cahava has come a long way.

Councilman Ernie Bunch suggested, in the interim, putting in a stand pipe so those currently hauling water don't have to travel so far.

Clancy said it sounded like they needed to contact the folks living out there to find out if they have an interest in hooking up.

McGuire said the town needed to be careful about taking on something the private sector is supposed to do, because it would then need to do that in other areas of town.

Francia said taking over a private operation is touchy, adding, "We need to go into this with our eyes wide open."

Esser said the town needs to find out how many people there are without water.

McGuire said the town needs to be careful about taking on something the private sector is supposed to do because it would then have to do the same in other areas of town.

Francia provided an update on the 4,000 acres of state land designated as open space.

Francia said he met with local resident Steve Betts, whom he said served on Gov. Doug Ducey's transition team and is the town's lead-in to the head of the state land department.

Francia said Betts is going to set up a meeting with the new land commissioner.

He said this is the fourth land commissioner they will be dealing with and will need to start at square one to get her up to speed.

Options discussed with previous commissioners to secure the open space included a conservation easement lease for 25 years, enhancing the 240 acres of commercial property on Carefree Highway and, if the land is deemed suitable, Francia said, as silly as it sounds, a desert tortoise habitat could also lock it up.

He said another idea brought forward was for a wild horse habitat with horses acquired from the Navaho Nation.

Francia said the town has 13 years left on the 20-year agreement to figure this out but said, "Let's not wait until there are only three years left. We're safe for 13 years … all that means is the clock is ticking.

McGuire said the council needed guidelines for the town manager's evaluation so Jankowski has some way of knowing if he's meeting their expectations.

McGuire agreed to work with Esser and Jankowski to come up with something.

Discussing road matters, Lipsky suggested the town install speed humps at the stop signs in the center of town, claiming the flashing lights have done nothing to deter people from blowing through the stop signs.

In the alternative, Prinzhorn suggested cutting rumble grooves in the road ahead of the stop signs.

Lipsky said that would deter a normal person but not people who blow through the stop sign.

Town Marshal Adam Stein said people do run that stop sign but he didn't believe they plan on running it but because they're thinking about what a beautiful day it is.

He thought a rumble strip might wake people up.

Stein said they've tried increased enforcement but it only resulted in making people angry.

"We have a traffic engineer on retainer," said Stein, "Let's see what he recommends."

Lipsky asked the town to commit to doing "something" so work could begin in 30 days.

Prinzhorn reported there were approximately 400 street signs that need replacing. He said they were in poor shape because the sun takes a toll on the reflective paint.

Although this was a project he previously committed to getting done, he said he hadn't started it yet because he had trouble getting the data out of the computer program.

Bunch asked if the town still had spare signs stored in inventory.

Prinzhorn said they did but keep them for replacements in an emergency.

Bunch suggested swapping the good signs in inventory with the ones needing replacement and keeping the bad ones for emergencies.

Prinzhorn said that was a good idea.

Lipsky said there were roads in dire need of striping and asked if Cave Creek Road was in the budget for this year.

Prinzhorn said it was scheduled for next spring after the bike lanes were completed.

He said it made no sense to stripe the road now if it's just going to be torn up.

Prinzhorn also told council the Usama Abujbarah case was on the next day's agenda and stated, "So, if my money goes away …" indicating he might not have the money to complete certain road projects.

Lipsky said, "Striping seems like something we need to do," twice if necessary, adding, "I hope I'm not alone in thinking this is important."

Jankowski agreed, as did Clancy, who stated the hills and curves on Spur Cross road are a hazard in the dark with no striping.

Lipsky asked Jankowski to come back with a plan to get Cave Creek and Spur Cross roads done.

Lipsky brought up the bright lights on until late at night out in the "suburbs" of Cave Creek.

He asked Planning director Ian Cordwell what the ordinance allows.

Cordwell explained the current ordinance but said some properties are grandfathered in and suggested they take a night drive so he could point out specific properties.

Cordwell provided an update on the bike lane project.

He said the bid will be awarded on Aug. 25 and a provision in the contract calls for work to begin within 18 days.

Cordwell said the project will take approximately six months, work would occur Monday through Thursday and they agreed to keep one lane open in each direction.

Lipsky expressed some dismay that it will be going on during the town's high season but relieved it will be completed before Bike Week.

Lipsky also addressed improvements and repairs needed at Gateway Awareness Park and said, after learning where it was, when he went to the park, "My first thought was if I had a dead body, this is where I'd bury it."

He read a top 10 list of improvements provided by Michael Johnson.

Jankowski said he liked the list and said Building Official Mike Baxley has money in the budget this year.

Lipsky agreed to work with the promoters and town businesses to come up with solutions for Bike Week after the application for a special event permit is submitted.

There was some talk about moving the horse monument at the south end of town to a better location.

Francia thought it should be moved closer into town and placed in the median.

However, that just being his thought, Francia did not want to direct staff to do anything.