BY LINDA BENTLEY | AUGUST 12, 2015
Carefree – not just for old fuddy duddies anymore
Neiss said the town has over $6.5 million in unrestricted funds and never had to touch the $2.5 million rainy day fund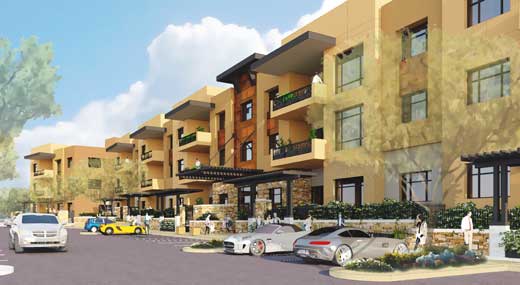 Ed Lewis' newly reconfigured Easy Street condominium project received unanimous council approval during the Aug. 4 council meeting.


CAREFREE – During the Aug. 4 council meeting, Mayor Les Peterson noted the new audio/video system was up and running.

Councilman Glenn Miller asked to have the financials removed from the consent agenda so Town Administrator Gary Neiss could explain to citizens what solid financial shape the town is in.

Neiss said the figures did not include approximately $100,000 reimbursement from a grant they had not yet received for storm damage repairs and stated the town has finished the year almost $1 million in the black.

Neiss said the town has over $6.5 million in unrestricted funds and never had to touch the $2.5 million rainy day fund.

Councilwoman Melissa Price asked if they could change the name of the fund from "rainy day" to "reserve," which all agreed was a good idea.

Peterson said the town is in excellent financial shape and in a more favorable financial situation than most Arizona cities and towns.

During Call to the Public, Kim Prince of Proven Media told council she was able to swing an after-deadline front cover and story about the gardens in a local advertising magazine.

Council voted unanimously to approve a resolution authorizing the mayor to execute the Easy Street South Conditional Use Permit Development Agreement between the town and Butte Properties, LLC and Ed Lewis.

Lewis presented his reconfigured plan, which now consists of 49 "ultra luxury" condos on what Lewis said has been a dirt lot for too long.

The new development agreement addresses the south parcel only and will be a three-story building with secured parking underneath the building.

Lewis said the project will add charm to Easy Street and while he will be including a restaurant PAD, he will not be building a restaurant right now for the future growth of Carefree.

Describing the project with slides and renderings, Lewis said the condos, meant to be resort-styled living, will attract buyers primarily from the area.

He said this will be the first ultra luxury condo project in the foothills area and will generate approximately $990,000 in sales tax revenue to the town.

Lewis said he will be building a model kitchen that should be completed in around six months.
As council voted, Councilman Mike Farrar commented, "I'm absolutely thrilled with this proposal."

Lewis passed out brochures for the project, said he would be starting his marketing program the next day and also hoped to have the website up in the next day or so.

Council also voted unanimously to pass a resolution to enter into a purchase agreement for the commercial building at 33 Easy Street at a price of $407,000.

Peterson said this is something they've been looking at for some time.

Neiss explained the space council currently occupies is leased, including the space which previously housed the court offices, which have since been consolidated in Cave Creek and no longer needed by the town. That lease is up in one year.

He said the Easy Street building, a two story building, was built in 2000, making it relatively new and has 2,700 square feet on the first floor.

According to Neiss, the second story is currently leased out to an accountant, who indicated he would like to continue leasing, so the building would also be income property.

He said there is a large shared parking area in the rear of the building.

The town would have 30 days to conduct an inspection and review a variety of low-interest finance options, which would be brought back to council for approval at a future council meeting.

Neiss said the town anticipates paying the note off sooner rather than later.

The price was considered a good value and Farrar, who was instrumental in negotiating the purchase, stated the price was way below market value and could not be replaced for that cost.
Farrar said this was a great opportunity and the timing couldn't be better.

Peterson pointed out the square footage is 60-70 percent larger than the council chambers currently in use so it will be able to handle any anticipated growth.

With floor to ceiling windows and a view of Black Mountain, Councilman John Crane said the building was not only beautiful but does the town justice.

Marketing and Communications Director Gina Kaegi provided the town with an update of all things in the works since she came on board six months ago.

She presented a new logo for the town and said they will be launching a new website, targeted to residents and visitors alike, on Aug. 14 that will be easier to navigate and mobile compatible.

Kaegi said she posts to the town's Facebook page regularly and urged everyone to "like" the page and check it regularly.

She said she was working on print media for a mix of local and tourism and will be keeping the local newspapers up to date.

The comprehensive calendar of events includes over 30 events before the end of the year.

With a median age of 62.7, 25.9 years older than the state median, Carefree has long been searching for an identity, a way to invigorate its town center, attract new businesses and visitors with new demographics.

During a special meeting in June, council voted unanimously to approve the construction of a shaded splash pad with a scorpion water feature.

Stating, "I can't wait to invite more demographics to town," Kaegi said the splash pad should be completed in October and she'll schedule some sort of grand opening event for it.

She said she was working closely with the chamber and have produced a garden tour map as well as a tri-fold brochure about the town.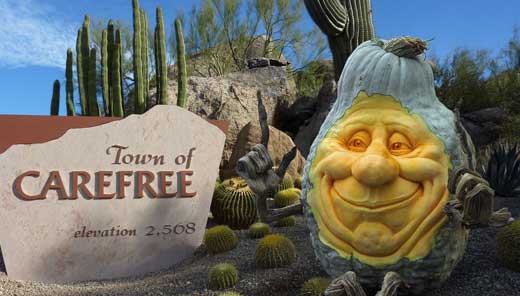 Kaegi said she wanted to create some sort of fall event for the town and thought of pumpkins.

She then found Ray Villafane, a world-renowned pumpkin carver who holds two Guiness world records.

Kaegi said Villafane will transform the gardens into an enchanted pumpkin garden in October.

Because Villafane is an artist, she said that goes with the culture of the town.

Kaegi has also involved Kiwanis and coordinate with their pancake breakfast.

She has also involved Cave Creek unified School District, noting Villafane is also a motivational speaker.

On top of that, Villafane is also a sand sculptor and will do quarterly sand sculptures that will bring something new to the town regularly.

Kaegi said, "There's a lot we can do with this relationship."

Council voted unanimously to hire the law firm of Ridenour Heinton PLLC and specifically Attorney Scott Wakefield, who has expertise in utility regulatory proceedings, to represent the town in the Liberty Sewer rate case before the Arizona Corporation Commission.

Peterson said it would behoove the town to intervene in the case.

Council also unanimously approved a proposal to switch banks from BMO Harris Bank to National Bank of Arizona.

Town Clerk Kandace French said BMO Harris used to be locally owned and the change would not only be to a local bank but would allow the town to accept credit cards.

She said the change would become effective Sept. 1.

Branch Manger Jennifer McGirr said she's honored to be in the community for the past five years and thanked council.

Council voted unanimously to approve text amendments to the town code presented by Town Planner Stacey Bridge-Dunzak dealing with statutory and some non-statutory dust control measures.

She said they are required to report quarterly to the Arizona Department of Environmental Quality on dust control.

Councilman Bob Gearhart asked how the ordinances are enforced.

Bridge-Dunzak said the town has a code compliance officer that will address thing if he happens across them but the majority is complaint driven.