AUGUST 12, 2015
North Valley Symphony Orchestra announces new Concertmaster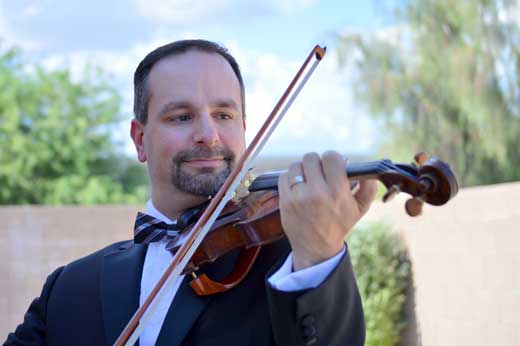 NVSO Concertmaster, Craig Triplett
Photo by Andrew Marchman


PHOENIX – North Valley Symphony Orchestra is pleased to announce Craig Triplett as the new Concertmaster for the upcoming 2015-16 season.

Mr. Triplett began playing the violin at the age of 9 in St. Louis, Missouri. At 17, he won the CASA Concerto Competition and performed the Bruch Violin Concerto with the CASA Symphonic Orchestra. Mr. Triplett studied violin and viola at Southern Illinois University for two years, during which he was accepted to the Fischoff National Chamber Music Competition where he and his ensemble performed the Shostakovich String Quartet No. 8 in the Semi-Finals. Mr. Triplett transferred to Northern Arizona University on scholarship, where he met his stand partner in life, Jessica. While at NAU, Mr. Triplett won the concerto competition and performed the Stamitz Viola Concerto with the NAU Symphony Orchestra. He also performed in the Flagstaff Symphony Orchestra as Assistant Principal Violist for several years. Mr. Triplett received his Bachelor of Music Performance degree on the viola from NAU in 2002. More recently, he served as Principal Violist of the North Valley Symphony Orchestra before accepting the position of concertmaster this year. Mr. Triplett enjoys mountain biking, watching auto racing, and the enthusiastic applause he receives when he performs for his 2 year old son, Parker.

The opening concert of the 2015-16 season, "Machine Madness", will be held October 17, 7 p.m. at North Canyon H.S. Performing Arts Auditorium (1700 E. Union Hills Drive). The concert includes Daugherty's Route 66, Beethoven's The Metronome from Symphony #8, Adams' Short Ride in a Fast Machine, Walton's Prelude and Fugue, "The Spitfire", Haydn's The Clock from Symphony #101, Anderson's The Typewriter, and other popular mechanical-sounding pieces.

Tickets are available at NVSO's website: northvalleysymphony.org/buy-tickets.