BY PETE MOHR | AUGUST 12, 2015
Meet the six seniors who will captain the 2015 Falcons
Tim Dabrowski, Logan Kloss, Michael Maloney, Antonio Marchica, Carlo Paoletti and Matthew Sill
CSHS – Every Cactus Shadows team needs "senior leadership." Head Football Coach Mike Hudnutt would be the first to tell you that his Falcons most certainly do. Both on and off the field, seniors form the nucleus for team morale and performance. When the Falcons need a "big play" defensive stop, or it's "4th and 3" for a critical first down, there's usually at least one senior at the bottom of the pile.

When Falcons host (Mesa) Westview for a controlled scrimmage this afternoon, 22 seniors will suit up, of whom six (a first) have been voted by their teammates as permanent captains. For a Football Falcon senior, there can be no greater honor. Their names (in alphabetical order) appear in the sub-headline above.

Recognizing these 22 seniors' commitment to Cactus Shadows Football, Sonoran News, for the 10th consecutive preseason, is pleased to publish each senior's profile and accompanying photo, from August 12 through September 2. Thanks to Coach Hudnutt and Ms. Gina Brown for their timely photographic coordination and assistance. Senior Profiles and photos for the six captains appear below.

As this writer's congratulations to the captains and seniors, I would like to encourage them to tape this familiar adage inside their lockers where they can see it every Friday night: "When the going gets tough, the tough get going!" Falcon seniors, may you consistently play as the "toughest of the tough" on your way to Cactus Shadows' first winning season since 2010. All together now "One, Two, Three … SENIORS!"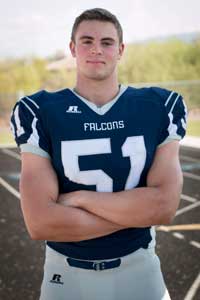 TIMOTHY DABROWSKI
6'1" | 215 lbs | DT/NG
When the season opens August 21 at (Cottonwood) Mingus, look for "Tim" Dabrowski to be a starter at defensive tackle or nose guard. He already has his game face on, listing "15 sacks" as his personal goal for 2015. And for the Falcons? "Making State." Born June 3, 1998 in Philadelphia. Tim lives in north Scottsdale with his parents, Paul and Patricia Dabrowski. He first played organized football as an 8th grader; graduated from Sonoran Trails Middle School; was promoted to Varsity as a Falcon freshman; took a football "sabbatical" as a sophomore; then came back to letter as a junior. An Honor Roll student, Tim hopes to play collegiately, preferably at U of A, where he'd major in Business. Tim credits his coaches as most encouraging his football career. Mrs. Dabrowski, on his Senior Profile questionnaire, listed you as his "special lady," then drew a heart symbol! As a senior, he expects to play a big role in "leaving a legacy" from the 2015 team. Sounds to this writer that Tim has the heart and drive to do just that.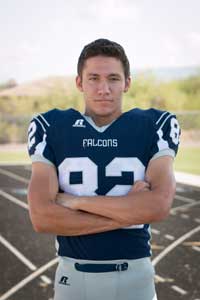 LOGAN KLOSS
6'1.5" | 202 lbs | DL/OL
On his Senior Profile questionnaire, Logan identified an aggressive "12-plus sacks" as his personal objective for this season. His goal for the 2015 Falcons is more modest: "I want us to have a winning record." Born January 17, 1998 in Scottsdale, Logan lives with his parents, Dan and Marci Kloss, in north Scottsdale. He first played organized football as a 5th grader; graduated from Sonoran Trails Middle School; and won his varsity CSHS as a junior. A four-event (shot, discus, 100m, 400m) track and field athlete, Logan lettered in both his sophomore and junior years. He'll compete again next spring. Logan would like to play at the "next level," preferably at ASU, where he'd be an Engineering major. Miss Emma McIver, a CSHS junior, is his "special lady." Logan's biggest football boosters have been his parents and his maternal grandfather, Joe Gonzalez. "It means the world to me to be a captain of this football team," Logan acknowledged to Sonoran News. With that humility, he's a good bet to mean the same to his teammates.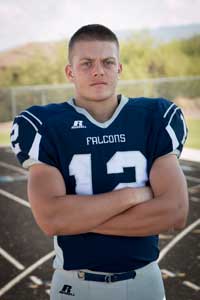 MICHAEL MALONEY
5'11' | 192 lbs | OLB/WR
Michael Maloney (call him "Michael" or "Mikey") celebrated his 18th birthday August 4. In 2009, when he was playing Youth football, I pleasantly knew his father, Mike Maloney, who was (then) head Coach Chad DeGrenier's "Get back!" assistant coach. Some Falcon fans may ask, "What does a 'Get back!' assistant coach do? In its rules and regulations governing high school football, the Arizona Interscholastic Association, for game management and safety reasons, prescribes clearly-marked sideline boundaries behind which players must remain at all times during a game. The "Get back!' coach is the 'enforcer' if you will. I also remember Mike Maloney as a generous supporter of Falcon Football. In fact, I still have one of the spirit tee shirts he sponsored on a long-ago Game Night. Now, come full circle, Mike Maloney's son will be captain and an important two-way player for the 2015 Falcons. Born in Scottsdale, Michael lives in Cave Creek with Mike and his mother, Stephanie. He first played organized football at age 7; then graduated from Sonoran Trails Middle School. This season, he expects to earn his third CSHS letter. Well understanding his captaincy and senior season responsibilities, Michael has set the performance bar high for himself: "95 to 100 tackles; 800 to 900 yards at wide receiver; and scoring 8 to 10 TDs." "Whew!" is my admiring response. And he most wants the Falcons to have an "undefeated regular season" that will advance them to the State Championship Game. Again, "Whew!" After football, Michael will play Varsity basketball. Michael plans to compete at the "next level," but is presently undecided as to his college preference. As you might expect, Michael names his Dad as his most important football encourager. This closing to Michael Maloney's senior profile: "When I was younger, I watched all the Falcon football teams. Now, to be a senior on this team is a blessing. "Get back!," Michael. You left out "captain."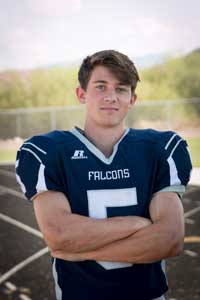 ANTONIO MARCHICA
5'8" | 150 lbs | RB/PK/CB
Antonio ("Cheeks") Marchica was born March 25, 1998 in Mesa. We share that March 25th birth day, but there's one slight difference: Antonio's 17 to my 78! And as a JV long-snapper, I was light years and beyond from being the exciting football player Falcon fans watched during his first three seasons at Cactus Shadows. From the promise he showed as a Falcon freshman, Antonio has exploded into the Falcons top offensive threat. From his stats, I can tell this young man is f-a-s-t! Coach Hudnutt adds "shifty" to describe Antonio's scatback talents. Antonio lives in Cave Creek with his Mom, Cristina Ladas and Dad John Marchica. A CCUSD "lifer," Antonio first played organized football as a 5th grader. He graduated from Sonoran Trails. Antonio is also a Varsity Soccer player, planning to play again this fall-winter. "My goals for football season?" he addresses: "Score a lot of touchdowns, working as hard as I can every day, leading my team to the State Playoffs." And once in the Playoffs, Antonio thinks the Falcons' ultimate goal should be to win the State Championship. Antonio dreams no little dreams. His most important football encouragers? "My family, my coaches and my friends." And what does it mean to Antonio to be a Football Falcon senior? In his own words, "I think to be a football senior at Cactus Shadows is respected at my school and within the community. I take pride in knowing that my participation in Falcon Football throughout my high school career has made me a better man – both on and off the field. After looking up to seniors for the past three years, it's now my turn to lead the team." I'd bet Antonio, that you will lead it well.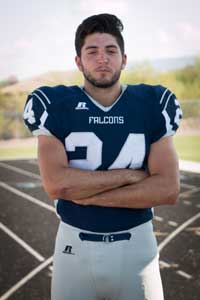 CARLO PAOLETTI
6'4" | 190 lbs | TE
At 6'4"/190, I can easily picture Carlo Paoletti as a "lean-and-mean" tight end. And this young captain is candid and direct about his objective this season – both for himself and the Falcons: "I'm out to score at least 7 TD, off 200 receiving yards and, on running plays, to make my share of 'pancakes' (flattening blocks')." And for the Falcons? "Make State, obviously, then be a contender." Born November 14, 1997 in Seattle, Carlo lives with his Creeker parents, Kelle and Joe Paoletti. A CCUSD "Lifer", Carlo first played organized football at age 7. 2015 will mark his 4th season at CSHS. He's earned three Varsity letters! On the Principal's Honor Roll, Carlo stars in the classroom – and on the basketball court. After hanging up his cleats, you can find him this winter in the Blue Gym! Will he play football collegiately? "This is my year to make a name for myself." Falcon opponents beware!! Who has most encouraged him as a football player? "My Pops – and my 'brothers' on the field." Young persons with a sense of humor rank high on my totem pole. To wit: Carlo lists Mom Kelle as his "special lady", describing her as "one badass Mom!" And, Carlo, as her grown-up little boy, how would you rate yourself? Young man, I can see you hunkered down in a three-point stance, ready to have a great senior season!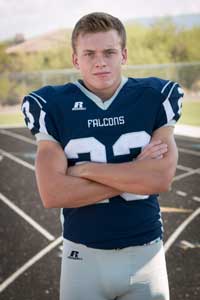 MATTHEW SILL
5'1'' | 177 lbs | WR/CB
Last, but by no means least, Captain Matt Sill, another of the Falcons' two-year lettermen. He will log important two-way playing time at wide receiver and cornerback. Matt's looking "to score ten touchdowns, make six INTs (running two back for "pick sixes") and record two kickoff return TDs." That's a tall order, Matt! And for his Falcon team? "Make the State Playoffs and advance at least to the Semifinals." The last Falcons to make it that deep were the 2006 4A-II State Champs. Born March 31, 1998 in Scottsdale, Matt lives in north Scottsdale with his parents, Brian and Kim Sill. He first played organized football at age 12. After graduating from Foothills Academy, Matt entered CSHS, starting his football career with a promotion to Varsity at the end of his freshman season. As a senior, he'll earn his third CSHS. Will Matt play football next year? "Possibly," he answers. A Varsity Baseball centerfielder for Coach Guy Gianni, Matt will play again come spring. Who have most encouraged his playing football? Matt has looked within himself – and to his family. His college preference? "Undecided" – Matt's thinking about a pre-med curriculum. His "special lady" is "Mama" Kim. Matt speaks candidly about himself – and his 21 senior teammates: "It's time for us to leave Cactus Shadows a legacy of winning football." Such a legacy, would for sure, be welcomed.