AUGUST 12, 2015
Childsplay presents Sideways Stories from Wayside School
Weekends, Sept. 13 - Oct. 18; Tempe Center for the Arts, 700 W. Rio Salado Parkway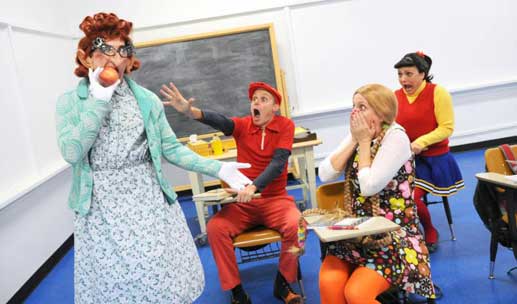 TEMPE – As kids across The Valley are settling into their new classrooms, Childsplay is busy creating a classroom of its own! Sideways Stories from Wayside School will open the company's 39th season at Tempe Center for the Arts.

Based on Louis Sachar's beloved children's books, this wacky play brings to life an elementary school thirty stories high where the strangest things can happen. Wicked teachers turn students to apples. Pigtails become snakes. And somewhere in the building, we know there is a wandering cow. This fun-filled ride will spark imagination and laughter, leaving kids wanting to read again and again!

Performances of Sideways Stories from Wayside School will be held at Tempe Center for the Arts, 700 W. Rio Salado Parkway, September 13 through October 18, 2015, Saturdays at 1 p.m. and 4 p.m. and Sundays at 1 p.m. Tickets start at $12 and are on sale now at www.childsplayaz.org or at the Tempe Center for the Arts Box Office (480) 350-2822 (ext. 2). The play is recommended for ages 6 and up.

The 4 p.m. performance on Sunday, September 13 is a special $12 Storybook Preview performance, sponsored by The Steele Foundation. Each family that attends this General Admission preview performance will receive a free book.

The Sideways Stories from Wayside School cast features: Debra K. Stevens (Mrs. Jewls), Katie McFadzen (Leslie/Miss Valooosh), Yolanda London (Rhondi), Jon Gentry (Mrs. Gorf/Mr. Gorf/Mr. Pickle/Sammy), Tommy Strawser (Mryon), Eric Boudreau (Louis), Angelica Howland (Bebe) and Michael Thompson (Dameon).

Director: Dwayne Hartford
Scenic Design: Aaron Jackson
Costume/Hair & Makeup Design: D. Daniel Hollingshead
Wig Design: Katherine Mammana
Lighting Design: Jennifer Setlow
Sound Design: Christopher Neumeyer
Stage Manager: Sarah G. Chanis

Sideways Stories from Wayside School by Louis Sachar was adapted for the stage by John Olive. Childsplay's production of Sideways Stories from Wayside School is sponsored by APS and CBS5 KPHO.

Childsplay, Inc. is a nonprofit theatre company of professional, adult artists who perform for and teach young audiences and their families. The mission of Childsplay is "to create theatre so strikingly original in form, content or both, that it instills in young people an enduring awe, love and respect for the medium, thus preserving imagination and wonder, the hallmarks of childhood which are keys to the future."

For more information, visit www.childsplayaz.org.