AUGUST 5, 2015
New Genealogy Center at Polly Rosenbaum Archives & History Building
State Archives offers public access to both print and digital resources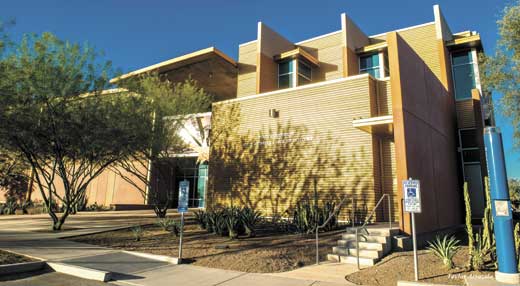 PHOENIX – A new genealogy research center opens August 3 at the Polly Rosenbaum Archives and History Building in Phoenix. Researchers will now have one-stop access to a rich portfolio of resources, including unique Arizona materials, online genealogical sources and expert staff for support.

The new Genealogy Center makes research much more convenient for patrons as what was housed in two locations is now in one. The State Archives building was chosen as it is a more modern, accessible facility with a climate-controlled environment to protect important Arizona reference resources. Additionally, what are normally subscription-based online services are available free to patrons within the State Archives.

The collection accessible at the State Archives Genealogy Center includes early newspapers from most Arizona communities, a comprehensive physical map collection documenting historic Arizona development, assessment rolls with lists of taxable persons and their property, coroner or Justice Court records, and much, much more.

Additionally, by visiting the Genealogy Center, researchers will have free access to two Web based databases: Ancestry and HeritageQuest. Ancestry has 7,000 databases including censuses, vital records, immigration records, family histories, military records, court and legal documents, directories, photos, and maps. HeritageQuest provides access to 40,000 genealogy and local history books and directories. In addition, Arizona residents may access Gale Genealogical Connect from anywhere in the state at www.azlibrary.gov/dazl/online-reference-resources.

Genealogy resources at the Historic Capitol Building will be unavailable beginning July 31, as the transition to the new Genealogy Center at the Polly Rosenbaum State Archives and History Building is made.

The Genealogy Center at the Polly Rosenbaum Archives and History Building, 1901 W. Madison St., Phoenix, is open to the public from 8 a.m. to 5 p.m., Monday through Friday, except state holidays.

For more information, visit their website at www.azlibrary.gov/arm/research-archives.