BY LINDA BENTLEY | JULY 15, 2015
Federal judge issues stern warnings to Obama administration
The court is shocked and surprised at the cavalier attitude the government has taken with its 'efforts' to rectify this situation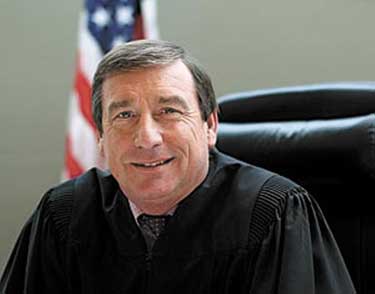 BROWNSVILLE, Texas – On July 7, U.S. District Court Judge Andrew Hanen (r) issued orders and stern words for the Obama administration in two separate cases associated with President Obama's executive amnesty.

In one case, filed by the state of Texas and joined by 25 other states, including Arizona, against the Obama administration, Hanen had already granted an injunction to halt the amnesty provisions detailed in Department of Homeland Security (DHS) Secretary Jeh Johnson's Nov. 20, 2014 memorandum.

The court learned about the government violating its injunction on May 7, 2015.

On June 23, Hanen held a hearing to resolve discovery requests by plaintiffs regarding the government's "belated revelation that it had implemented portions of the Nov. 20, 2014 DHS memorandum prior to the Feb. 18, 2015 start date provided to plaintiffs and the court by defense counsel."

When the court learned the government had granted benefits to approximately 108,800 individuals per the Nov. 14 memorandum between the date of that memorandum and the court's injunction, Hanen gave the parties until July 31, 2015 to file a status report, during which time Hanen will resolve any and all questions regarding future discovery and/or sanctions.

However, Hanen noted, that report regarding the benefits prematurely bestowed upon those 108,800 illegal aliens does not resolve the approximately 2,000 individuals who were granted various benefits, including work permits, in violation of the court's order after the injunction was issued.

He gave the government defendants the benefit of the doubt by expressing his willingness to believe those actions were accidental and not done purposefully to violate the court's order when the government promised the court on May 7 "immediate steps" were being taken to remedy the violations of the injunction.

Hanen wrote, "Nevertheless, [the court] is shocked and surprised at the cavalier attitude the government has taken with its "efforts" to rectify this situation."

As of June 23, 2015, approximately six weeks after making that representation to the court, Hanen pointed out "the situation had not been rectified."

Hanen set a hearing for 10 a.m. on Aug. 19, mandating each individual defendant attend and be prepared to show why he or she should not be held in contempt of court.

Additionally, Hanen ordered the government to bring all relevant witnesses on the topic and made it clear he would not continue the matter to a later date.

He stated, "The government has conceded that it had directly violated this court's order in its May 7, 2015 advisory, yet, as of today, two months have passed since the advisory and it has not remediated its own violative behavior."

Calling the government's actions, or lack thereof, unacceptable and the conduct of the government's attorneys completely unprofessional, Hanen stated, "To be clear, this court expects the government to be in full compliance with this court's injunction," adding, "Compliance as to just those aliens living in the plaintiff states is not full compliance.

Hanen advised the government if it remedies the situation and comes into full compliance with the court's injunction by July 31, it shall include a summary of that situation in the July 31, 2015 report to the court.

If the court is satisfied with the government's representations, Hanen said he will cancel the Aug. 19 hearing.

Otherwise, he said he "intends to utilize all available powers to compel compliance."

During the last hearing, Hanen explained his reluctance to sanction any party or attorney because he believes sanctions bog both parties and the court down on side issues that detract from focusing on the merits and resolution of the case.

Hanen added, "Nevertheless, no reasonable person could possibly consider a direct violation of an injunction a side issue."

He also stated when a non-compliant party refuses to bring its conduct into compliance, at some point, the court will be forced to conclude the conduct is deliberate rather than accidental.

If the violations are not corrected by the end of the month, absent very compelling evidence, Hanen said the only logical conclusion is the government needs stronger motivation to comply with court orders.

In conclusion, Hanen wrote, "Neither side should interpret this court's personal preference to not sanction lawyers or parties as an indication that it will merely acquiesce to a party's unlawful conduct."


Hanen issued a memorandum and opinion in another case brought by Dr. Orly Taitz (r), a Southern California dentist and lawyer, who asserted in her complaint she had developed a persistent cough after treating illegal aliens in her office, as part of government program, shortly after the Obama administration transported tens of thousands of illegal aliens apprehended in Texas to cities across the country, including cities in California.

Last year, Taitz filed an emergency application for stay/injunction seeking to halt the Deferred Action for Childhood Arrivals (DACA); to halt any transportation of illegal aliens from the Southern District of Texas to elsewhere in the country due to alleged health, national security, crime and economic threats; either an immediate deportation of all detained illegal aliens or require two months quarantine to prevent the spread of alleged infectious diseases; and an emergency stay to halt the release of illegal aliens that don't meet certain medical, criminal and judicial/ immigration screening requirements.

While Hanen denied Taitz's requests for a temporary restraining order and other emergency relief requested, he did allow her to amend her complaint.

Taitz subsequently filed a supplemental motion for declaratory relief, stay and injunctive relief due to new relevant facts and a notice of new facts, in which she claimed the government is intentionally releasing individuals with drug-resistant tuberculosis (TB) from DHS custody, and other briefs.

Although Hanen repeatedly warned Taitz that she must comply with the rules of procedure, he said she persists in non-compliance.

And, because the court failed to achieve compliance by asking Taitz to comply with the rules, Hanen said he was forced to resort to the more punitive step of denying any and all non-complying motions.

Taitz claimed she has sought records from the government pertinent to the recent influx of illegal aliens transported to

California from Texas, so she could attempt to connect the dots to patients she treated who could be carrying infectious diseases.

However, she stated the government has not complied with her records request.

In denying her requests for relief without prejudice, Hanen stated he has no means, given the lack of record before him, to judge the veracity of her allegations.

Hanen wrote, "Certainly, if the government is purposefully exposing the population of the United States to a drug-resistant strain of TB, any civil sanctions likely to be issued by this court would be the least of the government's problems."

For the same reasons the court refused to deny Taitz standing on her past and present health-related injuries, Hanen stated the court could also not conclude she lacks standing to seek injunctive relief for the alleged threat of further injury.

He stated, "If what she alleges is true, she is needlessly being put at risk by the government."

Because she has been unable to obtain records to present proof of any casual connection between the government's actions and her health-related injury, Hanen said the court cannot yet determine whether the threat to Taitz is sufficiently real and immediate or purely speculative, unless she has the opportunity to at least attempt to connect the dots.

Hanen issued a companion order, which dismissed all of Taitz's claims "except for those requesting equitable relief that relate to injuries she allegedly suffers and those that she allegedly will suffer in the future due to the conduct of defendants."

Hanen ordered Taitz to provide the government with a list of all the illegal alien children she treated from June 6, 2014 to Aug. 22, 2014, including the name of the patient, date of each treatment and the reason for each visit by Aug. 7, 2015.

He cautioned that failure to comply with that deadline will relieve the government of any duty to comply with their obligations outlined in the order.

Hanen ordered the government to provide Taitz with all medical records in its possession, including any document that in any way describes the illegal alien's physical condition, concerning each immigrant Taitz has treated during the specified time period, and include medical records for three months preceding the date of Taitz's treatment through three months after treatment.

He gave the government until Sept. 11, 2015 to provide those records to Taitz.

Hanen also ordered all parties to keep the medical records confidential and not to disclose them to anyone other than lawyers, their support staff and their experts, if any, involved in the case.

He ordered any court filings containing any record or information gleaned from those medical records to be filed under seal.