BY MARIELLE D. MARNE | JULY 15, 2015
Super swift hems, trims, and alterations right now at Red Velvet Tailoring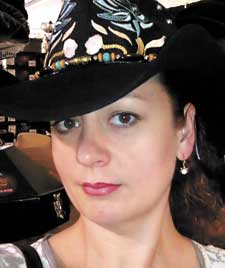 CAVE CREEK – It's human nature to put off things. Katerina Miroshnichenko (r) of Red Velvet Tailoring sees it quite frequently when people are trying to leave for vacation and yet they need a dress hemmed or pants shortened pretty much like yesterday! With so many locals currently out of town, Katerina has a little more time for faster turnarounds. "Right now, I can often make alterations same or next day," she offered.

Because many stores are doing their semi-annual sales, this is a great time to shop. Often inventory is low, but Katerina says if you love an item but it's a large and you wear a medium, buy it and she can make it a perfect fit. Most folks think of tailoring to make something smaller, but Katerina says she can also go up a size or two if necessary. "Bring in the item so I can look it. We can be creative in how to make it fit," she explained. "If we can't do anything, then the customer can always return it."

It's not always a matter of taking it in or letting it out. Katerina can add sleeves, turn one long window valance into two and add a flattering tuck here and there so her customers look their best. Marsha from Carefree/Scottsdale is a fan. "Service here is superb. Katerina is gracious, talented and fun! I've recommended her to many people."

If you're passing through Cave Creek and picked up something uniquely western yet need it to be adjusted, know Katerina is more than happy to ship it to your home state for you. "Anything we need to do to be accommodating," Katerina added.

This summer, Katerina plans to keep Red Velvet open her usual hours (Monday through Friday 10 a.m. to 5 p.m.; Saturday 10 a.m. to 4 p.m.) but still suggests calling, 480-208-8699, before you head over, just in case.

Red Velvet Tailoring is located at 6554 E. Cave Creek Rd. #6 near the DQ.