BY LINDA BENTLEY | JULY 8, 2015
Davis-Oliver Act ready to cue up in the Senate
Closing a lot of gaps in the current code for removing criminal aliens, the bill adds a number of offenses to the definition of aggravated felony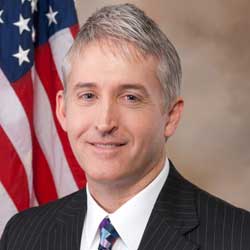 WASHINGTON – Back in June 2013, Rep. Trey Gowdy (r), R—S.C., as chair of the House Subcommittee on Immigration and Border Security, introduced the Strengthen and Fortify Enforcement (SAFE) Act, with the support of Rep. Bob Goodlatte (below), R-Va., chair of the Judiciary Committee.

The bill, which has since been renamed the Davis-Oliver Act in honor of two California sheriff's deputies, Michael Davis, Jr. and Danny Oliver, who were shot and killed by an illegal alien who had been deported on multiple occasions, passed the House Judiciary Committee in March and now appears headed to the Senate Judiciary Committee for consideration.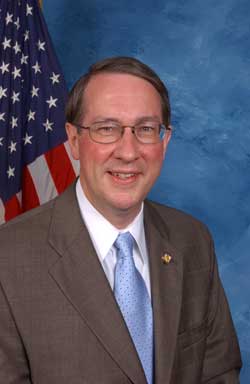 There are some differences, however, between the House and Senate versions that will need to be reconciled.

The 170-page long bill provides for severability, which means if any section of the bill is challenged successfully, the remainder is left intact.

Dan Cadman, a research fellow at the Center for Immigration Studies, has produced a 16-page analysis of the Senate version of the bill, in which he also highlights the differences from the House version.

The Act includes a new provision to permit the designation of criminal street gangs, whose alien members and associates become deportable upon designation.

The bill would authorize states and their political subdivisions to enact and enforce criminal and civil penalties for the same conduct outlined in federal immigration laws, providing the criminal and civil penalties don't exceed those in the relevant federal code.

While it prohibits state and local jurisdictions from deporting illegal aliens, it allows for the transfer of custody to the federal government so the alien may take advantage of whatever legal due process is pertinent to their deportation proceedings or applications for relief.
It requires the secretary of the Department of Homeland Security (DHS) to provide information on immigration violators for inclusion in the FBI's National Crime Information Center (NCIC) database, so local law enforcement officers, who may encounter alien fugitives and aliens previously reported, have that critical information.

In order to reciprocate for granting state and local law enforcement agencies access to federal programs and databases to assist in identifying alien immigration violators, the bill also requires state and local agencies to provide federal authorities with detailed biographic, biometric and other identifying information for violators.

It requires state and local authorities to have a written policy as well as a practice of cooperating with federal immigration authorities and prevents them from having policies or practices preventing officers from inquiring into an individual's alienage or deportability during the course of their duties.

Closing a lot of gaps in the current code for removing criminal aliens, the bill adds a number of offenses to the definition of aggravated felony, while changing the technical definition of "aggravated felony" by referring to "an offence relating to" categories of crimes rather than specific crimes.

The bill expands grounds on which an alien may be excluded from the United States, including convictions for any aggravated felony, identity theft or fraud and misuse of Social Security cards and accounts, domestic violence, violation of protection orders, child abuse, firearms offenses, and illegally obtaining naturalization.

It also expands the grounds on which an alien may be deported to include identity theft or fraud and misuse of Social Security cards and accounts.

In determining misuse of Social Security numbers, the bill clarifies that an alien doesn't need to know that a number belongs to another person, only that the number is not his.

The bill amends federal law criminalizing illegal entry into the country to include unlawful presence, making it a misdemeanor punishable by six months in jail for a first offense and escalating for subsequent offenses.

It increases penalties for multiple offenders and aliens who return after being deported for conviction of other criminal offenses, while minimizing the legal basis on which a charge of reentry can be fought.

Davis-Oliver strengthens and closes several loopholes associated with passport, visa and immigration fraud offenses and creates a new means for expedited removal of aliens, who have not been admitted to the United States, charged with being excluded.

Several new provisions are added to bolster visa security, including the sealing of a loophole whereas an alien whose student visa has been canceled for violations may not turn around and reenter the country using an unexpired tourist visa.

In other words, if one visa is canceled for an individual, all their visas are canceled.
It provides financial stability to the DHS Visa Security Program by (VSP) providing visa fee surcharges collected by the State Department to be used to fund VSP officers at American embassies and consulates abroad.

Plugging a much used loophole in the foreign student program by requiring participating schools and institutions demonstrate they have been accredited by an agency recognized by the U.S. Department of Education.

It authorizes the DHS secretary, if fraud is suspected of being committed or attempted by an authorized school or institution, to suspend access to the Student and Exchange Visitor's Information system, precluding the school or institution from issuing documents required to grant a visa.

Other provisions include requiring DHS to issue a list every six months of countries that refuse or inordinately delay acceptance of its nationals when being removed from the United States and establishes sanctions to be used against countries on the list.

Sanctions include denial of visas to family members, personal staff, and servants of diplomats from such countries and for every six months a country is listed, the number of diplomatic visas issued will be reduced by 10 percent, down to an overall baseline of 20 percent.

It also requires the DHS secretary to notify state and local enforcement authorities when releasing convicted criminal aliens, due to their home countries refusal to accept them, and attempt to notify victims of the aliens' crimes.

Another section encourages voluntary departure of aliens in lieu of formal proceedings at their own expense, providing a formal order of removal has not already been entered or if aliens are statutorily barred from voluntary departure for criminal or national security reasons.

In order to deter aliens from remaining in the country illegally after an order of removal has been entered, the penalties for doing so have been extended, including barring admission and ineligibility for discretionary relief for 10 years, which does not begin to toll until after the alien has departed.

Davis-Oliver strengthens provisions authorizing reinstatement of removal orders if an alien illegally reenters the country, prevents reopening of the prior order, precludes granting relief to an alien subject to a reinstated order, limits judicial grounds for examining or overturning reinstated orders and prohibits judicial review of the previously executed order.

It also prohibits a finding of "good moral character," necessary for various forms of relief, to an alien who has failed to file his income tax returns.