BY LINDA BENTLEY | JULY 8, 2015
Addressing Carefree's recent barrage of executive sessions
'Just because you can have one, should you?'
CAREFREE – With no speakers for Call to the Public, during Current Events, Mayor Les Peterson asked Marketing Director Gina Kaegi to do a presentation at a future meeting regarding October events.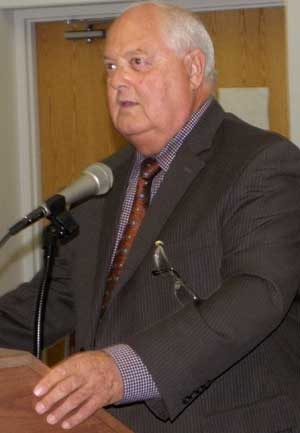 Presumably due to Carefree's recent blitz of executive sessions, Town Attorney Michael Wright (r) explained the statutory parameters of executive sessions to council.

He prefaced his presentation with the question, "Just because you can have one, should you?"

Wright went on to say having a large number of executive sessions "raises the specter of public suspicion."

Citing A.R.S. 38-431.03, Wright noted executive sessions must be properly noticed, placed on the agenda with the subject to be discussed, and council must vote to go into executive session.

He said there were seven categories allowed by statute for which public bodies may hold executive sessions, including: 1) employment and personnel matters (unless the employee requests the discussion be held in a public meeting); 2) discussion of records exempt from public inspection; 3) consultation with the town attorney(s) for legal advice; 4) consultation with the town attorney(s) regarding contracts subject to negotiations, in pending or contemplated litigation; 5) negotiations with employee organizations regarding salaries and benefits; 6) consultation or consideration for international and interstate negotiations or negotiations by a city or town with members of a tribal council of an Indian reservation located within or adjacent to the city or town; and 7) consultation with designated representatives of the public body regarding negotiations for the purchase, sale or lease of real property.

While he stated the town would never use 6, since it is not adjacent to an Indian reservation, Wright said 3, 4 and 7 were the most common reasons.

Wright said it was important to note the town has not abused the executive session privilege and without the ability to have discussions in executive session, the town would be "hamstrung to conduct business."

Peterson stated the town would be seeking an individual to fill a seat on the planning commission vacated by the resignation of Dan Wainwright.

He said a recruitment publication would go out on Monday and a notice sent out via COINS seeking letters of interest and qualifications by August.

Council voted unanimously to award a contract in the amount of $22,451.47 to Technically Integrated, which Town Administrator Gary Neiss stated was a local company and one of two bids received to update the outdated audio visual equipment in the council chambers.

Neiss said the company specializes in this type of system and has provided the audio-visual equipment for the town of Cave Creek as well.

The new digital equipment will replace the old obsolete analog equipment, which Neiss said would produce much better sound quality and video definition.

He said if council ever decides to move to new council chambers the equipment can be easily unplugged and moved.

Answering questions from council, Toby Payne, president of Technically Integrated, said the new microphones will have mute buttons and the system is automated so it only records when someone is speaking and shuts off when no one is speaking.

Payne said they are about two to three weeks out for scheduling and, once the equipment is delivered, the installation will take about two days.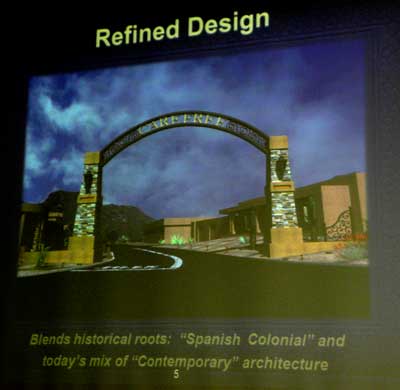 Neiss introduced the next item to council for approval of the designs for new gateway features.

Because the town's business center is located in the interior rather than along arterial roads, the Urban Land Institute and the Town Center Revitalization Plan recommended installing primary gateway features at locations to direct people unfamiliar with Carefree into the town center with secondary gateway elements to be placed at locations yet to be determined.

Neiss said the design presented, which was ultimately approved unanimously by council, incorporated both the Spanish colonial architectural elements found in town and contemporary themes and materials, including stone, stucco and gas lamps.

He said the town is determining where its rights of ways and utilities are located and will bring the item back to council so it can decide the numbers and locations for both the primary and secondary gateway monuments.