JUNE 24, 2015
Obituary

Ralph Harold Zeller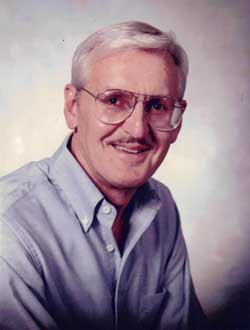 Ralph Harold Zeller, US Air Force Reserve Retired, resident of Sun City, AZ since 2005 and resident of Arizona since 1987, accepted orders to report to Saint Peter at the Pearly Gates of Heaven on June 2, 2015 at the age of 77, succumbing to a 3 year fight with a rare Mantle B cell lymphoma.

Ralph was the youngest child of Joseph John Zeller and Mary Marie Quigley. Born March 31, 1938, raised on a farm, in Rollingstone, Minnesota. His family moved to Palo, Iowa, but Ralph stayed in Monona, Iowa working for dairy farmers earning room and board to complete high schooling in1956. Ralph graduated in 1966 from the University of Wisconsin in Platteville, Wisconsin – where his son and granddaughter later attended – following in his footsteps. Ralph embraced the concept of being a lifelong student, always studying and learning. Reading was a passion, and he spent many hours every day with his nose buried in some form of literature.

Ralph spent his entire adult life serving and helping others. Ralph honorably served his country in the US Marines, Iowa Air National Guard and the US Air Force. Ralph was selected by the Iowa State University as Science Teacher of the Year and elected as the President of the Teachers' Association.

Ralph was the Institutional Head for the Boy Scouts of America. With his efforts, he started Cub Scout Pack 10, Boy Scout Troop 10 and the Explorer Scouts in Bondurant, Iowa. Ralph went into the nutritional, wellness, and weight-loss counseling business with his wife, Clio JoAnn Piper in 1983 serving as Secretary-Treasurer of their MidWest Diet Center corporation. They opened Diet Center offices in several central Iowa and southwest Wisconsin communities. In 1987, they moved to Arizona and opened Diet Center offices in Phoenix and on Easy Street in Carefree, again helping hundreds of people to get healthy and lose excess weight. Gaining notoriety in the local area as a nutritional expert, Ralph was asked by a local paper to write a regular column in the 1990's & published more than 100 articles. Ralph was also frequently asked to speak at various events about nutrition. In 2005, they moved from Phoenix to Sun City and operated their business from their home beginning in 2007. Ralph authored and published a book on nutrition, "Your Health, Your Choice".

Ralph was preceded in death by his youngest son: Joseph William Zeller; his parents Joseph John Zeller and Mary Marie Quigley Zeller; his siblings: Joseph Marcus Zeller; Donald Francis Zeller; Hilary Zeller; infant Mary Zeller; and infant Catherine Zeller; and first cousin Joan Zeller.

Ralph is survived by his spouse of 54 years: Clio JoAnn Piper Zeller; his sons and daughters-in-law: Jeffrey Ralph Zeller; Tammy Acherman Zeller; Sidney Grant Zeller; and Abbie Sapico Zeller; his grandchildren: Jeffrey Michael Sapico Zeller; Julie Elizabeth Zeller; Emily Catherine Zeller; and Jeremiah Matthew Sapico Zeller; siblings James Ervin Zeller and Marcena Kline, sister-in-law Mildred Zeller and first cousin Jean Zeller; many wonderful nieces, nephews, and distant cousins.

Ralph loved to travel and see the amazing world the Good Lord has given us. While in the military he was able to travel many places ranging from Alaska to Panama to England. For leisure he was able to travel to nearly all 50 states and 22 countries including numerous European countries, sailed from San Francisco to New York through the Panama Canal on a cruise ship, floated up the western coast of the US and Canada, visited Christ's birthplace and tomb in Israel renewed his marriage vows with JoAnn in Cana, Jerusalem , danced like no one was watching in Jamaica, ate fried bugs in Vietnam, skipped stones in Guantanamo Bay, admired pyramids in Egypt, repeatedly hiked the Grand Canyon rim to rim, went on safari in South Africa seeing rhinos, elephants, lions, buffalo, giraffes, and cheetah, danced in the Indian Ocean, used coconuts as currency on San Blas Island, was baptized in the Jordan River, island hopped in Hawaii, enjoyed whitewater rafting on the Snake River in Idaho, fought paint ball battles, stood in elevated guard posts surrounded by minefields on the fence-line in Guantanamo Bay, and fed the bears in Yellowstone resulting in one bear climbing into the open car door and attempting to carjack JoAnn's 1951 Plymouth.

Ralph never met a stranger-he made others smile daily, made friends easily, conversed with anyone nearby and shared countless laughs with his loud, infectious laugh. A gifted orator, he was happiest telling stories and being surrounded by happy people. Most people who knew him well say he was the most positive, happy person they knew. His knowledge of nutrition and the functioning of the human body were phenomenal. He helped thousands of people to improve the quality of their lives. Ralph will be missed by everyone who knew him, but we rejoice in the honor we had in knowing him. We can take solace knowing heaven is a happier, brighter place because he has joined their exclusive community and is making everyone smile with his boisterous laugh.

The celebration of Ralph's life will occur at Cedar Memorial Park, 4200 1st Ave NE, Cedar Rapids, Iowa from 4-9 p.m. on Saturday, June 27, 2015 with a special service starting at 6 p.m. A mass will be said on June 29, 2015 at 10 a.m. at St Jude Catholic Church located at 50 Edgewood Rd NW, Cedar Rapids, IA 52405. Ralph will be interred at the rural St Joseph Cemetery at 800 Sisley Grove Rd, Cedar Rapids. Ralph will be laid to rest next to his infant son, and his parents. In lieu of flowers, a memorial fund is being established in Ralph's name to have a scholarship in education be given in his name. Contributions can be sent to directly to JoAnn or given to Cedar Memorial Park.

There will be a gathering to remember Ralph at his home July 14, 2015. The address is 11066W Oak Ridge Rd., Sun City AZ 85315 between 1 and 4 p.m. For more details please contact JoAnn.