BY LINDA BENTLEY | JUNE 17, 2015
Tripping the outrage fantastic
Ross stated there was no doubt the 'despicable cartoon' was directed at recalled Vice Mayor Adam Trenk, which he called anti-Semitic
CAVE CREEK – Monday night's Call to the Public gave the newly contracted Town Attorney Bill Sims a big heap of Cave Creek politics.

Mayor Vincent Francia announced the upcoming July 3 fireworks at Harold's and July 4 fireworks at Frontier Town.

Call to the Public brought Paula Marciano to the podium on behalf of her husband Mark Carroll, the sculptor who created the stainless steel horses at each end of town.

She said there's been discussion about moving the horses to remote areas of town, such as the rodeo grounds.

Marciano said the southern horse is in an unsightly area that is usually strewn with trash and could be enhanced with a little landscaping and lighting.

However, she said if the southern horse were to be moved it should be moved closer to town.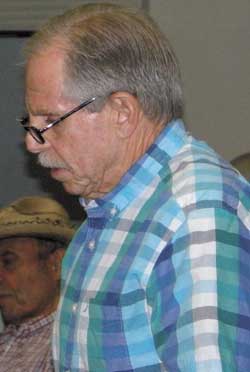 George Ross (right) distributed copies of a Bil Canfield cartoon that appeared in Sonoran News in 2013 to council along with an article by Phil Haldiman that appeared in the Arizona Republic, from which Haldiman may have been terminated.

The cartoon included a subdivision in the shape of a swastika, which Canfield used to depict the evil it represented.

Ross stated there was no doubt the "despicable cartoon" was directed at recalled Vice Mayor Adam Trenk, and called it an anti-Semitic, bigoted, cowardly act by Sonoran News.

He said council was condoning "this vile display" by providing Sonoran News with advertising.

Ross called Sonoran News Publisher/Editor Don Sorchych an enemy of the Jewish people who live in town, which includes his wife.

He said the town carried the stench of biased, bigoted anti-Semitism.

Councilman Mark Lipsky thanked Ross for speaking but said the stench of anti-Semitism was over the Sonoran News building, not council.

Lipsky touted free speech even if he didn't agree with what was said and said he acted in the best interest of the community.

Ross rebounded by stating the swastika was accompanied by what he also perceived as an open threat against Trenk.

Eileen Wright directed her criticism to each council member for "rewarding Sonoran News" because it does not meet the definition of newspaper as per statute.

Wright conveniently ignored the portion of the agreement that included Sonoran News publishing the same ad in a publication that does meet that definition, at no additional cost to the town.

She stated any ad placed in Sonoran News is invalid.

Wright implored council to rescind its action to enter into an agreement with Sonoran News.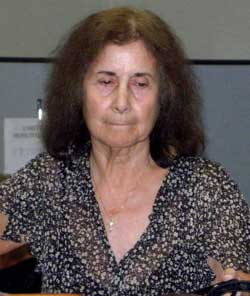 Anna Marsolo (left) played a recording of statements made by Lipsky a few years earlier during which he criticized what he considered "anonymous hate speech" published in Sonoran News.

She told council, "I wish you would reconsider your vote."

Lipsky responded by saying he stands by everything he said then and everything he says now.

C.W. Jensen complained about a recent cartoon in Sonoran News about Obama that said 57 percent of people believe Obama is gay. The next frame asked, "Why?" The next frame stated, "Because he sucks."

While he agreed Obama sucks and supported the publisher's right to free speech, Jensen said the cartoon was an insult to gays.

Former Cave Creek resident Herb Natker claimed the swastika cartoon was a crude attempt to cause Trenk to move out of town and said it burns a swastika on Trenk's lawn.

Trenk, more likely, used this faux anti-Semitic outrage to rationalize why he wasn't living in Cave Creek, as required by law.

This reporter decided to speak as well to tell council I am a Jew whose mother and grandparents, on both sides, came to this country as war refugees.

I stated how Ross' faux outrage and claims of anti-Semitism against Sonoran News, where I have been employed as a reporter for 14 years, were ludicrous.

Additionally, I noted Trenk has known all along that I too am Jewish, making Ross' claim that the cartoon was "no doubt" anti-Semitic and directed at Trenk equally ludicrous.

Sorchych spoke to say neither he nor the publication were anti-Semitic and said he warned Ross, through ousted former Councilman Reg Monachino (who rallied up the masses to attend in support of Ross' faux outrage) that copying the cartoon and redistributing it was a violation of copyright laws and recommended Ross refrain from doing so.

He also praised this reporter's work for the past 14 years.

T.C. Thorstenson reiterated his offer to provide motorcycle parking on his property at no cost during Bike Week.

In the alternative, Thorstenson stated he has events at his establishment that would benefit from lane closures for additional parking and told council if they agree to lane closures for one business they should be fair and do it for all.

Harold's owners Danny Piacquadio and Bill Vail both spoke in praise of Town Marshal Adam Stein, whom they had heard some negative chatter about.

Vail said a person was taking pot shots at Stein because he was turned down for a liquor license.

Explaining the application was for a mobile food truck, Vail said liquor laws require a defined premises where alcohol will be served and stated that can't be done with a mobile food truck.

Vail said, "I have the utmost respect for Marshal Stein."

Terry Smith also praised Stein and stated, "He is a great town marshal."

Cave Creek Pro Rodeo President Traci Casale provided council with an annual rodeo recap and said moving the parade and opening events to the week before was highly successful.

Despite mostly good news, Casale said revenue remained flat and they were cited again for poor arena lighting.

After 14 people spoke during Call to the Public, Francia said he needed to move on to the agenda and if anyone else wished to speak they could do so after the general agenda.

Council voted unanimously to approve the contract with Sims Murray, LTD as its new legal counsel.

Council also voted unanimously to continue item nine to appoint two people to the vacancies on the planning commission to the July 20 meeting when all the applicants could be present.

Because it was properly on the agenda, continued from the last meeting, Attorney Fred Rosenfeld told council it could ratify the amendment by including the hearing date of June 1 to the Cahava Springs Revitalization District resolution retroactively.

During public comment, Katya Kincel said she had to blow up the legal ad 450 percent just to read it, stated the document had been cut and pasted and did not give credibility to the resolution. She stated, "This document is flawed."

Terry Smith said he supported the resolution, which he said would allow Cahava Springs to finance infrastructure that will bring west side residents water.

Jane Rhoads said, "Terry Smith doesn't speak for all of us on the west side."

Rhoads opposed the entire project, despite it being approved years ago, and said Smith is "selling his soul" with his support.

Janelle Smith-Haaf also spoke in opposition to the resolution and said future councils could undo previous councils' action, indicating there could be legal issues.

Kerry Smith addressed a previous statement made by Councilman Thomas McGuire about there being an absence of risk associated with the district's approval.

He cited former Town Attorney Gary Birnbaum's statement about there being potential political risk as opposed to financial risk.

Council voted unanimously to approve the resolution, which is one of the required steps in forming the district.

The consent agenda, which was approved unanimously, included the cancellation of the July 6 and Sept. 7 council meetings.