JUNE 17, 2015
State Archivist receives Life-Time Achievement Award
Dr. Sturgeon heads the Arizona State Archives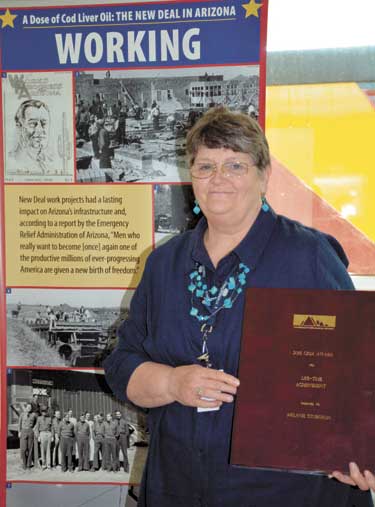 PHOENIX – State Archivist Dr. Melanie Sturgeon received the Conference of Inter-Mountain Archivists (CIMA) 2015 Life-Time Achievement Award.

The honor is given to individuals who have demonstrated considerable service and leadership in the inter-mountain west region, and who have made significant contributions to the CIMA organization and/or the archival profession. The CIMA Life-Time Achievement Award recognizes the work of an entire career, spanning the course of several years. The award is presented with the highest honor and gratitude by the peers and colleagues of the recipients.

Dr. Sturgeon began serving with the Arizona State Archives as Deputy State Archivist in 1996 and was named Director in 2001. She holds a master of arts and doctorate in History from Arizona State University, where her dissertation research focused on the National Research Project and technological displacement between 1935 and 1944. Dr. Sturgeon has served on a variety of national boards, including the Executive Board of the National Association of Government Archivists (NAGARA). She served as CIMA president in 2006, and on countless CIMA committees. She advocated tirelessly for a new State Archives facility, and contributed to the design of the state-of-the-art Polly Rosenbaum State Archives Building, which opened in 2009. Dr. Sturgeon demonstrated strong leadership for the state of Arizona during the recent economic recession, and has been a cornerstone of the Arizona archival community. She teaches free archiving and preservation workshops around the state; mentors new archivists and historians; organizes the annual Arizona Archives Summit, which gathers archivists together to discuss collaboration; and, serves as an archives advocate for the State Archives and other institutions.