BY LINDA BENTLEY | JUNE 3, 2015
Sonoran News reinstated as official newspaper of Cave Creek
Lipsky said, 'Sonoran News is unquestionably the paper of record of this town,' pointing out Sonoran News' presence taking 'copious notes'
CAVE CREEK – During Monday night's meeting, Mayor Vincent Francia thanked everyone involved for the successful balloon event.

Nina Spitzer, during Call to the Public, thanked Town Marshal Adam Stein and Patty Pollnow for promoting the town.

She introduced a new program sponsored by the Cave Creek Merchants and Events Association in partnership with the Carefree/Cave Creek Chamber of Commerce called "Love Our Locals."

Participating merchants are offering a 10 percent discount to residents upon showing their driver license.

For merchants that wish to participate in the program, Spitzer said they may contact her via e-mail at cavecreekinfo@yahoo.com.

Tom Davenport from the Whispering Hills subdivision spoke about the APS issue and prodded the town, once again, to come up with an undergrounding ordinance for utilities.

Davenport thanked the mayor and Councilman Dick Esser for their efforts but said he was upset by the recent turn of events and the "unseemly rush" to get a permit for APS.

He asked why the "obvious route down New River Road" was not chosen.

Davenport said, "Whispering Hills is not done with this battle and I'm certainly not done."

Jacky Davis expressed her disappointment over the town's decision to ignore what has become "routine road closings for motorcycle special events."

Davis said the Town Core Plan references established goals regarding developments and activities "in keeping with our cultural and western history."

Reading from the "Guiding Principles" section, she said, "The town core is the center of the community's history and the key to its identity."

After reading from a couple other sections addressing circulation and pathways, Davis said, "It's an interesting plan" and encouraged council to take a look at it.

She said, "I recognize these are ideals, but it seems as if we may be going in the opposite direction. Cave Creek Road is becoming something of a hazard. It's not meant to be a parking lot."

Jane Rhodes said she only started coming to meetings after the recall election.

She said the Cahava Springs project was a concern and she strongly opposes it.

She said when Mark Stapp gets up to speak council is more cordial to him than to the citizens who get up and speak to give feedback.

Rhodes told council, "You listen in silence and then proceed to vote anyway."

Katya Kincel introduced Allie Peters from the Arizona Republic who indicated the Scottsdale Republic reaches 2,113 people in Cave Creek.

She said the Sunday Arizona Republic has a circulation of 360,000.

T.C. Thorstenson, who owns Hog N' Horses Saloon, told council he has a place with 10 acres directly across the street from the Hideaway and said he could provide parking for all the motorcycles during Bike Week events to get them off the street.

Because the agenda item discussing the town advertising legal notices in Sonoran News was continued from the last meeting, Francia bumped the item up to top of the agenda.

During public comment, Eileen Wright read the legal definition of newspaper from statute and said Sonoran News does not meet that definition, and said it precluded the town from placing its legal ads in Sonoran News.

Ray Stark mentioned some newspaper organization and said. "They never heard of Sonoran News."

A woman named Beth on Morning Star Road said she can't read Sonoran News because it is "filled with venom and malice."

Kerry Smith said the decision for advertising should be based on analysis by town staff or an independent third party, not on information provided by Sonoran News.

Spitzer said she had a curiosity on the subject and stated, "It seems to me four members of council should recuse themselves."

Sonoran News Publisher/ Editor Don Sorchych told council they had just heard from the "dark side."

Sorchych said, "We've attempted to get numbers from the Arizona Republic on numerous occasions."

He said Sonoran News is delivered to every mailing address in Cave Creek.

Peters claimed anyone can get their numbers because they're audited.

However, every attempt made to find out how many people receive the paper within the town's boundaries, not just the 85331 and 85327 Zip Codes, which include portions of Phoenix, Scottsdale and unincorporated Maricopa County, have been met with failure.

Jody Lisenbee stated distributorship is not readership.

Stacey Daniel said they receive Sonoran News but never read it.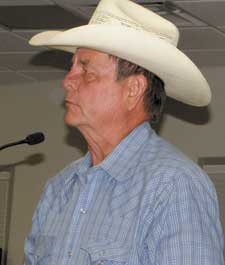 Terry Smith (r) said, "Sonoran News, you can love it or hate it. If people choose to find out what's going on, it's in everyone's hands," adding, "People don't read the Arizona Republic."

Toby Payne questioned whether the Arizona Republic Zone 8 covered Cave Creek or the Zip Code.

Peters stated it covered everything north of Shea.

Not grasping the fact council was discussing legal advertising, Kincel thanked Peters for providing numbers and asked council if they wouldn't want to reach more people to promote events and said, "Unless you want payback for when you were running for council."

Councilwoman Susan Clancy moved to direct the town manager to use Sonoran News to publish legal notices.

Councilman Mark Lipsky seconded the motion.

Clancy said they want to make sure everyone in town receives public notices and stated Sonoran News is the only newspaper that is at every meeting.

Lipsky said, "Sonoran News is unquestionably the paper of record of this town" and the most important thing to him is the dissemination of information, while pointing out Sonoran News' presence at the meeting taking "copious notes."

He said, "The Arizona Republic doesn't do that."

Town Attorney Gary Birnbaum explained public notices have to be in newspapers that meet the statutory definition and the motion, as stated, did not comport with the law.

Birnbaum mentioned Sonoran News also publishes those notices in the Gila Bend Sun, a publication that does meet the legal requirement.

Councilman Dick Esser mentioned a conversation he had some time ago with Robert Leger, opinions editor for the Arizona Republic, who told Esser they were desperate for readership.

Councilman Thomas McGuire offered a friendly amendment to Clancy's motion to make it legal, adding Birnbaum's suggested verbiage that Sonoran News will place the same ad in a qualifying newspaper.

Clancy and Lipsky accepted the amendment.

McGuire stated, "Sonoran News is a local publication that goes to every house in Cave Creek and it's a local business."

Councilman Ernie Bunch said transparency is seeing what everyone is doing. We should be hitting every household.

Vice Mayor Steve LaMar stated there was no duplication of cost to publish in the Gila Bend Sun and said he supported the motion because it is the way most people find out what's going on in Cave Creek.

Francia said he received e-mails in two categories over the issue.

The first he said referenced editorials, which Francia said is free speech.

The second referenced column inch, which he explained is how publications cost out advertising.

Francia said, "I am supporting this because it reaches all 5,000 citizens in this community. This is the most effective way."

The motion passed unanimously.