BY LINDA BENTLEY | JUNE 3, 2015
Council acts to avoid litigation
La Sota said, 'I'd say it's not effective and suggest you not vote on this tonight and do it correctly'
CAVE CREEK – Council voted 6-1, with Councilman Ernie Bunch dissenting, on Monday in favor of abandoning a portion of a GLO patent easement south of Olesen and Cave Creek roads for applicant Peter Nelson.

Nelson said access already exists to his project via Olesen and Cave Creek roads, it's not in use and traverses the property, affecting his development.

Councilman Dick Esser moved to approve the abandonment and stated it was required to complete the development.

Councilman Thomas McGuire, offered a second, stating it was not detrimental to the town.

Bunch said the easement was created by the federal government and the town has no authority to abandon it.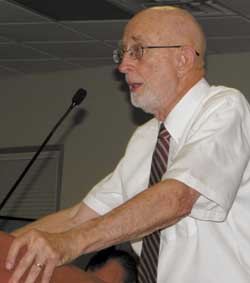 Attorney Fred Rosenfeld (r) stated he was there for the purpose of coordinating the hearing for the Cahava Springs Revitalization District.

He said they would hear from the opposition first, then from the proponents. They would then address legal questions on each side.

Rosenfeld asked everyone to be brief with their comments and stated council could ask questions at any time.

Applicant Mark Stapp said he had nothing to present but was there to answer any questions.

During public comment, Jane Rhoades, who spoke earlier to say she opposed the Cahava Springs project, said she had three top questions.

The first was her concern about how the project would impact the town's water resources.

Rhoades then said she has a lot of concerns but didn't have enough data.

Her last concern was traffic.

Janelle Smith-Haff said a host of legal material had been turned over to council and she questioned the transfer of the Cahava Springs property to a different entity and which has the rights to form the Revitalization District.

Smith-Haff stated approval "will change our town forever."

Attorney Timothy La Sota said he was representing Eileen Wright and called to council's attention that there was no date in the resolution previously approved by council.

He said statute states the resolution "shall state a date."

La Sota said, "I'd say it's not effective and suggest you not vote on this tonight and do it correctly."

He said otherwise someone could sue down the road and say the district was not lawfully formed and council should reconsider forming the district within its borders.

Terry Smith said he is directly affected by the development in that he and others on the west side of town would finally have water.

Smith said he didn't know about the legality but if council did not vote to approve he hoped the town would spend a little bit of money so they could have water.

Mayor Vincent Francia told Smith, "I make that commitment."

Lipsky asked Rosenfeld about the date issue raised by La Sota.

Rosenfeld said he couldn't answer that and it would take a couple of days to research.

McGuire questioned if approving the resolution could open the town to legal liability.

Rosenfeld replied it is faster to fix it than defend a lawsuit.

Francia asked Stapp if he could wait until the next council meeting.

Stapp said he wants it done properly.

Council voted unanimously to continue the item to the June 15 meeting.

Other actions unanimously approved by council included an intergovernmental agreement with Carefree for the bike lane project, which is being funded primarily by the federal government; a budget transfer of $55,500 from contingency to the general fund for planning department improvements; and changing agenda deadlines from seven calendar days prior to a meeting to six calendar days, which Town Manager Peter Jankowski said still exceeds the statutory 48 hours.

Council voted 6-1, with Councilman Mark Lipsky dissenting, to approve a development agreement with Tractor Supply that would meet the minimum landscaping requirements overall but not necessarily on each parcel.

Lipsky said he was at the meeting when the developer agreed to less parking in exchange for more open space.

He asked, "Why are we undoing this? Now we're saying he doesn't have to?"

Applicant David Long said they agreed reluctantly but the store was very upset with that concession of giving up 12 parking spaces.

Vice Mayor Steve LaMar, while noting Cave Creek has some of the strictest requirements in the state, said the applicant was strong-armed at the last minute under fear of getting turned down. He said the applicant cooperated from the beginning.

Lipsky said he supports the business but had to vote no.

After being served with a notice of claim, the precursor to a lawsuit, council voted unanimously to rescind a resolution that removed three parcels from the Specific Area Plan (SAP) in order to avoid the risk of litigation.

Even though the parcels were being reinstated to the SAP, Francia explained any rezoning would still be required to come before council for approval.

Francia, who made the motion to approve, stated, "Council can giveth but I don't believe it can taketh away, whatever the value is of that SAP."

LaMar said he resolved to not create more litigation for the town.

Esser agreed there was the threat of a lawsuit.

Lipsky said after seeing the parcels they should have never been put in the SAP and called their inclusion "a terrible idea."

Town Attorney Gary Birnbaum explained Proposition 207 gave property owners the right to file claims if any land use regulation diminishes the value of their property.

However, he said legal staff had done no investigation into the claim.

Council voted unanimously to amend the SAP by restoring the three parcels previously removed.