JUNE 3, 2015
And the winner is …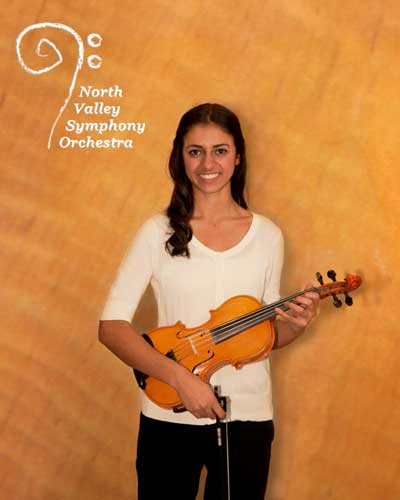 Pinnacle H.S. student Sydney Cooney was recently announced as the winner of a brand new handmade violin, valued at over $3,000, after competing in North Valley Symphony Orchestra's annual Summerford Violin Competition. Sydney performed Vivaldi's Violin Concerto in A Minor at the May 2 North Valley Symphony Orchestra concert, playing her new violin. Sydney is the current concertmaster of the NVSO Youth Orchestra and also plays in the second violin section of the NVSO Adult Orchestra. At 16 years old, Sydney has been playing violin six years, and plans to pursue a degree in Music Education or Music Therapy at the University of Colorado – Boulder.

The application process for the competition consisted of composing answers to five essay questions, obtaining a letter of recommendation from outside the NVSO organization, and auditioning in front of a panel of judges. Applicants also must be members in good standing in the North Valley Symphony Orchestra's Symphonettes or Youth Orchestra. The violin is donated every year by local luthier Jody Summerford who recognizes the work that the NVSO volunteer artistic staff is doing to nurture and develop young musicians in the Phoenix community.

Sydney's private teacher Cynthia Baker, says, "I have rarely had such a mature young woman in my studio. She is completely self-motivated, and demonstrates this by working hard on whatever task is assigned in lessons, frequently exceeding my expectations. She has an ear for beautiful sound and wants to share that with others in performance."

Winning the violin has special meaning to Sydney, because Mr. Summerford has allowed her to stop by his studio anytime during this past year and play one of his many violins.

"I have learned so much from him about the rich history in the making of violins," says Sydney. "With this new professional violin, I can discover measures of music that cannot be reached through a student violin. This instrument will be a treasure that I will take great care of and pass down to my heirs who may follow in my musical footsteps. Above all, this instrument will provide a great sentiment of one of the most special and impactful times of my life, as a member of North Valley Symphony Orchestra."

NVSO wishes to invite young string players to join the Symphonettes or Youth Orchestra for the 2015-16 concert season. Auditions are being scheduled in August for a season start date of Aug. 24th. For more information about membership in one of the youth performance groups, or the North Valley Symphony Adult Orchestra, email Music Director Kevin Kozacek at conductor@northvalleysymphony.org, or call 623-980-4628.